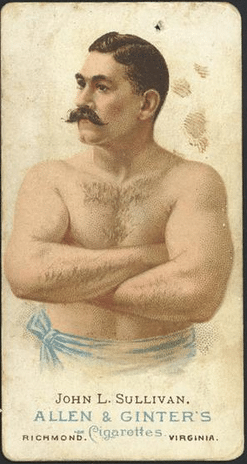 It's been an awesomely manly year here at The Art of Manliness. When we launched the site a year ago on January 4, 2008, we didn't think the AoM community would get this big, this fast. In just a year, AoM has grown to almost 25K subscribers. The growth of the site has been driven by our fantastic readers. Thank you for being evangelists of manliness and thanks for the tips and feedback on stories. We also want to thank those who have taken the time to send us encouraging words via email. Kate and I are truly grateful for the support. Finally, we'd like to give a big thank you to all of our guest contributors who have provided quality articles for the site.
We're also very excited about the Art of Manliness book which will be coming in Fall 2009. Kate and I have been working hard on it for many months and the manuscript is just about done.
Because it's pretty much impossible to avoid the "Best of….." lists this time of year, we figured there's no sense in resisting the urge to create one of our own. For our new readers and as a review for our old readers, we present the Best of Art of Manliness 2008. We hope you've enjoyed AoM during 2008, and rest assured we'll be working to make 2009 an even better and manlier year. Cheers!
January 2008
How To Shave Like Your Grandpa
Every Man Should Do This Exercise Routine Every Day
Lessons In Manliness From the Gladiator
Increase Your Manly Confidence Overnight
Stop Hanging Out With Women and Start Dating Them
February 2008
Make Yourself Stick With These First Impression Tips
How To Ask For (And Get) A Raise Like a Man
The 10 Worst Products For Men Ever Created
Write A Love Letter Like A Soldier
We also started a series looking at applying Ben Franklin's 13 Virtues. This was one of our most popular series. See the wrap up to read all the posts.
March 2008
14 Ways To Affair Proof Your Marriage
April 2008
How To Snag a Souvenir Baseball
9 Ways To Start a Fire Without Matches
Every Man Should Carry a Pocket Knife
How to Leave the Perfect Voicemail
May 2008
100 Must-Read Books: The Essential Man's Library
How To Survive and Thrive In a Street Fight in 8 Simple Steps
How Do You Know When She's the One?
Asking a Woman's Father For Her Hand In Marriage
June 2008
The All-Time Best (And Worst) TV Dads
How To Properly Rock A Pocket Square
The 15 Greatest Man Cries (Plus 5 Dishonorable Mentions)
The Gentleman's Guide To Tipping
July 2008
The Ultimate Man's Guide to Fireworks
Do More Than One Stinking Pull-Up
10 Steps to the Best Best Man Speech
Shine Your Shoes Like A Soldier
August 2008
The 35 Greatest Speeches in History
The Uncle Buzz Workout: How to Get in Shape Without the Gym
52 Workout Songs To Help You Get Bigger, Stronger, and Faster
September 2008
The Gentleman's Guide to the Calling Card
Mayday! Mayday! How to Land a Plane in an Emergency
The Bushido Code: The Eight Virtues of the Samurai
October 2008
The Art of Thank You Note Writing
How to Pack a Bag When Traveling
November 2008
6 Lessons in Manliness from James Bond
20 Manliest Mustaches and Beards From Facial Hair History
How To Cook and Carve a Thanksgiving Turkey Like a Man
Three Steps to Building Your Individual Style
December 2008
The Art of Manliness Manly Holiday Gift Guide
How To End a Relationship Like a Man
25 of the Greatest Self-Made Men in American History
Finally, make sure to check out our archives for even more manly articles.