Henley shirts grew out of the uniform that rowers in the English town of Henley-on-Thames wore in the 19th century, as well as the top half of the union suit undergarment that was worn by miners and pioneers of the same era. Still today, the shirt serves well as either a stand-alone piece or a layer that can be worn under other garments.
Distinguished by a round neckline and a placket of buttons that extends several inches down the chest, the henley is like a collar-less polo, with a formality that sits below that shirt but a notch above a regular tee.
Henleys, which come in both short- and long-sleeve varieties, are easy to wear; just pair one with jeans and leather boots and you've got a simple, rugged look. But they also play very nicely with other pieces and can be used as the foundation for some visually interesting, put-together get-ups.
To get some inspiration on different ways to wear a henley with style, we asked Andrew Snavely from Primer Magazine to put together three looks for us that include this sartorial staple. Here are the three outfit ideas he created and why he thinks they're great get-ups:
Outfit #1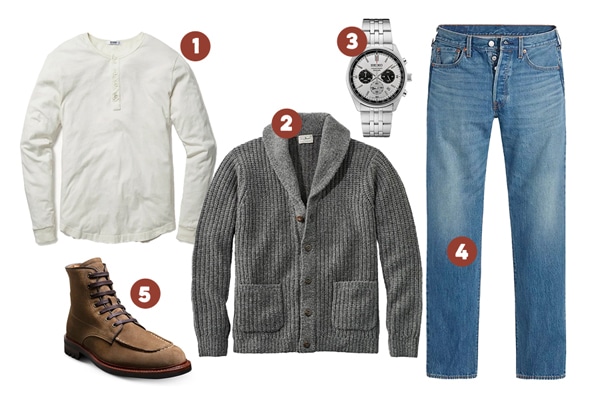 In some ways the henley is a secret weapon. For the guy who always defaults to a hoodie and graphic t-shirt but is trying to improve on how he presents himself, swapping the hoodie for a hardy shawl collar cardigan and the graphic t-shirt for a henley keeps 100% of the comfort you're looking for.
It almost feels like a cheat code: You can wear this to run a first-thing-in-the-morning errand or on a casual date without feeling out of place in either. That's some seriously impressive versatility for a casual outfit that's as comfortable as a hoodie and t-shirt.
Opt for a shawl collar sweater without much in the way of decorative knitting to avoid a festive spirit. Slide the shade of the jeans lighter or darker to adjust formality as needed.
Outfit #2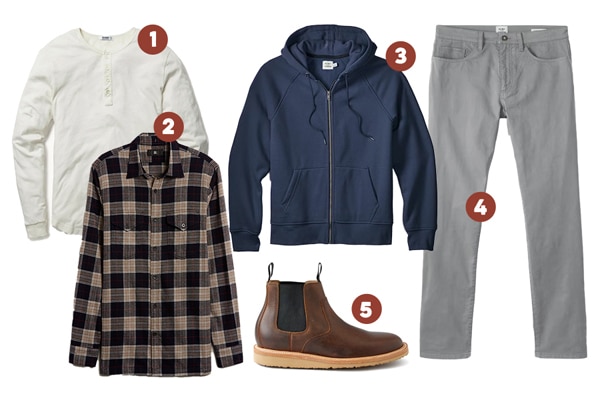 As temperatures drop, henleys make excellent base layers that still give you a pop of visual interest. For many climates – right up until winter hits full swing anyway – wearing several lighter layers instead of a couple heavier ones is more adaptable to body temperature changes from moving around a lot or coming in and out.
Layering a hoodie over the henley and plaid shirt will keep you plenty warm on cool days. As it gets even colder, you can add a jacket on top as well. (That might sound like too many layers, but I can attest that it looks great and doesn't feel too constricting.)
By design this outfit looks purposeful with everything on, or just the henley and pants, and every step in between. That's a testament to how great a henley can look on its own.
Outfit #3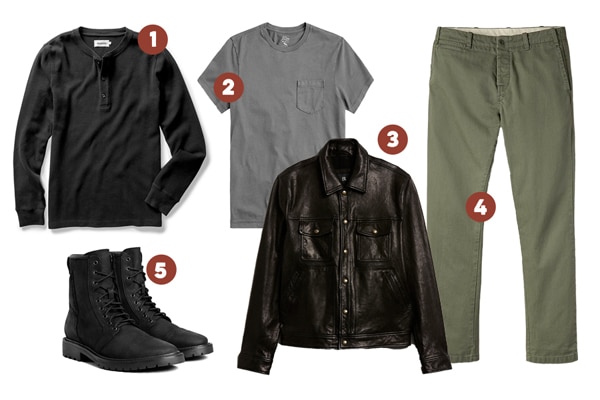 Henleys aren't just t-shirts with buttons. They can come in many weights, fabrics, and knits, like this heavier sweater.
With a sweater henley like this, it works as a middle layer, taking the place of, say, a v-neck sweater, giving you the option to wear a t-shirt underneath. Paired with a black leather jacket like this trucker jacket creates an easily wearable style with some intentional edge, and the olive chinos add just enough color to keep things from being too monotone. Put it all together, and this would be the perfect get-up for going to a concert, meeting up with colleagues outside of work, or some casual-but-cultural event like an art gallery opening.