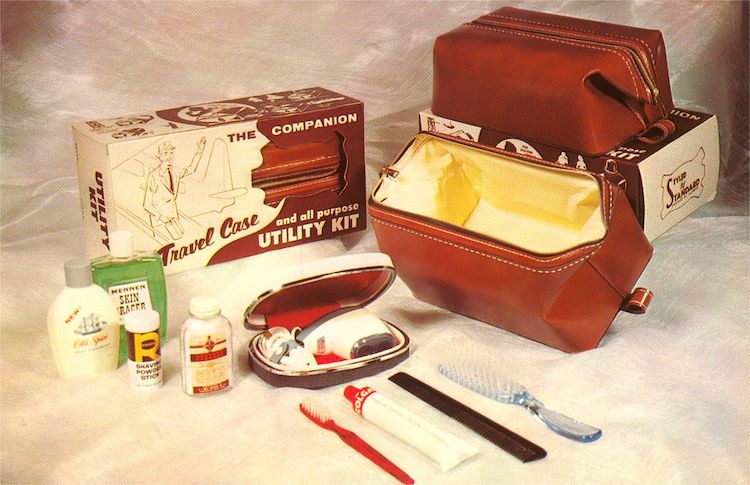 With our archives now 3,500+ articles deep, we've decided to republish a classic piece each Sunday to help our newer readers discover some of the best, evergreen gems from the past. This article was originally published in March 2008.
When a man packs for a trip, he packs his main bag, and then he packs a much smaller bag within that larger one. That small bag is his Dopp kit and it holds all his essential toiletries and grooming gear. Today I'll walk you through how to build the perfect Dopp kit to ensure you always have what you need as you travel the world.
The History of the Dopp Kit
Charles Doppelt, a German leather goods maker from Chicago, invented the Dopp kit during the early 1900s. The small pouches became known as Dopps, in recognition of their creator. Doppelt scored a contract with the US Army during WWII to provide the toiletry pouches to millions of American GIs. The bags became a hit, and demand for Dopp kits soared when American men returned home from war.
My memories of Dopp kits include looking through my dad's black leather one. It was worn from years of use. As a child, I was always amazed at all the stuff he could put in there. It was almost like a doctor's old medical bag.
Building Your Dopp Kit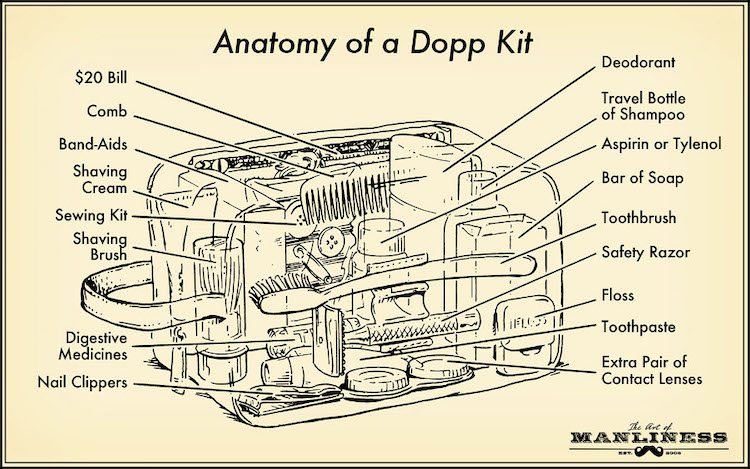 To build your Dopp kit, you'll first need the bag itself. They aren't difficult to find. You can get a nylon travel bag for $10 at any big box retailer. They'll get the job done.
But if you want a Dopp kit with class, leather is the only way to go (though canvas ones are nice too). Sure, it will cost you more, but it will last forever, age nicely, and become something you enjoy owning and toting around.
After you have your bag, it's time to fill it up with the stuff you need to keep you well-groomed while traveling. Most of things we suggest are common sense; others you might not have thought of, but will be happy to have on hand during your adventures:
$20 bill
Brush/comb
Deodorant
Bottle of shampoo
Bar of soap
Band-aids
Razor
Shaving cream
Toothbrush
Lip balm
Floss
Toothpaste
Nail clippers
Extra pair of contact lenses
Sewing kit
Safety pins
Use travel-size versions of things like shampoo, soap, shaving cream, and toothpaste when possible, both to free up room in your kit and to ensure they're TSA-compatible for bringing in your carry-on.
If you will be flying with your Dopp kit, keep in mind that pressure changes on the airplane can cause your shampoo and cream bottles to explode. This will create a big mess and a lot of disappointment, especially if you went ahead and bought a nice leather kit. To avoid a mess, try this hint: Before placing a bottle that holds liquid-y materials in your bag, squeeze the air out of the bottle right up until the cream reaches the tip of the hole. Without this excess air, your bottles will be much more likely to hold onto their contents during flight.