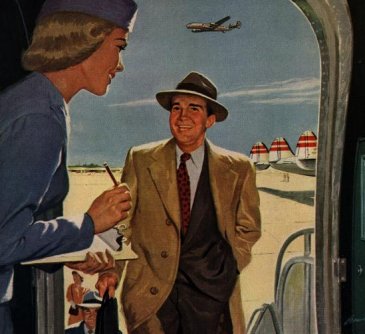 Unlike many women who require a small suitcase for their toiletries, a traveling man needs only a few essentials to be happy. Nevertheless, a man needs a place to stow these items. Enter the Dopp kit.
The History of the Dopp Kit
Charles Doppelt, a German leather-goods maker from Chicago, invented the Dopp kit during the early 1900's. The small pouches became known as Dopps, in recognition of its creator. Doppelt scored a contract with the US Army during WWII to provide the toiletry pouches to millions of American GIs. The bags became a hit, and demand for Dopp kits soared when American men returned home from war.
My memories of Dopp kits include looking over my dad's black leather one. It was worn from years of use. As a child, I was always amazed at all the stuff he could put in there. It was almost like a doctor's old medical bag.
Building your Dopp Kit
The Bag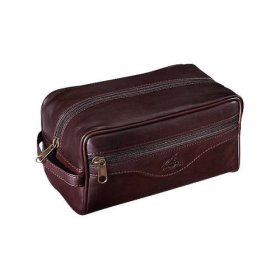 The first thing you'll need is the bag. These aren't difficult to find. You can get a nylon travel bag for under $5 at any big box store like Target or Wal-Mart. They'll get the job done.
But if you want a Dopp kit with class, leather is the only way to go. Sure, it will cost you more, but it will last forever, age nicely, and become something you enjoy owning and toting around. It's something you'll be able to pass down to your sons and grandsons, along with the stories of the places you took it. You can find a nice leather Dopp kit at most department stores. You can also buy nice affordable leather Dopp kit for $35 online. If you're lucky, you can also score a vintage leather Dopp bag on eBay.
Check out our one of a kind AoM Dopp Kit.
The Supplies
After you have your bag, it's time to fill it up with the stuff you need to keep you well groomed while traveling. Most of things we suggest are common sense, others you might not have thought of, but will be happy to have on hand during your adventures.
Travel bottle of shampoo
Bar of your favorite soap
Deodorant
Toothbrush, Toothpaste, Floss
Shaving supplies: razor, brush, and cream
Nail clippers
Lip Balm
Band Aids
Safety Pins
Aspirin or Tylenol
Lint Roller
$20 bill
Extra pair of contact lenses
Organizing the kit
One of the things I remember about my dad filling up his Dopp kit is the care he took when packing his supplies. Everything had its place. The way you place supplies in the pouch will ensure safe arrival to your destination.
If you will be flying with your Dopp kit, keep in mind that pressure changes on the airplane can cause your shampoo and cream bottles to explode. This will create a big mess and a lot of disappointment, especially if you went ahead a bought a nice leather kit. To avoid a mess, try this hint: Before placing a bottle that holds liquidy materials in your bag, squeeze the air out of the bottle right up until the cream reaches the tip of the hole. Without this excess air, your bottles will be much more likely to hold unto their contents during flight.
Related Articles