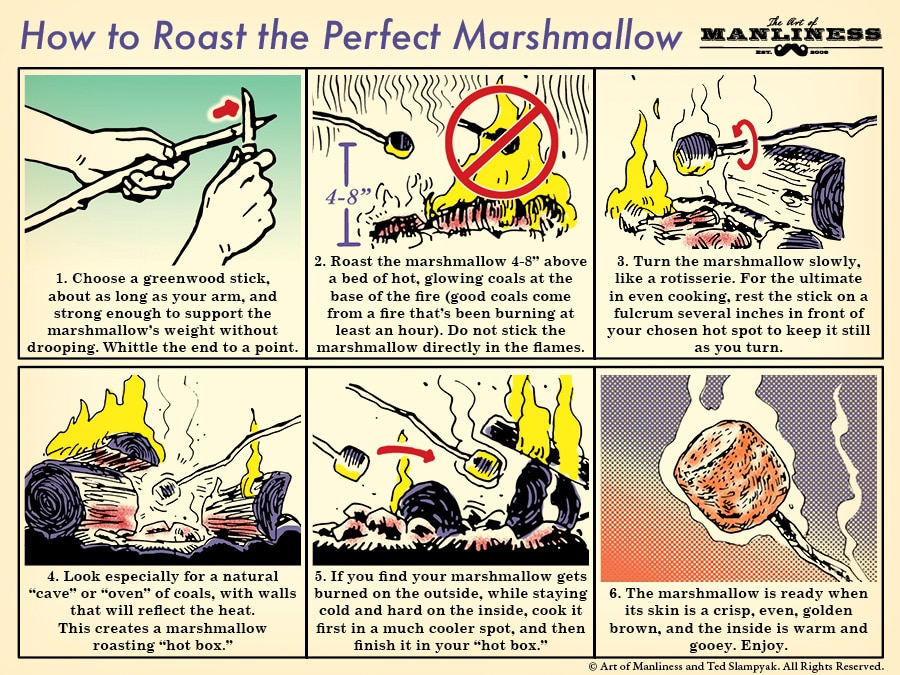 Roasting a marshmallow may seem like the simplest thing in the world. Yet how often do you see someone pull their stick away from the fire to reveal a perfectly roasted, wonderfully golden brown cylinder of goo? Pretty rarely. Instead, you most often see people yelping and waving their stick and flaming marshmallow around as it immolates before their eyes. The result is something that's black on the outside, and still hard and cold on the inside. Now some people will say that's exactly how they like their marshmallows, but one suspects their "preference" is rooted in cognitive dissonance — disappointment they did not have the patience to go the distance.
For those who can muster that patience, the reward is not just an evenly browned and lightly crisped marshmallow, but a learning experience on the basics of roasting. According to Paula Marcoux, the author of Cooking with Fire, while the marshmallow is "the lowest common denominator of campfire cooking," it "is a great learning tool. Its sugary ingredients make it highly responsive to heat, so that to toast one is like roasting real food on fast-forward…Experiencing that process attentively will allow you to approach roasting anything — a chicken, a hog, an eggplant, a fish (things you really don't want carbonized on the outside and raw in the middle) — with a refreshed understanding of the task."
So there you go. Who knew roasting a marshmallow could be delicious, educational, and even build character traits like focus and self-control all at the same time? Use the tips from Marcoux above to roast the best marshmallow of your life, and enjoy all the fruits of your labor.