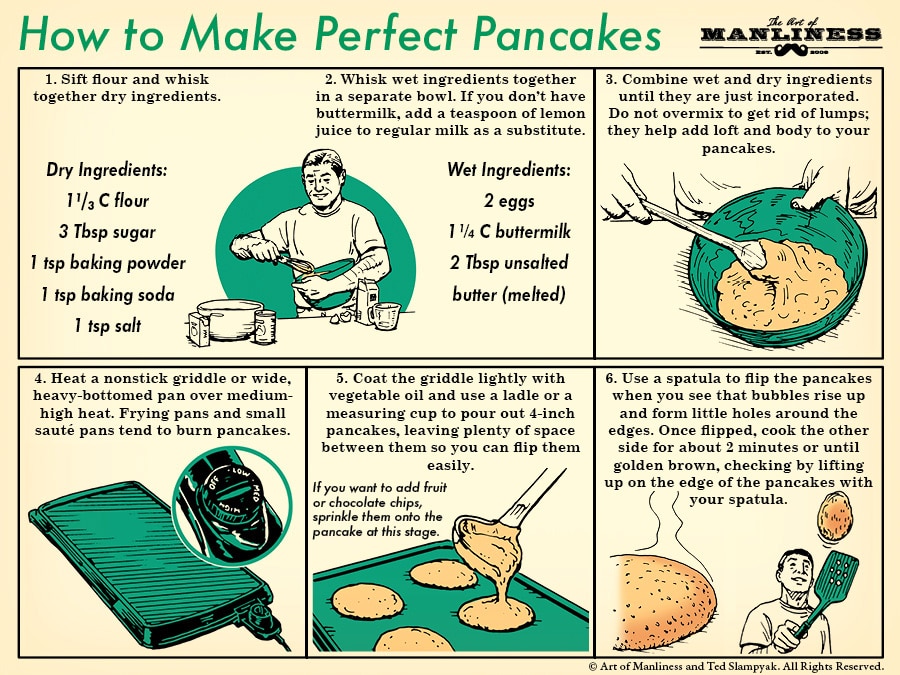 Let's start by admitting that the nature of a perfect pancake is a subjective thing. Some people love thin, almost crepe-style pancakes, while others crave flapjacks that are heavy and almost cakey in texture. In the middle of those extremes is what we're after — a pancake that's got crispy edges and a moist, but not too dense inside. If you want to make the sort of hotcakes you'd find at an all-night diner in the middle of a long road trip, where heavy ceramic mugs accompany warm jugs of maple syrup ready to pour over golden stacks of butter-covered pancakes, these instructions will guide you.
The key to creating these divine cakes starts with fresh ingredients: don't use flour, baking soda, or baking powder that's more than 6 months old, as it weakens key interactions that make the difference between great flapjacks and mediocre ones.
1. Sift flour and whisk together dry ingredients.
2. Whisk wet ingredients together in a separate bowl. If you don't have buttermilk, add a teaspoon of lemon juice to regular milk as a substitute.
3. Combine wet and dry ingredients until they are just incorporated. Do not overmix to get rid of lumps; they help add loft and body to your pancakes.
4. Heat a nonstick griddle or wide, heavy-bottomed pan over medium-high heat. Frying pans and small saute pans tend to burn pancakes.
5. Coat the griddle lightly with vegetable oil and use a ladle or a measuring cup to pour out 4-inch pancakes, leaving plenty of space between them so you can flip them easily. If you want to add fruit or chocolate chips, sprinkle them onto the pancake at this stage.
6. Use a spatula to flip the pancakes when you see the bubbles rise up and dorm little holes around the edges. Once flipped, cook the other golden brown, checking by lifting up on the edge of the pancakes with your spatula.
Like this illustrated guide? Then you're going to love our book The Illustrated Art of Manliness! Pick up a copy on Amazon.