Sweet baby Teddy Roosevelt! I can't believe September is over. Once again, AoM had a great month thanks to your contribution and help. New subscribers jumped another 2,000, ending the month off at 18,149. I appreciate you all signing up to get updates for the blog and sharing articles with your friends. That's how this site continues to grow.
The big news of the month is that Art of Manliness will be coming to you in book form in Fall 2009. We got a book deal! Pretty exciting stuff, but it's been a lot of work. We've been hammering away at it these last couple of months and will continue to do so until January when the final manuscript is due. What should you expect in the AoM book? Well, we've taken some of our best posts here on the site and tweaked them for the book. We've also been busy writing new content that will be exclusive to the book. It's shaping up nicely, but still requires a lot of fine tuning. Hopefully we can produce something that both readers of the site and people who have never heard of AoM will enjoy.
If you haven't already, make sure to enter the Hawaiiabera Shirt Giveaway. You just need to comment to enter.
Most Popular Posts of October
The Gentleman's Guide to The Calling Card
Mayday! Mayday! How to Land an Airplane in an Emergency
The Bushido Code: The Eight Virtues of the Samurai
What's Crackin' at the Forums
As always, the Art of Manliness Forums have some fantastic threads going on. Join 796 other members today and start taking part in the discussion. Here are some of the more popular threads on the forums right now.
Conceal/carry a weapon – Manly or—–?
What Not to Drive if You're a Man
Become an Evangelist of Manliness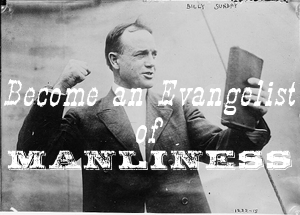 The success of this site is because of you. Thank you for spreading the word about the site. I have gotten several inquiries on how people can help spread the word about the site. In response to these questions, I've created a section on how to "Become an Evangelist of Manliness." There I offer some suggestions on how you can become an ordained evangelist of manliness so you can help man up a world wallowing in unmanliness. Check it out and try a few things. I'd really appreciate it. I'll be adding some more tools to help you spread the good word of manliness.
Last updated: October 23, 2010