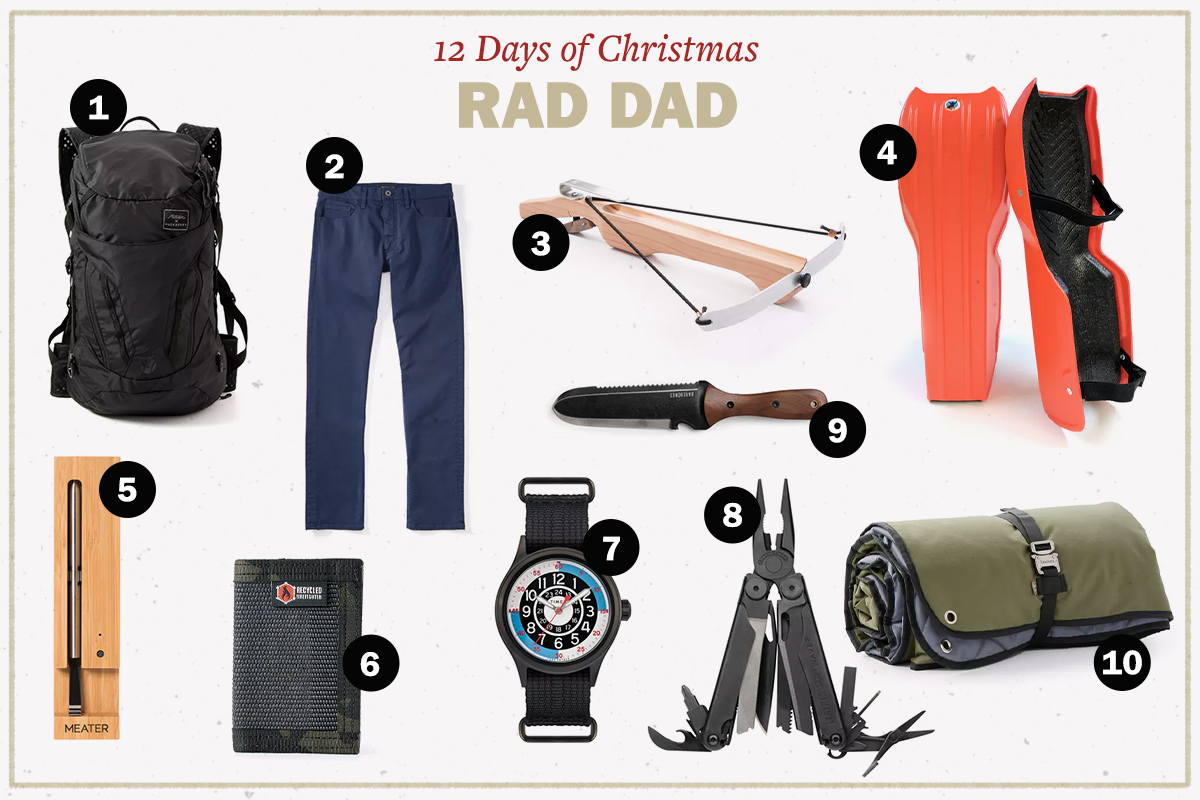 Welcome to AoM's 12 Days of Christmas! We've partnered with Huckberry to bring you 12 straight days of awesome gift guides and giveaways. Each day will feature a different Huckberry shop with 10 gift ideas, as well as a giveaway. The giveaways will run until 12pm CT the next day, and the winner will get to choose an item of their choice from that day's featured shop.
It's easy for dads to get the short end of the Christmas stick. Socks, underwear, neckties, chintzy mugs. Sometimes those things are fine, and even desired, but sometimes Dad deserves a little more love. We know he can be hard to buy for, so we've handpicked 10 of our favorite gifts from Huckberry's Gifts for the Rad Dad Shop that will make your Christmas shopping a little easier. Be sure to check out the full selection, as the 10 items below are just a sampling.
The 12 Days of Christmas: Gifts for the Rad Dad
1. Matador Beast Backpack. This bag offers superior performance in the smallest possible package. It packs away to the size of a football and unpacks into a 28-liter pack with a waterproof main compartment. Now in an exclusive Huckberry all-black.
2. Flint and Tinder 365 Pants. Combine your favorite tailored chinos with the stretch of a performance pant, and you get the 365 Pant — a pant so comfortable, your loved one(s) will want to wear them every dang day of the year.
3. MMX Marshmallow Crossbow. Your targets don't stand a chance against the Marshmallow Crossbow or "Mallow Bow," a wooden toy made in Vancouver using old school woodworking techniques. From up to 60 feet away, it'll beeline regular-sized marshmallows wherever you aim them.
4. Sled Legs. Easy-to-use individual sleds for your legs that strap on and turn you into a human sledding machine. Transforms any snow-covered hill into a personal sledding playground. Perfect gift for the dad who's a kid at heart, and loves to have fun in the snow.
5. Meater Wireless Thermometer. This wireless probe connects via bluetooth to a smartphone. Dad will never forget about what's on the grill again, since he'll be getting notifications as the meat reaches the desired temperature. Cool.
6. Fire Hose Wallet. A slim wallet made with recycled firefighting and military materials. The exterior is cut from fire hose, the edges use double-stitched military-grade webbing, and the interior features a lightweight full-grain leather. Doesn't get much more durable or tougher than that.
7. Timex X Todd Snyder Blackjack. This Timex collaboration with Todd Snyder harnesses vintage vibes with that classic Timex simplicity, plus all the functionality you've come to expect from the legendary watchmaker.
8. Leatherman Wave Multitool. Leatherman has expanded their line up these days, but their tools still boast every iota of reliability and utility that made them legendary. The Leatherman Wave is one of the best-selling multi-tools on the planet for a good reason: it packs more functionality, usability, and utility into its streamlined and ergonomic profile than any other multi-tool out there.
9. Hori Hori Gardening Multitool. Digging, trenching, planting, cutting, opening bottles. The Hori Hori is a unique, jack-of-all-trades tool that can help Dad tend his garden from every angle.
10. Seasons Blanket. Durable, waterproof, and most importantly, comfortable. The secret? An innovative two-sided design. Packs up to go anywhere a man might wander.
Giveaway
The Prize
Any item available in Huckberry's Gifts for the Rad Dad Shop.
Enter the Giveaway
If you are an email subscriber, do not reply to this email to make your entry. You must click on the title of this post, which will take you to the post on our web page where you can make your entry. Use the form below to enter. Don't forget! You have multiple ways to enter! The more of them you do, the better your chances are!
Deadline to enter is 12pm tomorrow (Central Time), December 3rd, 2018.