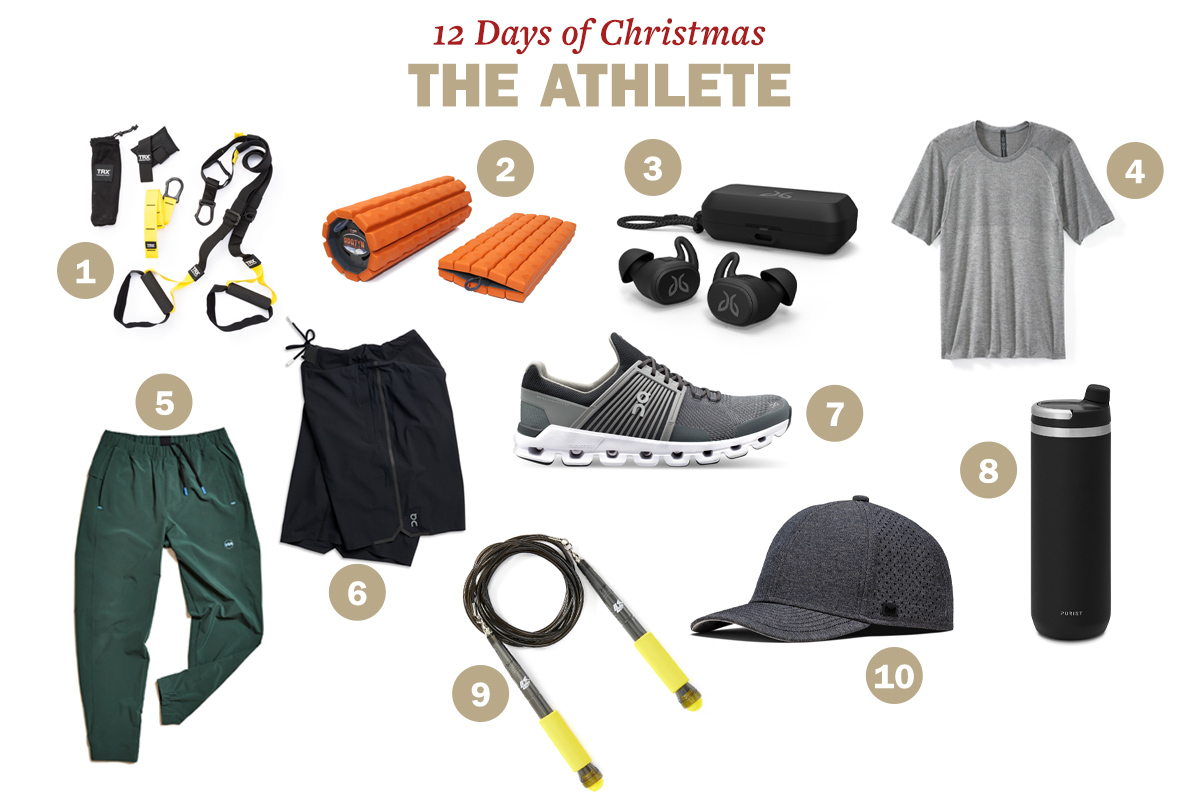 If you know a guy who's a regular at the gym (or hopes to be in the new year!), give him something that will improve his workouts. Below you'll find 10 items from Huckberry's Gifts for the Athlete Shop designed to do just that. Be sure to check out the whole shop for more great picks!
The 12 Days of Christmas: Gifts for the Athlete
1. TRX Original. Bodyweight suspension training at its best. The original TRX is a portable, functional exercise system that can be taken anywhere and set up in seconds for an efficient and effective workout.
2. Brazyn Collapsible Foam Roller. The world's most portable and storage-friendly foam roller. Full-sized, but collapses down flat for easy transportation. Weighs just 1.6 pounds, and can support up to 350 pounds. You no longer have to sacrifice your foam rolling when traveling.
3. Jaybird Vista Headphones. Bluetooth headphones that are made for whatever adventures and workouts you can throw at them. Features include: waterproof (and sweatproof) construction, rechargeable 6-hour battery life, built-in tracking so you never lose an earbud, and high-quality sound for music, phone calls, podcasts, and more.
4. lululemon Metal Vent Tech. You might think you know lululemon, but until you've tried on their shirts (not just for women anymore!), you don't really know the brand. This thing is lightweight, highly ventilated, and odor resistant, making it the perfect workout shirt, no matter how you prefer to train.
5. Janji Tech Pants. These pants pack effective tech into every square inch: the fabric is lightweight, breathable, wind-blocking, water repellent, and fast-drying, and everything else from the drawstring to the pockets have been maximized for utility. They're built for the man on the move — whether that's commuting to work or training for a half marathon.
6. On Hybrid Shorts. When you're on mile three of your morning run through the park or the 20th burpee in your set, the last thing you should be focused on is whether or not your shorts are comfortable. Built with 4-way stretch for maximum mobility, On Hybrid Shorts will make you feel like pushing your workouts into extra innings.
7. On Cloud Shoes. The outsole innovation known as CloudTec® revolutionized the running game. And thanks to the impeccable attention paid to every detail of their shoes — fine sock-like liners, molded heels, a speed-lace system — they're approachable and ready for everyday wear, even if you're not training for a top-tier sporting event.
8. Purist Collective Water Bottle. While reusable aluminum or glass canteens are great for the environment, they often leave a metallic or funky taste and smell after a few uses. With a state-of-the-art, unbreakable interior glass lining construction and double-wall vacuum insulated, surgical-grade stainless steel inner, the Purist reusable canteen holds your favorite beverages for days at a time without leaving an unsetting experience.
9. TRX Jump Rope. Inject some quick cardio into any workout with this lightweight, durable, PVC rope that's great for beginners and masters alike.
10. Melin Performance Snapback. This hat is built for performance. Its carefully chosen materials (including water-repellant fabrics) and technical details will keep your dome cool during a sweat-inducing activity, and its float-ability makes it perfect for a day at the lake.