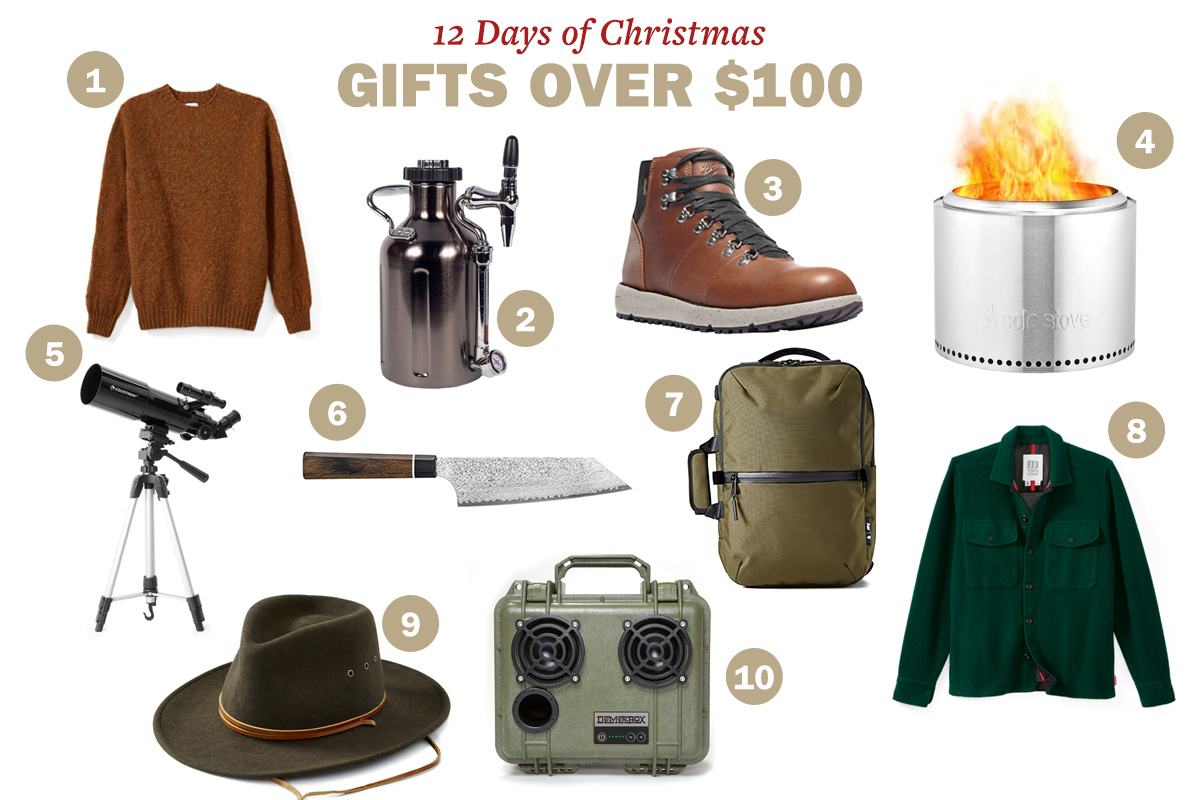 Welcome to AoM's 12 Days of Christmas! We've partnered with Huckberry to bring you 12 straight days of awesome gift guides and giveaways. Each day will feature 10 gift ideas around a theme, as well as a giveaway. The giveaways will run until midnight, and the winner will get to choose any item of their choice (up to $500 in value) from all of Huckberry's offerings.
For the final day of our 12 Days of Christmas, we're going out with a bang by featuring Huckberry's Gifts Over $100 Shop. If you know someone who's been especially nice this year, treat them to one of the below items or any of the quality gifts in this top-notch shop.
The 12 Days of Christmas: Gifts Over $100
1. Flint and Tinder Scottish Sweater. There's nothing better than pulling on a cozy wool sweater when it gets cold. The soft, shaggy fleece of this sweater wraps you up in warmth and comfort like only a classic wool sweater can. Made in Scotland by folks who know a thing or two about bundling up against the weather.
2. GrowlerWerks Nitro Cold Brew. Give the gift of premium nitro cold brew, every morning. Brew an entire week's worth of cold brew coffee right in the growler and keep it fresh and smooth with the GrowlerWerks specially designed nitro tap. 
3. Danner Vertigo 917. From a legendary brand in the hiking world, the Vertigo will be your go-to hiker for years — maybe even decades — to come. The full-grain leather upper offers superior durability and water resistance. The Vibram outsole offers unmatched traction and balance, especially in slick conditions. 
4. Solo Stove Bonfire. The Solo Stove takes wood-burning fires up a notch with a stainless steel body and engineered airflow that burns wood more efficiently and with less smoke. It's a sleek centerpiece for any backyard, campground, or beach cookout. And at just 20 lbs, it can go nearly anywhere.
5. Celestron Travel Telescope. The portable, celestial telescope with a smartphone adapter for capturing beautiful images of the night sky. With a backpack included, this telescope can be set up anywhere for a viewing session of the stars or faraway sights on the horizon.
6. Bunka Black Damascus Knife. Made by hand in Japan, the Bunka is versatile and robust enough to handle any kitchen job thrown its way. No matter what's being chopped, sliced, diced, or carved, the Bunka is a perfect kitchen companion. 
7. Aer Flight Pack. A convertible backpack designed for work and travel. Its versatile design allows it to be comfortably carried as a backpack, shoulder bag, or briefcase. Features multiple easily accessible pockets for work and tech essentials. An everyday workhorse that adapts to its user's daily needs. 
8. Topo Designs Wool Shirt. Built from a remarkably soft and versatile merino wool, this exclusive-to-Huckberry Wool Shirt can be worn alone buttoned-up or layered over a tee as a shirt jacket; either way, it looks darn good. 
9. Stetson Langston. The legendary Stetson hat in an exclusive color for Huckberry. Though the company has been around since 1865, the felt has modern technology that makes it breathable, moisture-wicking, quick-drying, and even crushable for convenient packing. 
10. DemerBox Waterproof Speaker. The indestructible bluetooth boombox. With 50+ hours of battery life, dry internal storage, and a USB port for charging all your devices on the go, the DemerBox is sure to find a permanent home in your loved one's vehicle for all their adventurous travels.