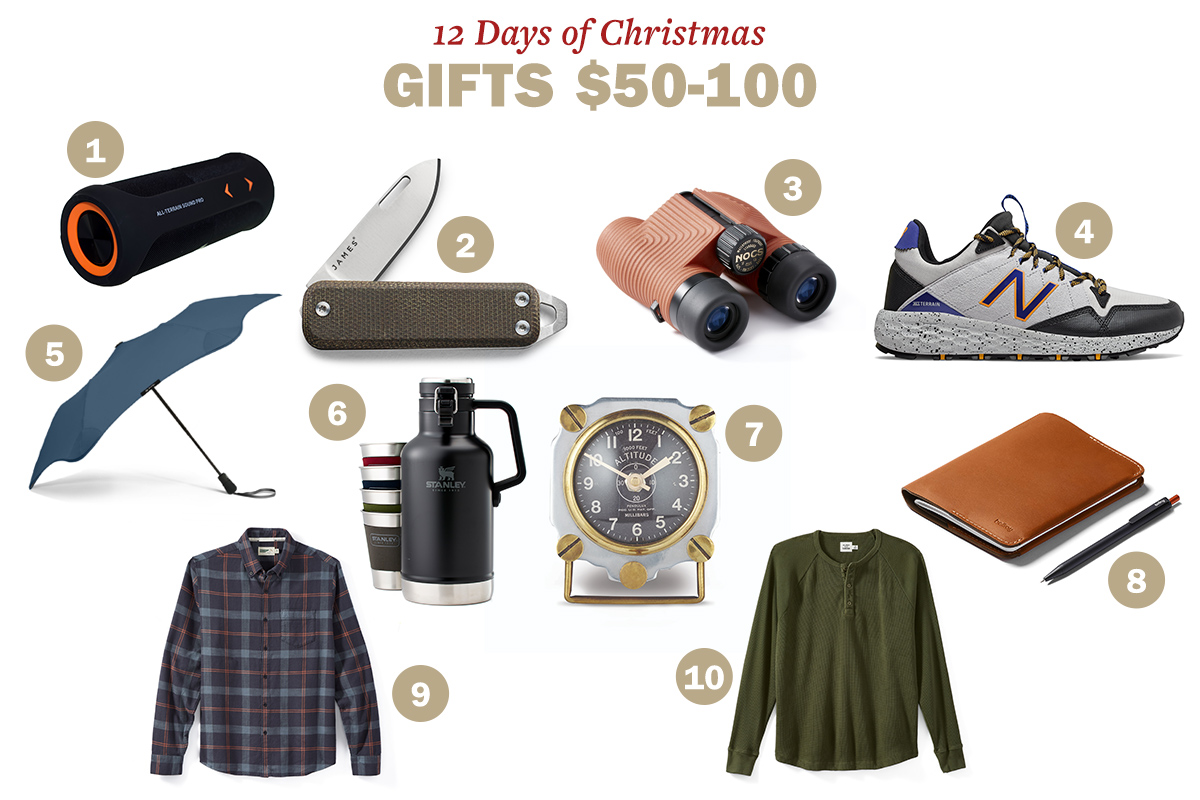 Welcome to AoM's 12 Days of Christmas! We've partnered with Huckberry to bring you 12 straight days of awesome gift guides and giveaways. Each day will feature 10 gift ideas around a theme, as well as a giveaway. The giveaways will run until midnight, and the winner will get to choose any item of their choice (up to $500 in value) from all of Huckberry's offerings.
If you're looking for that perfect Goldilocks gift — not too expensive, not too cheap — look no further than Huckberry's $50-$100 Gift Shop. Below are 10 of our favorites, but be sure to peruse the whole selection!
The 12 Days of Christmas: Gifts $50-$100
1. FRESHeTECH Speaker. A highly durable and portable speaker that pushes your outdoor listening experience to the next level. Not only waterproof, but also dustproof, and comes with a protective rubber carrying case.
2. James Brand Elko Knife. Truly a pocket knife, the Elko's slim profile and lightweight design make it perfect for a keychain, lanyard, backpack, or, of course, a pocket.
3. Nocs Binoculars. Built for the modern explorer who carries on that spirit of exploration and curiosity. These binoculars are equipped with premium optics that are housed in a weatherproof and fogproof case, and wrapped up in a rugged, non-slip grip that fits right into a pocket for easy access.
4. New Balance Foam Crag. These shoes are cushioned for unforgiving terrain, tractioned for wet surfaces, and simply good looking thanks to the vintage-meets-modern design aesthetic. You may not think of New Balance when you think of hardy outdoor adventuring, but think again.
5. Blunt Umbrella. This isn't just any ordinary umbrella; Blunt's offerings are much sleeker and sturdier than your rain protection of old, featuring telescopic ribs, a modern wind-shearing shape, and a unique radial tensioning system. Put those things together, and you've got an umbrella that won't blow out, give up, or fly away.
6. Stanley Growler Gift Set. As the godfather of vacuum-insulated beverage solutions, it was only a matter of time before Stanley took on growlers. Doesn't have to just hold beer though; water, coffee, even pre-made cocktails can be contained within, keeping your hot drinks hot (for 18 hours) and your cold drinks cold (for 24).
7. Pendulux Altimeter Clock. Upgrade a lackluster workspace or bedside table with this clock that's designed to look like the altimeter from a WWII aircraft. The aluminum and brass construction blends elements of different styles and periods to create a retro-futuristic piece of decor.
8. Bellroy Notebook Cover + Pen. Made with the design and attention to detail that Bellroy is known for, this leather notebook cover adds some panache to your note-taking. Comes with one Bellroy notebook, but fits Field Notes, pocket Moleskines, and even our own Art of Manliness pocket notebooks.
9. Wellen Slub Flannel. This shirt features the iconic plaid flannel design, but is made with an easy-going slub fabric that's unbeatably comfortable. Made with 100% organic cotton.
10. Flint and Tinder Waffle Henley. Whether worn on their own or layered under a jacket or sweater, these long-sleeve henleys are some of the softest, best-fitting casual shirts around. The secret sauce? 100% ringspun slub cotton that's incredibly lightweight, breathable, and soft on the skin. American-made, too.
Giveaway
The Prize
Any item available on Huckberry (up to $500).
Enter the Giveaway
If you are an email subscriber, do not reply to this email to make your entry. You must click on the title of this post, which will take you to the post on our web page where you can make your entry. Use the form below to enter. Don't forget! You have multiple ways to enter! The more of them you do, the better your chances are!
12 Days of Christmas: Gifts $50-$100

Deadline to enter is 11:59 p.m. (Central Time), December 5th, 2019.