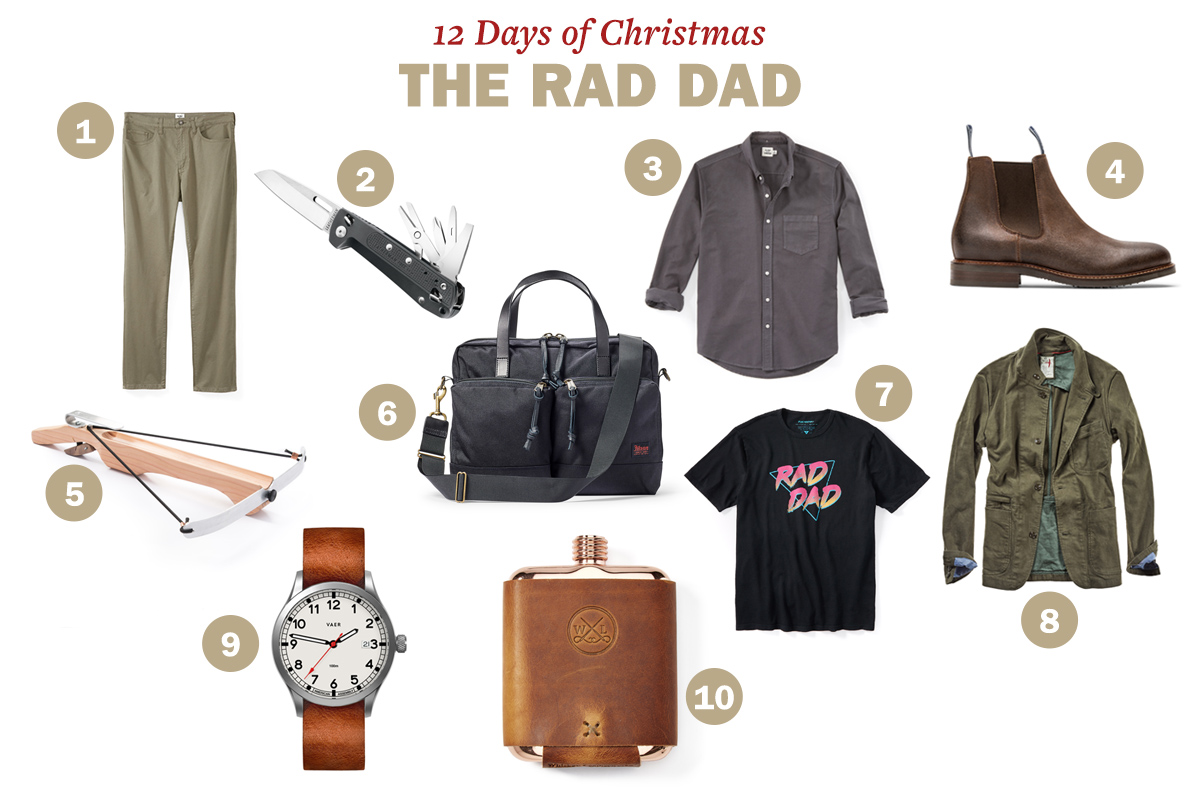 Welcome to AoM's 12 Days of Christmas! We've partnered with Huckberry to bring you 12 straight days of awesome gift guides and giveaways. Each day will feature 10 gift ideas around a theme, as well as a giveaway. The giveaways will run until midnight, and the winner will get to choose any item of their choice (up to $500 in value) from all of Huckberry's offerings.
It's easy for dads to get the short end of the Christmas stick. Socks, underwear, neckties, chintzy mugs. Sometimes those things are fine, and even desired, but sometimes Dad deserves a little more love. We know he can be hard to buy for, so we've handpicked 10 of our favorite gifts from Huckberry that will make your Christmas shopping for Dad a little easier. Be sure to peruse even more picks here.
The 12 Days of Christmas: Gifts for the Rad Dad
1. Flint and Tinder 365 Pants. Combine your favorite tailored chinos with the stretch of a performance pant, and you get the 365 Pant — a pant so comfortable, your loved one(s) will want to wear them every dang day of the year.
2. Leatherman FREE K4. Leatherman's FREE series changed the multi-tool game with one-handed operation, magnetic locking, and lightweight pocket-friendly designs. Combine that with a razor-sharp knife blade, and you have the handiest pocket knife on the market.
3. Flint and Tinder Oxford. This lightweight button-up made from 100% cotton is unbelievably soft, airy, and breathable. Finished with a special garment-dyeing process that gives it a soft, lived-in feel from the first wear.
4. Rhodes Huxley Boot. This Chelsea boot is built for one thing, and one thing only: to be a comfortable, stylish everyday boot that can be depended on for years to come. It's one of the most versatile items in any Dad's closet.
5. MMX Marshmallow Crossbow. Your targets don't stand a chance against the Marshmallow Crossbow or "Mallow Bow," a wooden toy made in Vancouver using old school woodworking techniques. From up to 60 feet away, it'll beeline regular-sized marshmallows wherever you aim them.
6. Filson Briefcase. The Filson name alone means this bag will hold up for decades. Made with a heavy-duty nylon fabric, this bag finds the sweet spot between hard-sided briefcases and unstructured messenger bags.
7. Rad Dad Tee. Skip the cheesy neckties and "World's Best Dad" mugs; instead, give him an '80s throwback that looks cool and is super comfortable. Now that's rad.
8. Relwen Blazer. With a subtle but dapper look, this unstructured blazer is just what Dad needs. It's made with a supremely comfortable blend of wool, rayon, and polyester to keep him warm and the mild stretch offers a freedom of mobility not found in most blazers.
9. VAER Heritage Watch. Inspired by the standard issue military watches of the 1940s, the Heritage has a hardy stainless steel case, Swiss-made quartz movement, and two interchangeable straps. Not to mention, all VAER Watches are carefully assembled in Los Angeles by skilled artisans.
10. Whiskey Leatherworks Flask. For an evening around the campfire (or fireplace), this durable and handsome flask will provide for any of Dad's sipping needs for years to come. The Horween leather only gets better with age, and the copper-coated stainless steel flask will hold up just as well.