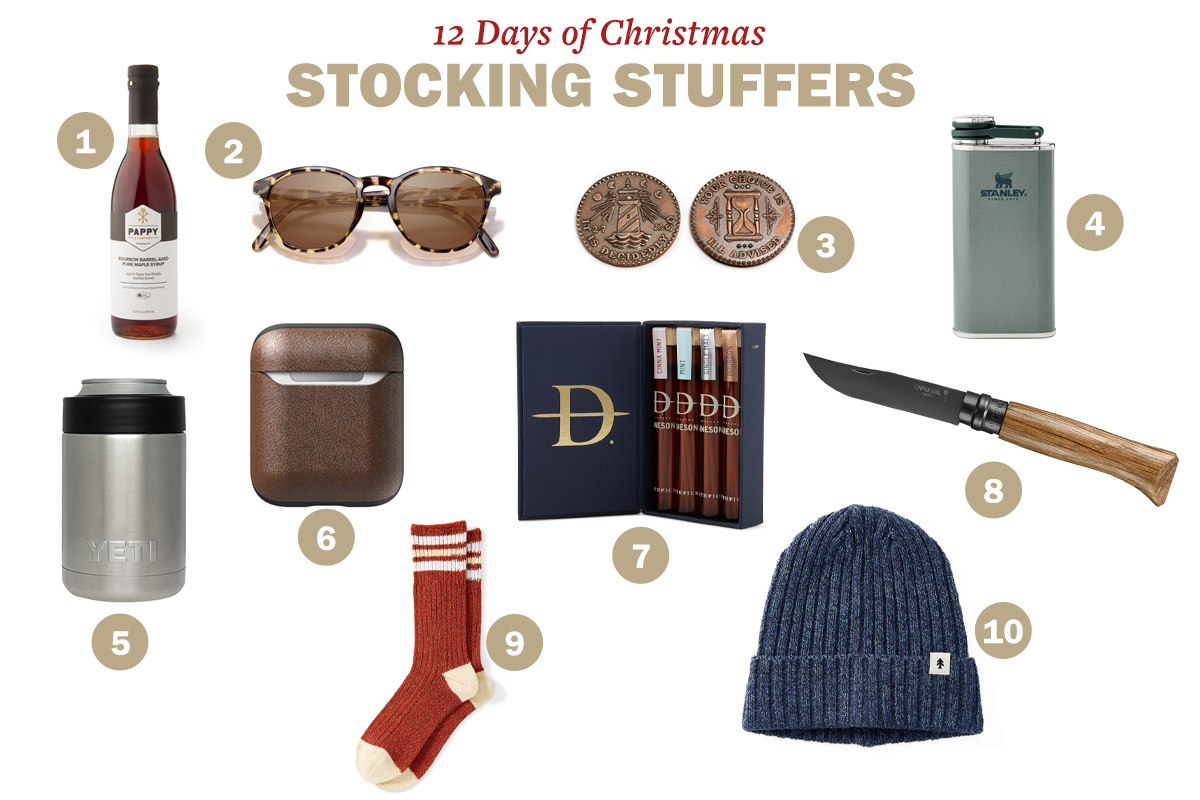 Welcome to AoM's 12 Days of Christmas! We've partnered with Huckberry to bring you 12 straight days of awesome gift guides and giveaways. Each day will feature a different Huckberry shop with 10 gift ideas, as well as a giveaway. The giveaways will run until midnight, and the winner will get to choose an item of their choice from that day's featured shop.
Stocking stuffers are arguably the most fun part of Christmas. The 10 ideas below from Huckberry's Stocking Stuffer Shop run the gamut of what one hopes to find in their yuletide sock, ranging from the practical to the delightful. Be sure to browse the whole shop for a bunch more can't-miss items.
The 12 Days of Christmas: Stocking Stuffers
1. Pappy Van Winkle Barrel-Aged Syrup. The folks over at Pappy Van Winkle's (maker of superb bourbon) tapped Bissell Maple Farm in Ohio for some of their pure, American-made maple syrup to age in retired Pappy bourbon barrels. Yum.
2. Sunski Yubas With a design inspired by a combination of the '80s and the Yuba River in the Sierra Nevadas, these will become your new favorite shades. Comes with polarized lenses, featherweight frames, and a travel case — plus they're backed by a bulletproof lifetime warranty.
3. J. L. Lawson Decision Coin. Minted from solid metal, the decision coin is a far more fun way to make coin flip decisions. Beyond that, it can be kept in a wallet as a reminder of the role that fate plays in all of our lives.
4. Stanley Flask. Made with odorless and tasteless stainless steel, the interior won't mix good whiskey with the aroma of what came before it. The slim profile slides flat into a pocket for discretion. As it's Stanley, you also know it's going to last.
5. Yeti Colster. The Colster is YETI's answer to warm beer; this heavy-duty koozie could keep a beer cold in a scorching desert. Double-wall vacuum sealed for maximum cool retention and is cup-holder compatible (for when the Colster is holding something other than beer).
6. Nomad AirPods Case. Keeps your AirPods safe from the elements while adding a touch of class in the form of a Horween leather exterior. Includes an accessible Lightning port for easy charging.
7. Daneson Flavored Toothpicks. Made from premium white birch and flavored with all-natural ingredients, these toothpicks add a touch of extra enjoyment to picking holiday leftovers out of your teeth. Flavors included in this mix pack are Single Malt, Bourbon, CinnaMint, and Mint.
8. Opinel No. 8 Folder. This iconic pocket knife has been made in France for almost 130 years. This version features an ergonomic oak handle, a patented locking system which keeps the blade secure, and a matte black stainless steel blade that's especially badass.
9. Flint and Tinder Wool Camp Socks. Every stocking deserves a nice pair of wool socks. This blend from Flint and Tinder is moisture-wicking and regulates temperature so that your toes are nice and toasty, but not too toasty.
10. Huckberry Beanie. A Japanese-made beanie to block out the cold and keep you stylish in the process. Despite the nice look, it's also durable as heck. Include it in your loved one's stocking this year, and they'll be chomping at the bit to go outside and snowshoe or split some wood for the fireplace.
Giveaway
The Prize
Any item available in Huckberry's Stocking Stuffers Shop.
Enter the Giveaway
If you are an email subscriber, do not reply to this email to make your entry. You must click on the title of this post, which will take you to the post on our web page where you can make your entry. Use the form below to enter. Don't forget! You have multiple ways to enter! The more of them you do, the better your chances are!
The 12 Days of Christmas: Stocking Stuffers

Deadline to enter is 11:59pm (Central Time), December 1st, 2019.