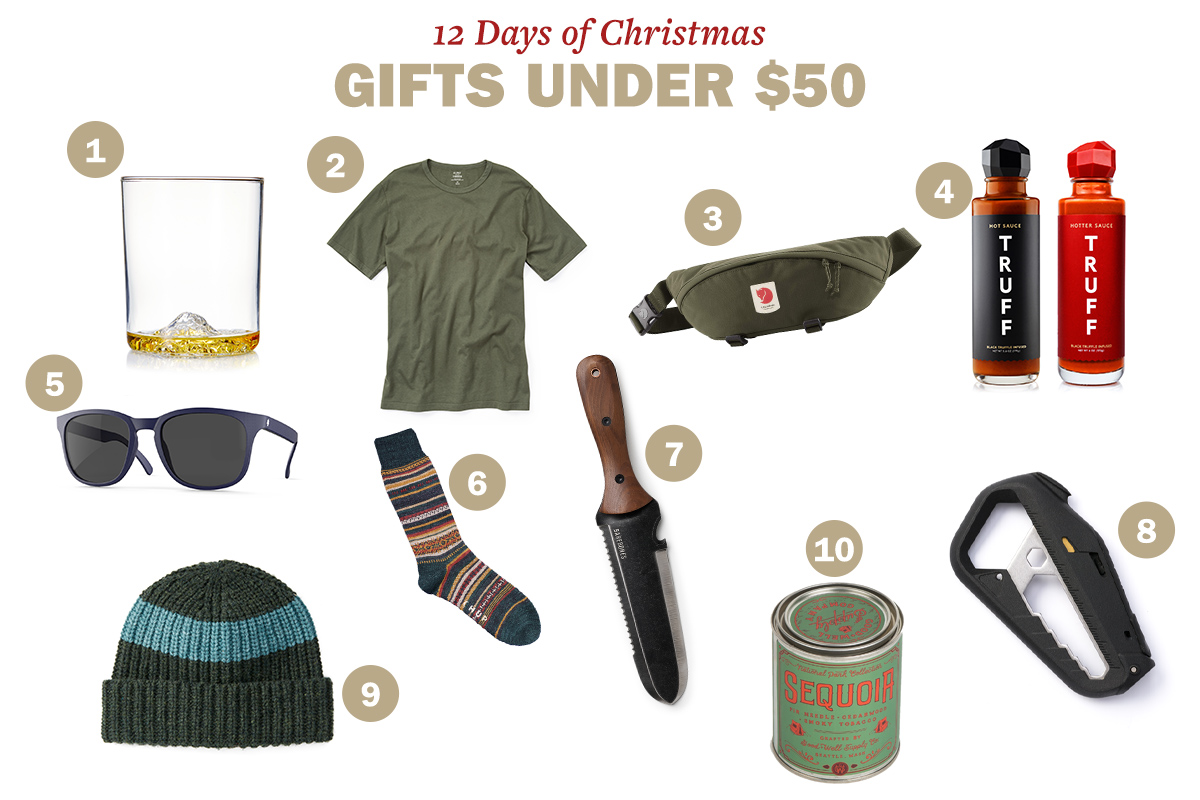 Welcome to AoM's 12 Days of Christmas! We've partnered with Huckberry to bring you 12 straight days of awesome gift guides and giveaways. Each day will feature a different Huckberry shop with 10 gift ideas, as well as a giveaway. The giveaways will run until midnight, and the winner will get to choose an item of their choice from that day's featured shop.
If you're trying to do your Christmas shopping without blowing out your budget, you're likely looking for gifts that come in under $50. Keeping under that number, while still getting an interesting, quality item, can be a hard task, though. Below you'll find 10 ideas from Huckberry's Gifts Under $50 Shop that will make it easy. Check out the whole shop for a bunch more.
The 12 Days of Christmas: Gifts Under $50
1. Whiskey Peaks — Mt. Rainier Set. A handsome set of two hand-blown whiskey glasses made from premium lead-free crystal. Features a raised topographic impression of one of America's most iconic mountains: Washington state's Mt. Rainier.
2. Flint and Tinder Supima Tee. Made from 100% Supima cotton, which has stronger yet softer fibers than regular cotton. The softest, best-fitting casual shirts you've ever worn. Made in the USA.
3. Fjallraven Hip Pack. The fanny pack is back in! (Though now with the more approachable moniker of "hip pack.") Durable and waterproof, this isn't the chintzy pack of the 90s. Great for carrying one's EDC on short hikes and urban adventures.
4. Truff Hot Sauce. This is a hot sauce as unique (and tasty!) as you'll ever find. Blends ripe chili peppers, organic agave nectar, black truffle, and savory spices to create a sauce that's rich in flavor and truly complements any meal.
5. Huckberry Weekender Sunglasses. Finally, an all day, everyday pair of sunglasses that won't break the bank. Lightweight but with a hardy construction, polarized lenses, and crucial hinge protection (which is where sunglasses always fail when/if they take a tumble), these can truly be taken anywhere.
6. CHUP Socks. Durable Japanese socks with a seamless, ultra-comfortable interior. Each design is a limited edition with an intricate pattern inspired by the natural world and folk art.
7. Hori Hori Gardening Multitool. Digging, trenching, planting, cutting, opening bottles. The Hori Hori is a unique, jack-of-all-trades tool that can help any man tend his garden from every angle.
8. Tactica Multi-Tool. In one sleek, lightweight package you get 17 tools: box cutter, multiple wrenches, hex sockets, screwdrivers, and more. A tactical heavyweight for any EDC.
9. Wellen Beanie. An easy-wearing hat, sustainably-made and designed with the classic fisherman's beanie silhouette. It's lightweight but ultra warm for all those winter outings.
10. Good + Well National Park Candles. Soaring redwood trees, monumental granite cliffs, verdant green forests — these are the moments that Good + Well's candles aim to bring into your home with their National Park-inspired candles. Each one is poured by hand, comes in a durable metal container, and burns for 80 hours.
Giveaway
The Prize
Any item available in Huckberry's Gifts Under $50 Shop
Enter the Giveaway
If you are an email subscriber, do not reply to this email to make your entry. You must click on the title of this post, which will take you to the post on our web page where you can make your entry. Use the form below to enter. Don't forget! You have multiple ways to enter! The more of them you do, the better your chances are!
12 Days of Christmas: Gifts Under $50

Deadline to enter is 11:59 p.m., December 3rd, 2019.