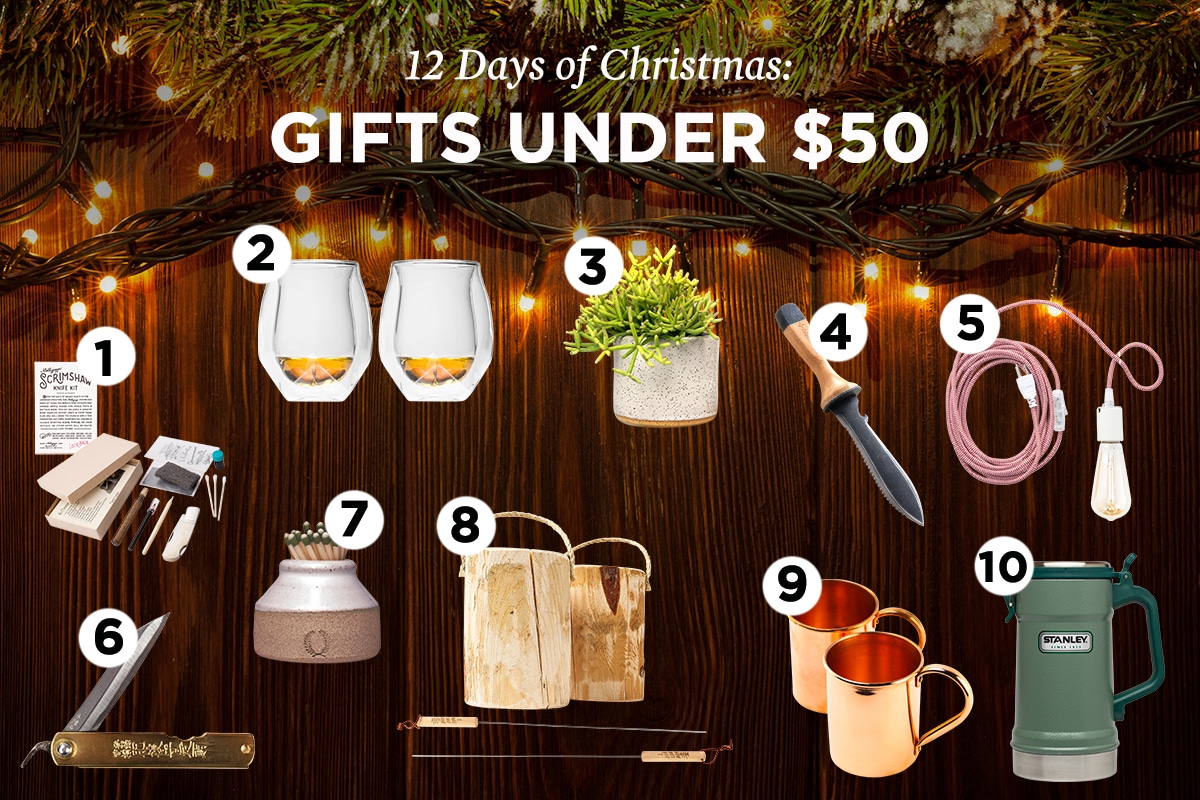 If you're trying to do your Christmas shopping without blowing out your budget, you're likely looking for gifts that come in under $50. Keeping under that number, while still getting an interesting, quality item, can be a hard task, though. Below you'll find 10 ideas from Huckberry's Gifts Under $50 Shop that will make it easy.
The 12 Days of Christmas: Gifts Under $50
1. Scrimshaw Knife Kit. Scrimshaw was an American art form originating from the whaling industry in the late 1700s. During the many idle hours at sea, a whaler etched drawings of nautical themes on items that were readily available to him such as sperm whale teeth and bones. After he scratched his art work into the surface of the bone, he would rub lamp black or tobacco juice into the scratch to reveal the drawing. You can experience this art form too as you scrimshaw the images of a hunt, big catch, or simply the family name on your very own bone-handled pocket knife. This kit includes all you'll need to complete the project and is a perfect starter introduction into scrimshaw.
2. The Norlan Whiskey Glass. Treat your favorite whiskey with the glassware it deserves. The Norlan Glass is a work of engineering magic. The shape of the inner bowl enhances the flavor and aroma of the whiskey by its shape alone, and the double-walled construction means it'll fit ergonomically in your hand.
3. Norden White Speckle Planter. Bring the outdoors indoors. With winter coming up, this five-inch planter is a great way to bring some green into your home.
4. Hori Hori Gardening Tool. Digging, trenching, planting, cutting, opening bottles. The Hori Hori was designed to be the ultimate multitool in your garden and this unique take on it should feel right at home in any backyard setting.
5. Zig Zag Cageless Light. Light with a sense of design. This classic light set comes in a handsome tweed fabric covering. Great for DIY projects, brightening a dark room or corner, and creating an industrial style with an exposed light bulb. This set includes a complete light system that's ready to hang right out of the box.
6. Higonokami Japanese Brass Knife. Higonokami continues the Japanese tradition of Higo knives, a traditional style of Japanese pocket knife, with the Higonokami Folder. Crafted at Nagao Kanekoma Factory, which has been manufacturing Higo knives since 1894, the Higonokami Folder's blue paper steel blade is strengthened with alloys for durability. This is a knife that really maintains its edge.
7. Farmhouse Pottery Match Striker. Beautiful and functional, this handmade match striker doesn't just sit pretty on a table. Store matches and light them all in one spot by striking one of the included strike-anywhere matches directly on the stoneware.
8. Swedish Fire Torch Set. Each log in this set has been kiln-dried and prepared to burn from the inside out for up to 90 minutes of fire. This makes it an exceptionally easy-to-use heat and light source, without the mess of a traditional campfire set-up.
9. Moscow Mule Mugs. Certain cocktails — namely the Moscow Mule — are made to be housed in a copper container. These 100% copper mugs enhance the flavor of your cocktails and keep your drinks ice cold all night long.
10. Stanley Beer Stein. Stanley — iconic maker of thermoses and coolers — has re-inveted the classic German beer stein. Retaining the stein's iconic shape, but giving it the Stanley treatment by vacuum insulating it, your beer will stay chilled and foamy for as long as you need.