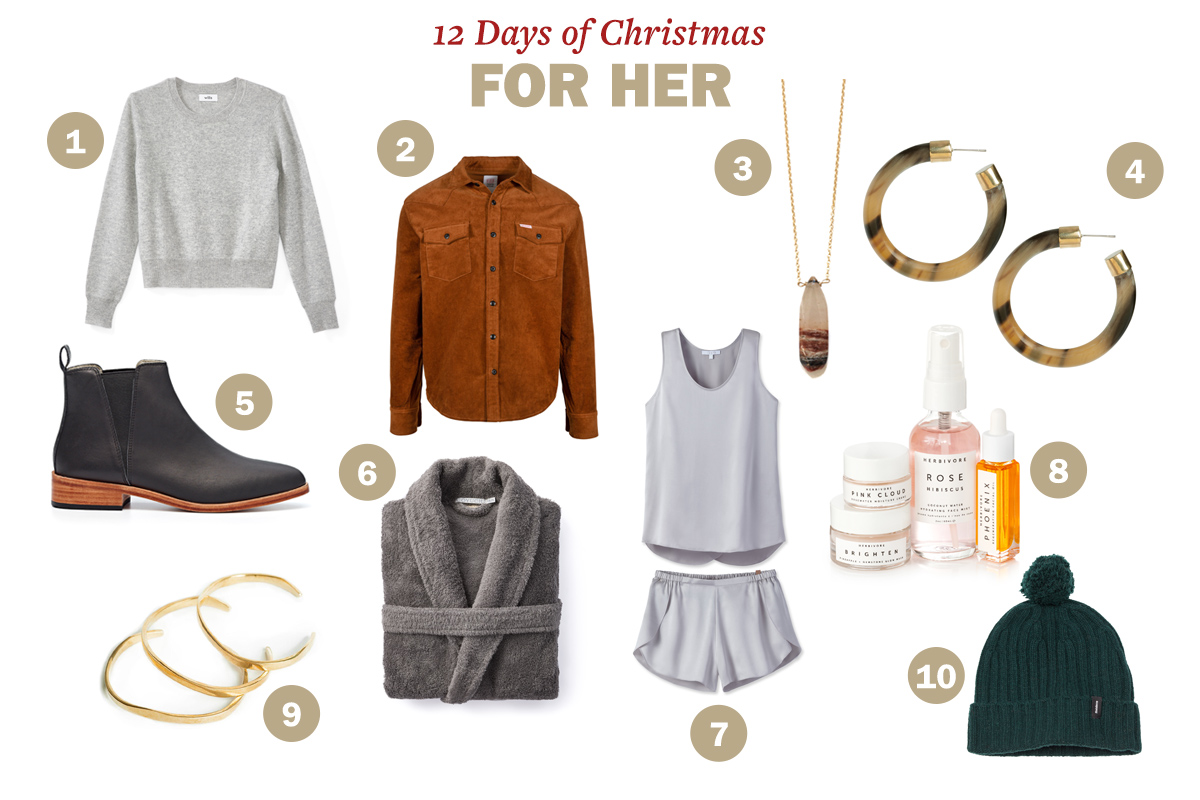 Welcome to AoM's 12 Days of Christmas! We've partnered with Huckberry to bring you 12 straight days of awesome gift guides and giveaways. Each day will feature 10 gift ideas around a theme, as well as a giveaway. The giveaways will run until midnight, and the winner will get to choose any item of their choice (up to $500 in value) from all of Huckberry's offerings.
Finding delight-inducing gifts for the women in your life can be tough. Jewelry can become exorbitantly expensive very quickly and other ideas can feel too commonplace. Huckberry's Gifts for Her Shop is here to rescue you. Filled with fun, unique, classy stuff (including some pieces of stylish but affordable jewelry), you're sure to find things the ladies in your life will love. Below we offer 10 highlights. Browse the whole shop for more.
The 12 Days of Christmas: Gifts for Her
1. Wills Cashmere Sweater. Made with the most luxurious natural fabric on earth — 100% Mongolian cashmere. While the fabric feels fancy, the design and cut is modern enough to wear for even casual occasions.
2. Topo Designs Mountain Shirt. A modern take on the age-old work shirt silhouette, with a durable corduroy construction and built-in stretch throughout.
3. Jasper Mineral Necklace. Elegant, but down to earth, this necklace pairs a gorgeous Jasper stone pendant with a 24″ gold chain that can be worn for nearly any occasion.
4. Soko Capped Horn Hoops. With ethically-sourced horn and brass materials, artisans in Kenya handcraft these earrings using ancient techniques. They're subtle and refined and perfect for just about any jewelry lover.
5. Nisolo Chelsea Boot. These shoes have the refinement of the classic Chelsea silhouette with modern triangular side panels for a more flattering look. The soft leather insole makes these boots extra comfortable for long days.
6. Coyuchi Cloud Loom Robe. Step out of the shower and into a cloud. Coyuchi's 100% organic cotton is spun with the Aerospin process which results in a soft and absorbent yet smooth and sleek fabric that'll feel nothing short of incredible on her skin.
7. Lunya Silk Pajamas. Made from smooth sueded silk and cut for a modern yet feminine look. Comfortable in both cold and warm environs, these luxury pajamas are extra convenient because they're machine washable.
8. Herbivore Skincare Collection. A little pampering goes a long ways, and this luxurious skincare bundle fits the bill. Includes: Rosewater Moisture Creme, Phoenix Facial Oil, Brighten Instant Glow Mask, and Rose Hibiscus Hydrating Mist. All of Herbivore's products are made with all-natural ingredients for the safest skin care products around.
9. Soko Cuffs. Classy but not showy, this set of three cuffs can be worn together or separately. Made in Kenya from ethically-sourced brass.
10. Finisterre Konung Beanie. This beanie features a ribbed knit pattern and does exactly what it's supposed to do: keeps the wind out and the heat in. The pom-pom on top gives it a slight feminine touch that she'll appreciate.
Giveaway
The Prize
Any item available on Huckberry (up to $500).
Enter the Giveaway
If you are an email subscriber, do not reply to this email to make your entry. You must click on the title of this post, which will take you to the post on our web page where you can make your entry. Use the form below to enter. Don't forget! You have multiple ways to enter! The more of them you do, the better your chances are!
12 Days of Christmas: Gifts for Her

Deadline to enter is 11:59 p.m. (Central Time), December 7th, 2019.