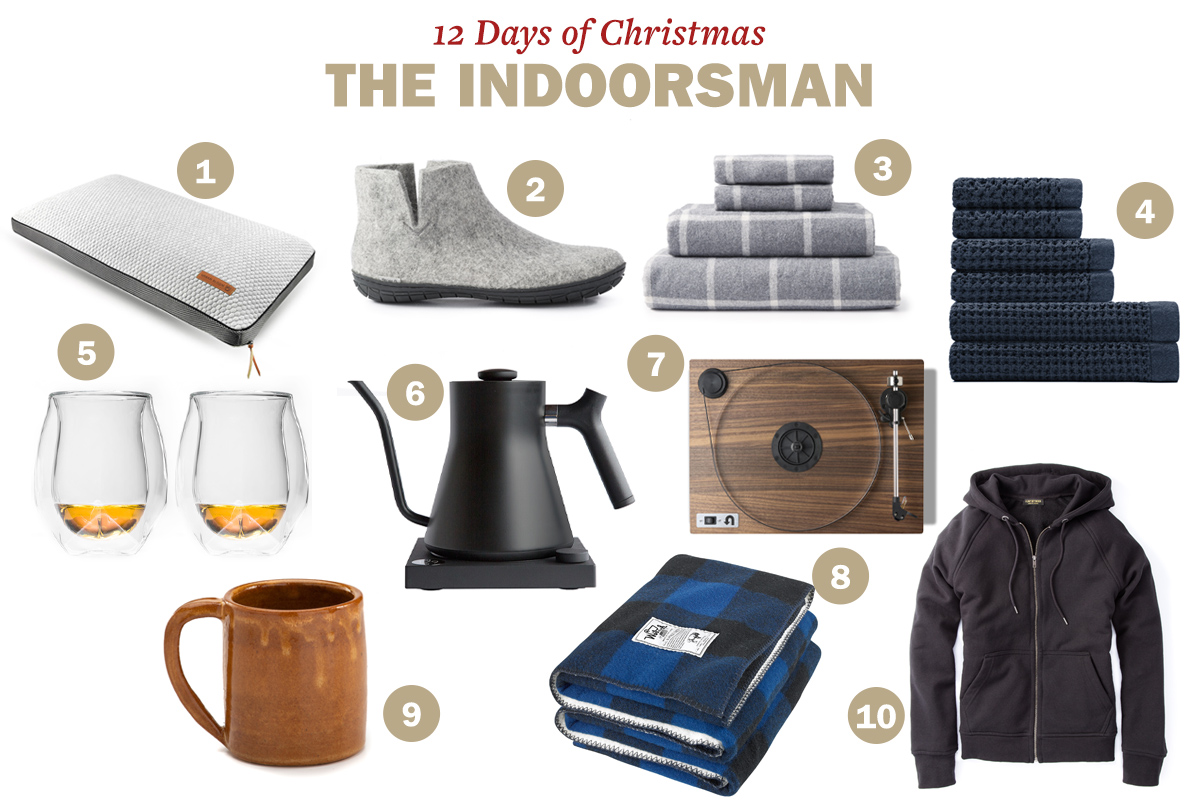 Welcome to AoM's 12 Days of Christmas! We've partnered with Huckberry to bring you 12 straight days of awesome gift guides and giveaways. Each day will feature 10 gift ideas around a theme, as well as a giveaway. The giveaways will run until midnight, and the winner will get to choose any item of their choice (up to $500 in value) from all of Huckberry's offerings.
In wintertime generally, and around the holidays especially, one gets the urge to get cozy — to cuddle up with a main squeeze, don warm garments, sit by the fire reading a book, or just generally settle in for a long winter's nap. Today's gift guide is centered on this very desire. Below are 10 of our favorite items that make staying in at home especially enjoyable.
The 12 Days of Christmas: Gifts for the Indoorsman
1. Urban Bloom Charcoal Pillow. A charcoal pillow? That's right. This thing features a memory foam core infused with charcoal, which naturally eliminates odors and impurities in the air. Charcoal also helps regulate humidity and temperature, creating a cooler, more comfortable night's sleep.
2. Glerups Slippers. Hailing from Denmark — a country that knows a thing or two about how to stay cozy when it's cold outside — Glerups' shoes are handcrafted from 100% pure, natural wool, which naturally wicks moisture from your feet so they're always warm and dry.
3. Upstate Flannel Sheets. The perfect sheets for colder weather, with super soft brushed flannel that still breathes so its inhabitants don't get too hot. Includes a Top/Bottom indicator, so there's no more guessing which direction the sheets go. Why don't more companies do that?
4. Onsen Towels. Onsen towels boast next-level softness. When you combine that luxurious feel with ample absorbency and quick-drying properties, both thanks to its airy weave, you've got a towel worth getting out of a hot shower for.
5. Norlan Whiskey Glasses. Scientifically designed by master distillers to give your whiskey a mellower, more expressive taste. They make an eye-catching addition to any bar cart.
6. Fellow Stagg Kettle. Like your coffee with style in the morning? If you make a French press or a pour over for your morning cuppa, the Stagg Kettle is an excellent addition to your routine. Enjoy a steady pour with its precision spout and keep track of the temperature with a built in thermometer. Includes bluetooth functionality for even more control.
7. U-Turn Audio Orbit. Need something for the music buff? With the Orbit Plus, you get high-performance sound without the unnecessary features that only exist to boost a sales brochure. It plays records, and it plays them well. Assembled by hand in Massachusetts.
8. Woolrich Sherpa Blanket. The first stop on Woolrich's way to legendary status was supplying blankets for soldiers in the Civil War. And since 1830, they've continued to supply the highest-quality woolen blankets to Americans. Exhibit A is this Rough Rider which features a classic pattern that'll look great draped over your couch, and a soft sherpa backing that will feel great next to your face. This blanket comes highly recommended by the McKays.
9. Uzumati Mugs. Hand-dipped, speckled mugs inspired by California's mountains and deserts. Each vessel is fully handmade, making them unique to your cupboard and yours alone.
10. Flint and Tinder 10-Year Hoodie. A premium sweatshirt that's American made from American materials and will last a decade. Comes soft, and only gets softer with wear. And the handsome fits leaves the schlumpy dumpy hoodie behind.
Giveaway
The Prize
Any item available on Huckberry (up to $500).
Enter the Giveaway
If you are an email subscriber, do not reply to this email to make your entry. You must click on the title of this post, which will take you to the post on our web page where you can make your entry. Use the form below to enter. Don't forget! You have multiple ways to enter! The more of them you do, the better your chances are!
12 Days of Christmas: Gifts for the Indoorsman

Deadline to enter is 11:59 p.m. (Central Time), December 10th, 2019.