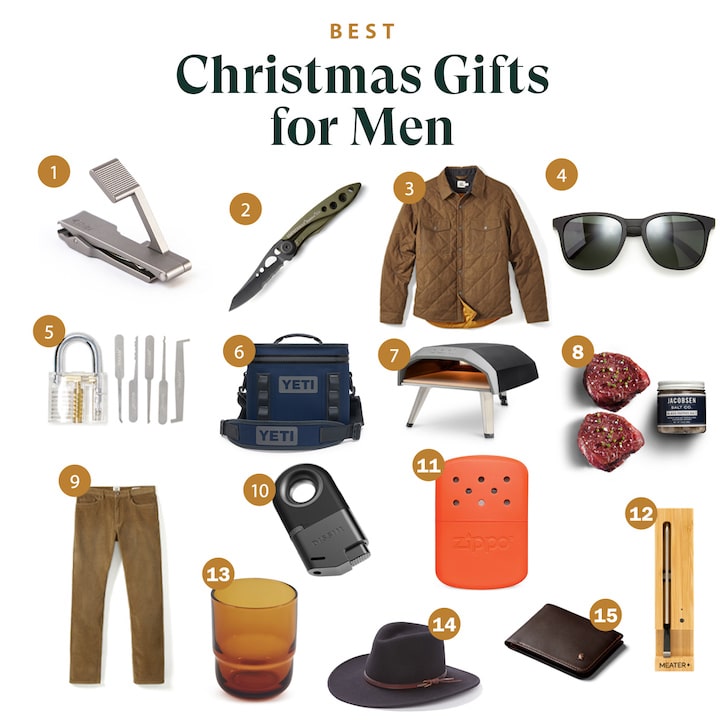 It's that time of year again, when we share our top men's gift ideas from Huckberry. It's hard to go wrong with getting family members and friends any of the items featured above, and if you need even more options, check out the variety of well-curated shops that Huckberry has put together. Each is eminently enjoyable to peruse:
After you're done browsing and perhaps picking up some gifts for the lucky folks in your life, enter the giveaway below to score something for yourself. You can win anything available on Huckberry — up to a $500 value!
1. Khlip Ultimate Clipper. You may never have thought much about your nail clipper, but maybe you should. The Khlip makes for the ultimate upgrade. Superior ergonomics, clean-cutting blades, and a built-in cavity to hold the clippings make this the world's best toenail tamer.
2. Huckberry x Leatherman Skeletool KBx. The Skeletool KBx is a modern pocket knife, built light and durable for everyday carry, with a bottle opener built into the pocket clip. Made in the USA and carries a 25-year warranty.
3. Flint and Tinder Quilted Waxed Shirt Jacket. This shirt jacket boasts multiple layers of quality and comfort: The outside is built from a hardy and highly water-resistant British Millerain waxed canvas, the inside is insulated with cozy Primaloft, and the lining is made with soft-touch Japanese polyester. It's got enough ruggedness for the ranch, enough style for the city, and plenty of handy pockets to boot.
4. Huckberry Weekenders. These are my favorite sunglasses, for all the reasons I go into detail on here. Here's the CliffsNotes version: They're durable and look cool, feel great, and won't break the bank — which makes them an excellent stocking stuffer.
5. Cool Material Lock Pick Training Kit. As we've talked about here on the site, lock picking is a very handy and valuable skill to know. It can save you money on calling a locksmith or help you rescue someone in an emergency situation. But it's a skill you have to practice if you want to be ready to use it when needed. Use this training kit to get proficient.
6. Yeti Hopper Flip 8 Soft Cooler. The perfect size for a day trip, the Hopper Flip 8 is a soft sided cooler built tough on the outside and packed with Yeti's legendary insulating tech inside. It has enough room for 8 cans plus twice as much ice, so pack in your provisions, sling it over your shoulder, then head off somewhere wild.
7. Ooni Koda 12 Pizza Oven. This portable pizza oven heats up to a whopping 950°F and pumps out five-star quality pizza in just 60 seconds. And the state-of-the-art, compact, and remarkably simple design eliminates complex assembly and makes clean-up and storage a snap.
8. Snake River Farms 8 oz Filet Mignon Steaks. Most men don't need more stuff cluttering up their house, which makes edible gifts always appreciated. Within that category, you can't do better than gifting someone these two hand-cut, black grade American Wagyu filet mignon steaks, which come with a jar of Jacobsen black pepper-infused salt. We cooked up these steaks for our family, and my father-in-law declared it the best steak he's ever had in his life.
9. Flint and Tinder 365 Corduroy Pants. We've been singing the praises of corduroy this year, and if you haven't yet made the leap to donning this soft, ribbed fabric, then this is the way to do it. Flint and Tinder's corduroy pants are cut like a jean, feel like a chino, and stretch like a performance pant. They're so comfortable, you'll want to wear them throughout the year.
10. Dissim Inverted Lighter. It's the lighter innovation we've been waiting for: Specifically designed to be flipped upside down, the combo of a circular grip and angled flame port direct the fire at the wick of your candle or the tinder in your campfire with your fingers safely out of the way.
11. Zippo Refillable Hand Warmer. Your hands can get awfully cold in frigid weather, and it sure feels nice to stick them into pockets that are heated by hand warmers. Rather than constantly buying and throwing away the disposable kind, get one (or even better, a pair) of these reusable hand warmers from Zippo. Small, sleek, durable, and endlessly refillable, they provide up to 12 hours of warmth and will last for years.
12. Meater+Wireless Thermometer. The world's first wireless smart meat thermometer. Stick a wireless probe in your meat which connects to your phone, and the Meater thermometer will give you convenient notifications as you grill, bake, pan fry, and smoke your meats, letting you turn your attention to other things while still ensuring accurate, consistent results every time.
13. Our Place Drinking Glasses. These drinking glasses make me feel nostalgic for some reason. I guess because my grandma had glasses that were very similar. Beyond the 70s-era cool, they're durable, stackable, and handmade from recycled glass. I bought these glasses for our own household and love drinking out of them.
14. Stetson Bozeman Outdoor Hat. Made in the USA and backed by Stetson's 150+ years of experience in the headwear business, the Bozeman is crafted from a wool felt that's breathable, moisture-wicking, and quick-drying and has a crushable construction that bounces back even after being stuffed in a suitcase or backpack.
15. Bellroy Hide & Seek Wallet. This is the wallet I carry and recommend to others. It's slim and lightweight, provides easy access to your cards, sports two areas for your cash (one of which is a secret compartment), and is quite handsome.
View Giveaway

Deadline to enter is December 2, 2022 at 11:59 p.m. CT. We'll then select one random winner. Good luck!