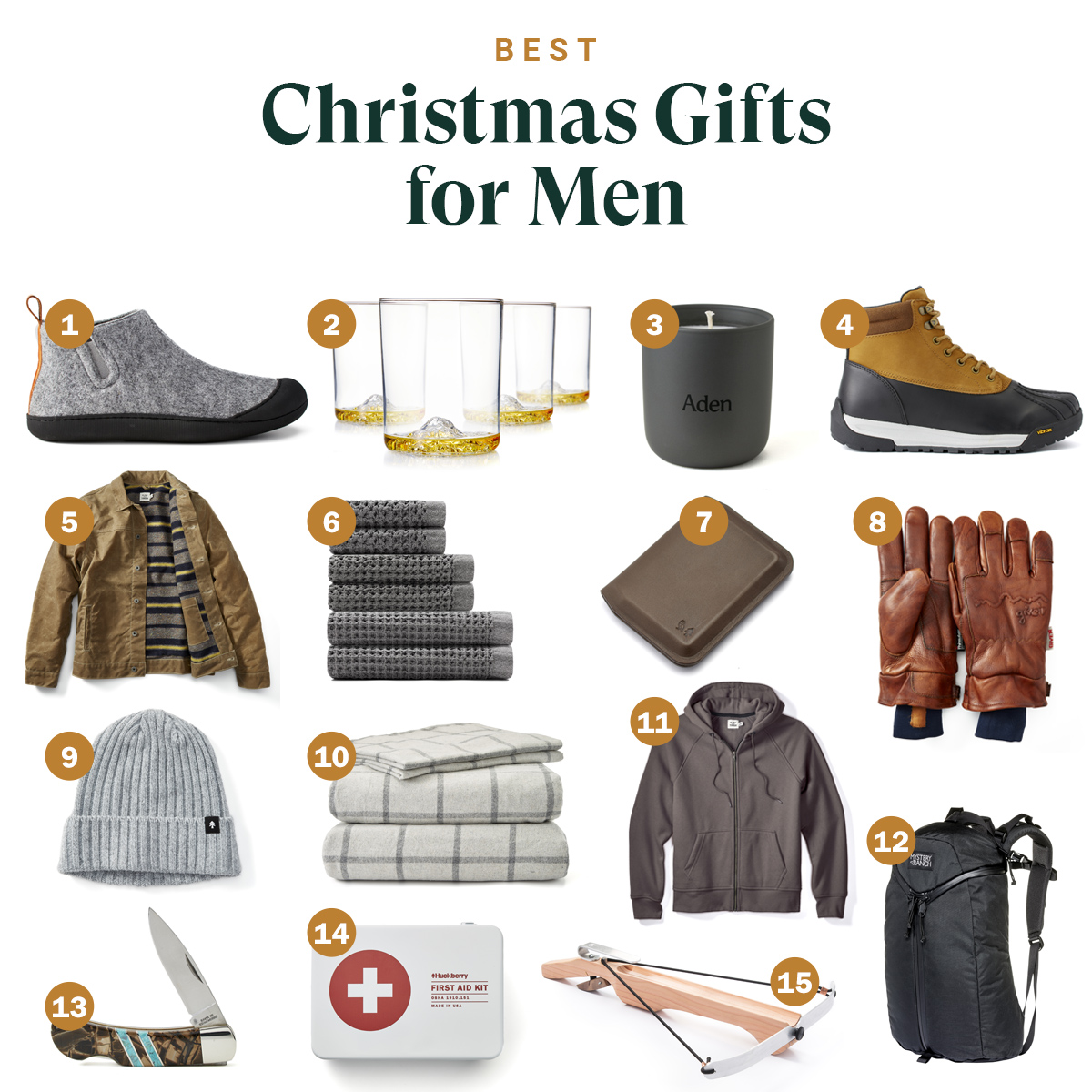 Have you been stumped as to what to gift to some of the men in your life? Or have you been stumped about what to tell a loved one who wants to know what you want for Christmas? Our friends at Huckberry have got you covered with their top 15 gift ideas for this year. Well-made and handsome, they range from the practical to the fun, and if you need even more ideas, check out all of Huckberry's offerings. Plus, you can enter to win something for yourself (anything available on HB, up to $500!) by checking out the giveaway below.
1. Greys Outdoor Slipper Boot. Made of a cozy wool blend that feels like you're wrapping your feet up in your favorite blanket, and yet is temperature regulating, moisture wicking, and odor resistant. The rubber sole provides some grip and allows you to venture out of the house.
Check out more gifts for the indoorsman.
2. Whiskey Peaks — American Mountains Set. A handsome set of four hand-blown whiskey glasses made from premium lead-free crystal. The bottom of the glasses each feature a raised topographic impression of one of America's most iconic mountains: Half Dome, Denali, Mt. Whitney, and Mt. Rainier. Perfect for sipping neat.
Check out more gifts for the home bar cart.
3. Aden Candle. With scents that evoke adventure from the comfort of your office or couch, these might just be the perfect 2020 Christmas gift. The candles from Aden are handpoured in California into handsome ceramic vessels and boast an impressive 60-hour burn time.
Check out the entire Huckberry candle shop.
4. All-Weather Duckboot. Snow boots are nice, but often don't withstand slushy streets or rainy winter days as well as rubber rain boots. What's a man to do? The Duckboot is a 100% waterproof hybrid that stands up to any type of foul weather. Can be worn for any of your outings and is comfortable enough for all-day wear when needed. Available exclusively on Huckberry.
Check out more gifts for the outdoorsman.
5. Flint and Tinder Trucker Jacket. Made with waxed, weather-resistant sailcloth, this trucker jacket is soft right out of the box, and can be worn with just a tee underneath since it's fully lined with flannel. Perfect for unpredictable, fast-changing environs where you're regularly adding and subtracting layers.
Check out more of Huckberry's all-time favorite gifts.
6. Onsen Towels. This isn't your standard fluffy, heavy bath towel that takes forever to dry and gets mildewy in the process. Instead, it's got a unique airy weave that gives it a satisfying, lightweight feel, maximizes absorbency, and dries your body, and itself, quickly.
Check out more gifts for the indoorsman.
7. Bellroy Apex Slim Sleeve. The modern, stylish, minimalist wallet every man's pocket deserves. Features quick access slots for your most used cards, a spot for your cash, a magnetic closure to keep everything secure, and a color combo exclusive to Huckberry.
Check out more gifts for the guy who's impossible to shop for.
8. Give'r 4 Season Gloves. Heavy-duty, waterproof, and insulated, these bad boys are built to withstand anything, from grabbing a burning log out of a fire to ice fishing in below-zero temps. You might be hesitant to spend $100 on work gloves when you can get them for a fraction of that at a big box hardware store, but these are well worth it. It's a night and day difference from the cheap ones.
Check out more gifts for the guy who's always prepared.
9. Huckberry Beanie. A Japanese-made beanie that blocks out the cold and keeps you stylish in the process. It's also durable as heck. Include it in your loved one's stocking this year, and they'll be chomping at the bit to go outside and snowshoe or split some wood for the fireplace.
Check out more stocking stuffers.
10. Upstate Flannel Sheets. Upgrade your bedtime coziness this year. These are the perfect sheets for colder weather, with super soft brushed flannel that still breathes so its inhabitants don't get too hot.
Check out more gifts for the indoorsman.
11. Flint and Tinder 10-Year Hoodie. A premium sweatshirt that's American made from American materials and will last a decade (at least). Comes soft, and only gets softer with wear. And the handsome fits leaves the schlumpy dumpy hoodie behind.
Check out more Made in the USA gifts.
12. Mystery Ranch Urban Assault Pack. Inspired by military assault rucksacks, but perfect for civilian travel and adventure, this bag represents the epitome of clean, functional design. What makes it truly unique is the 3-ZIP closure that makes everything easily accessible no matter what kind of load is being carried.
Check out more gifts for the outdoorsman.
13. Santa Fe Stoneworks. These beautifully designed knives never go out of style and are the perfect gift for the man who appreciates the exquisite combination of form and function. The blade is top-notch, but the handles are really what make these pocket knives stand out, as they're made with materials like fossil, mammoth tusk, turquoise, and more.
Check out more gifts for the guy who's always prepared.
14. Huckberry First Aid Kit. In the midst of cultivating your lifelong spirit of adventure, you're likely to rack up some bumps, scrapes, and bruises along the way. Even though the hope is that you never have to use it, a first aid kit is essential to have on hand just in case.
Check out more gifts for the guy who's always prepared.
15. MMX Marshmallow Crossbow. Your targets don't stand a chance against the Marshmallow Crossbow or "Mallow Bow," a wooden toy made in Vancouver using old-school woodworking techniques. From up to 60 feet away, it'll beeline regular-sized marshmallows wherever you aim them.
Check out more gifts for the guy who's impossible to shop for.