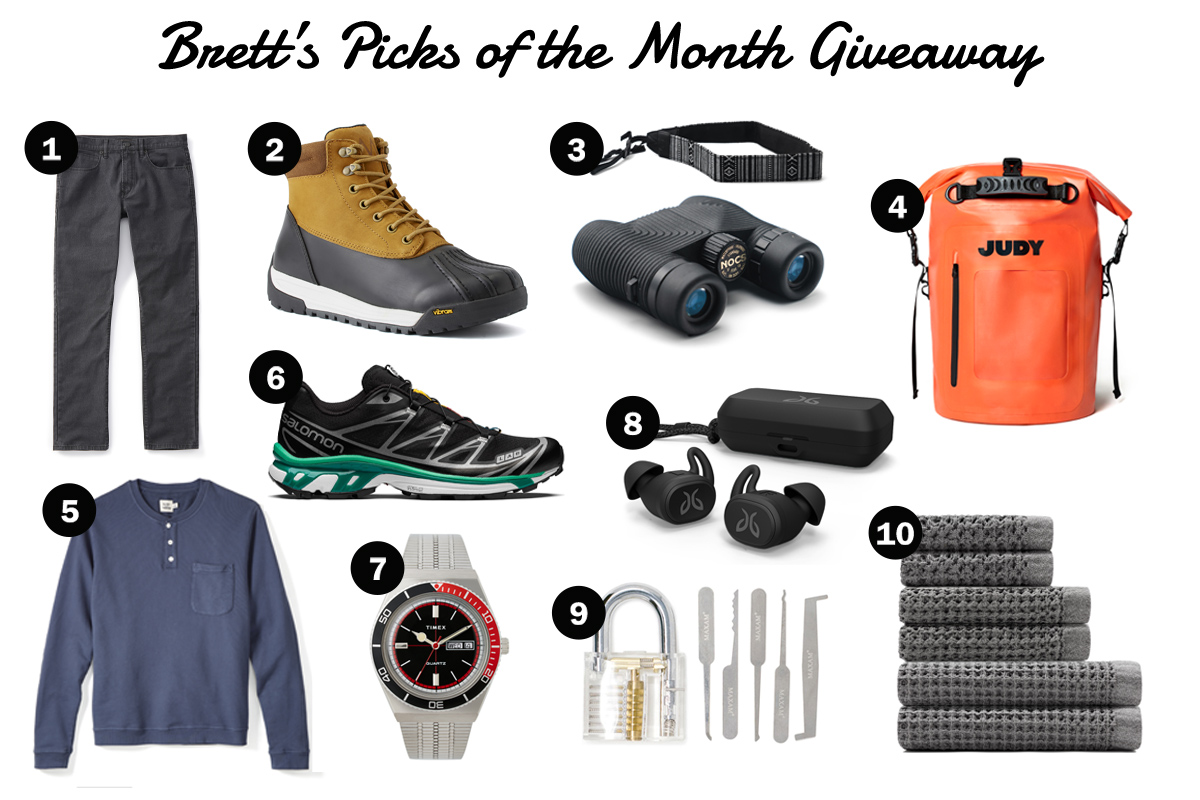 Below you'll find some of my favorite recent offerings from Huckberry. Enter the giveaway to win any of these items, or anything else available in their store (up to a value of $500).
My Picks This Month
1. Proof Rover Pant. Cut in a classic tailored fit, but constructed like a work pant, the Rovers have a gusseted crotch for extra mobility. Add in a breathable canvas material, and you've got a pair of pants for every kind of terrain and environment.
2. All-Weather Duckboot. When snow boots won't suffice for the slushy streets or rainy days of early spring, what's a man to do? The Duckboot is a 100% waterproof hybrid that stands up to any type of foul weather. Can be worn for any of your outings and is comfortable enough for all-day wear when needed. Available exclusively on Huckberry.
3. Nocs Binoculars. Built for the modern explorer who carries on that spirit of exploration and curiosity. These binoculars are equipped with premium optics that are housed in a weatherproof and fogproof case, and wrapped up in a rugged, non-slip grip that fits right into a pocket for easy access.
4. JUDY Mover Max. This evacuation-ready bug-out bag is prepped with everything you need to support a family of four for up to 72 hours. The included supplies cover your warmth, safety, first aid, food, and water needs, all wrapped up in a puncture-proof, comfortable-to-carry kit.
5. Flint and Tinder Henley Sweatshirt. Like peanut butter and jelly, Flint and Tinder's new henley sweatshirt combines two great things into one even greater thing. The humble henley is one of the easiest style plays in a guy's wardrobe and French terry fabric is among the most comfortable. Ergo, this shirt brings both unbelievable comfort and easy style to any casual get-together.
6. Salomon XT-6. With spring officially around the corner, it's time to start looking for your new pair of trail runners. The search is over with the Salomon XT-6. A lightweight and durable running shoe, outfitted with industry-leading innovations in everything from fit to descent control, it will help you run long, hard, and nimbly across rough and varied terrain.
7. Huckberry X Timex "Cola." Timex has long combined style, dependability, and affordability better than just about any other brand of timepiece. Huckberry teamed up with them on this exclusive design that draws inspiration from the military gear of the 70s and 80s. Looks great and tells the time — what else do you need?
8. Jaybird Vista Headphones. Bluetooth headphones that are made for whatever adventures and workouts you can throw at them. Features include: waterproof (and sweatproof) construction, rechargeable 6-hour battery life, built-in tracking so you never lose an earbud, and high-quality sound for music, phone calls, podcasts, and more.
9. Lock Pick Training Kit. Master the fine art of lockpicking with a clear padlock training kit. Comes with a tensioning wrench and four picks (and a key, of course, just in case). This impressive life skill is well worth learning; it ensures that being locked out of your and your loved ones' homes/rooms never leads to panic or an expensive phone call to a locksmith.
10. Onsen Towels. This isn't your standard fluffy, heavy bath towel that takes forever to dry and gets mildewy in the process. Instead, it's got a unique airy weave that gives it a satisfying, lightweight feel, maximizes absorbency, and dries your body, and itself, quickly.
The Prize
Any item currently available on Huckberry (up to a value of $500). Be sure to check out the current line-up of items as it changes every week.
Enter the Giveaway
If you are an email subscriber, do not reply to this email to make your entry. You must click on the title of this post, which will take you to the post on our web page where you can make your entry. Use the form below to enter. Don't forget that you have multiple ways to enter! The more of them you do, the better your chances are!
Deadline to enter is March 14 at 11:59pm CT. We'll then select one random winner. Good luck!