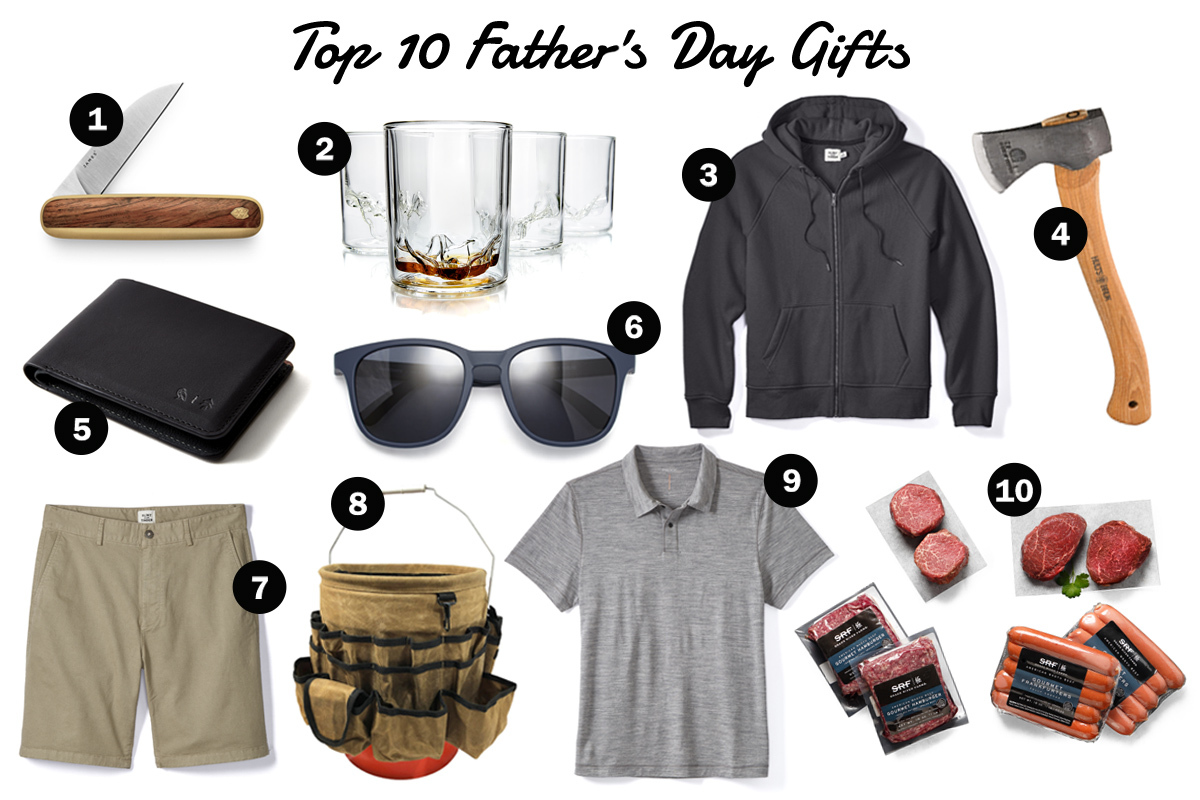 Dads aren't usually very picky about Father's Day presents — if you get them something, anything — they're typically simply tickled pink that someone remembered them at all.
Those low expectations are going work to your advantage this year — because this year, you're not only going to remember to get your Pops something for Father's Day, you're going to come through with something truly fun, useful, and/or unique.
For those looking to not only meet but exceed dear old Dad's expectations, our friends at Huckberry have curated a selection of can't-miss items below; for even more ideas, be sure to check out their entire Father's Day store. And don't forget to enter the giveaway!
Top 10 Father's Day Gifts 2021
1. James Brand Pike. For a slim knife that truly fits in Dad's pocket, you can't get better than James Brand. Simple and handsome, its rosewood and brass handle holds a single straight knife blade made from the finest steel around. The knife's balanced combo of hardness, toughness, sharpness, and corrosion resistance will keep it part of Dad's EDC for years to come.
2. Whiskey Peaks Glasses. The perfect glasses for the man who enjoys both a good spirit and adventures in the outdoors. Each unique set of hand-blown whiskey glasses are made from premium lead-free crystal and feature raised topographic impressions of some of the greatest, most majestic landscapes in the world, from Colorado's Rockies to the canyons of Zion National Park.
3. Flint and Tinder 10-Year Hoodie. A premium sweatshirt that's American made from American materials and will last a decade (at least). Comes soft, and only gets softer with wear. And the handsome fits leaves the schlumpy dumpy hoodie behind.
4. Hults Hatchet. A versatile, all-purpose hatchet made from solid Swedish steel and American hickory. The curved handle, treated with linseed oil for protection from the elements, makes for easy handling and precision carving.
5. Bellroy Hide & Seek. The modern, stylish, minimalist wallet every dad's pocket deserves. Features quick access slots for your most used cards, a spot for your cash, RFID blocking technology, and a color combo exclusive to Huckberry.
6. Huckberry Weekenders. An all-day, everyday pair of sunglasses that won't break the bank. Lightweight but with a hardy construction, polarized lenses, and crucial hinge protection (which is where sunglasses always fail when/if they take a tumble), these can truly be taken anywhere.
7. Flint and Tinder 365 Shorts. These shorts combine a tailored look and silhouette with the stretch of a performance pant. They're so comfortable, Dad will want to wear them every day of summer (and probably fall too).
8. Readywares Tool Bucket Organizer. This tool organizer, which fits a standard 5-gallon bucket, is every father's dream. Constructed from high-quality waxed canvas, it boasts 58 purpose-built pockets that hold everything from the smallest screwdriver to a full-sized power drill. It even has loops to keep your hammers and crowbars neatly in place. Definitely the dadliest gift you'll come across.
9. Proof 72-Hour Merino Polo. A polo built from anti-odor merino wool that's perfect for traveling around the globe, or tackling everyday demands closer to home. Wear it to the office, a BBQ, or wrangling the kids in the backyard, and you'll stay looking sharp while smelling fresh.
10. Snake River Farms Waygu Grilling Pack. Give dear old Dad what he really wants for Father's Day: a meat pack. This American Wagyu Grilling Pack includes everything he needs to experience the flavorful joys of the world's best beef: 2 filet mignons, 2 top sirloin steaks, 2 hot dog packs, and 2 pounds of ground beef. Yum.
Enter the Giveaway
If you are an email subscriber, do not reply to this email to make your entry. You must click on the title of this post, which will take you to the post on our web page where you can make your entry. Use the form below to enter. Don't forget that you have multiple ways to enter! The more of them you do, the better your chances are!
Deadline to enter is June 14 at 11:59 p.m. CT. We'll then select one random winner. Good luck!