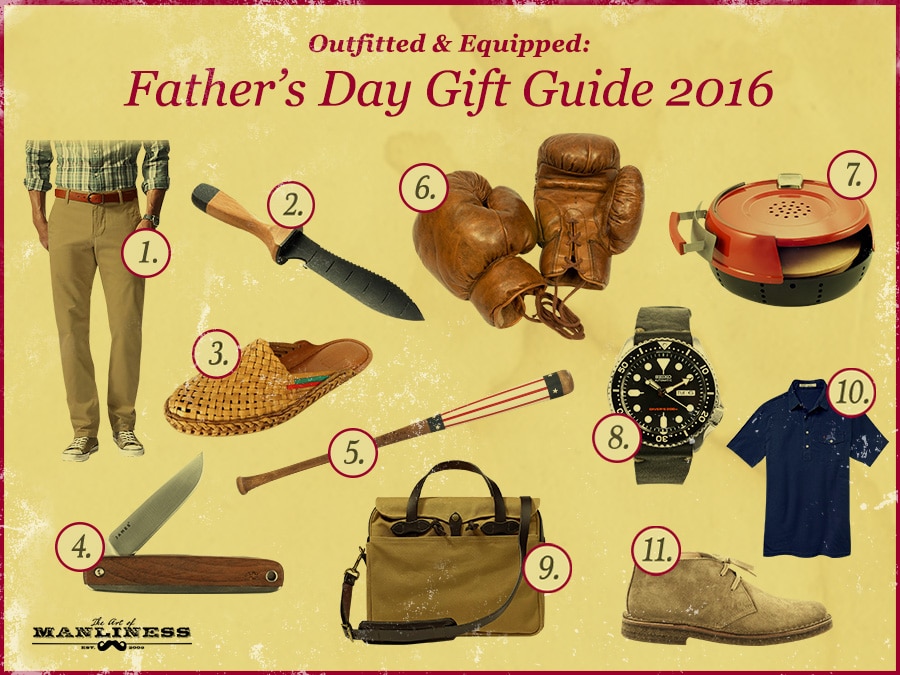 Dads aren't usually very picky about Father's Day presents — if you get them something, anything — even if it's a World's Greatest Dad mug or tie — they're typically simply tickled pink that someone remembered them at all.
Those low expectations are going work to your advantage this year — because this year, you're not only going to remember to get your Pops something for Father's Day, you're going to come through with something truly fun, useful, and/or unique. For those looking to not only meet but exceed dear old dad's expectations, we present the following selection of gift ideas:
For the Up-For Anything Dad. Dockers Alpha Stretch Khaki, Athletic Tapered. Khakis are versatile: they can be worn for nearly every occasion and paired with everything from a t-shirt to a button-down shirt and tie. And khakis are comfortable: way cooler, softer, and more flexible than jeans — especially when they're ones like these with built-in stretch. Give dad pants he can both move in, and look good in, whether he's going to the office, or exploring the town
For the Gentleman Gardener. Hori Hori Gardening Tool. You didn't even know you needed the Swiss Army Knife of gardening tools until you saw this bad boy. Whether you're digging, trenching, planting, cutting, weeding, or even opening some bottles, the Hori Hori can do it all. It features both a straight edge and a serrated blade, hashmarks for measuring depth and length, a twine cutter, a bottle opener…need we say more? The bamboo handle ensures comfort while using it and the stainless steel blade prevents quick wearing and rusting that you find with most cheap gardening tools.
For the Pool-Goer. Mohinders City Slipper. Handmade in rural India, these leather and rubber slippers — called such because they slip on, not because they're made for padding around indoors — are both durable and flexible. The woven water buffalo leather provides a stylish and unique look that isn't found elsewhere, and the natural crepe rubber sole provides comfort all the day long.
For the EDC Aficionado. James Brand County Knife. For a slim knife that truly fits in dad's pocket, you can't get better than James Brand. Simple and to the point, you won't find any bells and whistles here; just a single straight knife blade made from the finest steel around. Its balanced combo of hardness, toughness, sharpness, and corrosion resistance means it will stay in your pocket for years and years. As a bonus, the wood grain handle adds some style points.
For the Sports Fan/Amateur Athlete. Old Glory Bat. Father's Day falls in mid-June, placing it squarely in the heart of baseball season. Even those dads who don't regularly follow the sport can appreciate the craftsmanship and artistry that goes into the maplewood bats (that's the same wood the pros use, by the way) made by Pillbox. The patriotic motif of the Old Glory model would look equally good on the wall of a den or at the next company softball game.
For the Fighter. John Woodbridge & Sons Boxing Gloves. These gloves probably won't be worn in the ring anytime soon, but they provide a great homage to the mighty boxing battles of yore, and when hung above a fireplace, can remind any dad that you've got to fight for everything in this world, and that every man needs a challenge. These leather mitts are handmade, and the manually-applied patina makes them look like they came straight out of a time machine from the 1920s.
For the Home Chef. Pizzacraft Stovetop Oven. There aren't many dads out there who don't love a good pizza. But the frozen variety that goes in the oven just doesn't ever live up to expectations. And the homemade kind involves waiting around forever for the oven to heat up, and the pizza to cook. Enter Pizzacraft. It turns your gas stove into a bonafide pizzeria and cooks hotter and faster than a conventional oven, cranking out perfect pies in just 6 minutes. No matter dad's preferred toppings, he'll turn home chef in no time flat, and Sunday night will henceforth be known as Pizza Night.
For the Watch Guy. Seiko Dive Watch. Seiko has been a legendary name in the timepiece business for generations. From the classic wrists of Robert Redford and Martin Sheen, to deep sea depths and mountain highs — these watches have been nearly everywhere. This particular iteration features a stainless steel back, scratch-resistant casing, and a Horween leather strap. Whether dad is meeting in the boardroom, hitting the streets on his hog, or trekking through the woods, this watch will faithfully keep time so that he can make the most of his.
For the Field Worker. Filson Original Briefcase. Whether dad literally works out of doors or his "field" is made of cubicles, this briefcase is as tough and as durable as it gets. It has two large pockets for notebooks and tablets, and compartments for business cards, writing utensils, multi-tools, and maybe even a cigar cutter. Brass hardware and leather straps mean that dad won't be sacrificing style for toughness, and the Filson name means it will hold up for decades.
For the Summertime Socializer. Criquet Players Shirt. Inspired by golf-wear, but refined for any occasion, Criquet makes the best polos around, bar none. They're breathable, lightweight, and come with removable collar stays to make sure you don't get any of that ugly bacon, or curled, collar. These polos are comfortable, stylish, fit just right, and will carry you through many a summertime BBQ, golf game, and more.
For the Shoe Guy. Astorflex Greenflex Chukka. Few things in a man's closet can class up his outfit like a pair of nice shoes. And few shoes are as versatile as the chukka; they can be worn on nearly any and every occasion — from date night to poker night and everything in between. With super soft leather and Italian construction, this particular chukka is sure to earn a prominent place in dad's closet and daily wardrobe.