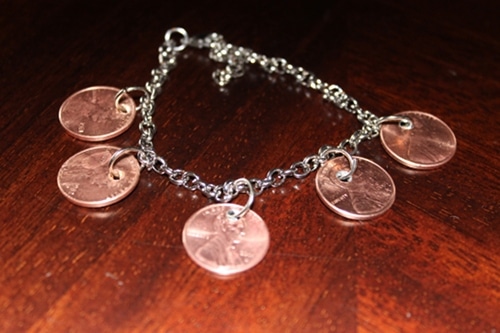 PSA: Valentine's Day is next week.
Are you looking for a thoughtful gift idea for the occasion that goes beyond the usual chocolates, flowers, and plush teddy bear holding a satin heart, but don't want to plunk down a 15-carat wad of cash? Well, I've got you covered. Today I'll share how to make one of the most romantic, and yet least expensive Valentine's Day presents possible. It costs about five dollars and takes just a half-hour to make — no other gift offers more swoon and "awwwww" for the buck.
I actually got the idea for this while browsing Pinterest a while back. (Yes, I browse Pinterest. There's actually some cool man stuff there and lots of recipes for good grub. Shameless plug: follow AoM on Pinterest). The basic concept is this: You take a penny minted in different years that are significant to your relationship with your girl and turn it into a charm bracelet.
I thought it looked like a swell gift idea for my wife so I decided to make it. Result? She loved it.
If you're ready to become the world's greatest boyfriend/husband this Valentine's Day, read on.
Materials Needed
Pennies. You need a penny from each significant year of your relationship — her birth year, your birth year, year you met, year you married, year(s) kid(s) were born, etc.
Chain bracelet. See if your wife/girlfriend has an old chain-link bracelet. If she doesn't, buy one at the craft store for $3. (When I went to Hobby Lobby to buy a bracelet, a smooth jazz version of "El Shaddai" was playing over the store sound system. True story.)
9mm jump rings. You can buy a package at the craft store for $2.00
Scrap wood
Vinegar
Salt
Tools Needed
Power drill (ideally a drill press)
1/8-inch drill bit
Metal file/sandpaper
Step 1: Find Pennies
Step 2: Clean Pennies
Step 3: Drill Holes
Step 4: File/Sand Rough Edges
Step 5: Put Jump Loop Ring Through Penny Holes
Step 6: Attach Jump Ring & Penny to Chain Bracelet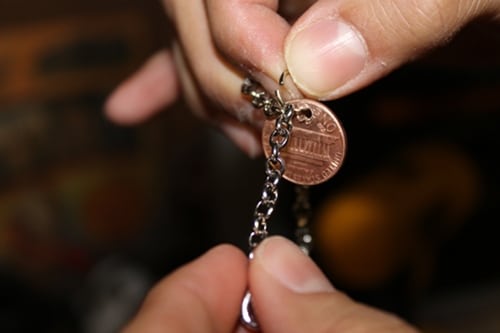 Step 7: Break Out the Smelling Salts and Prepare for Swooning
Option #2: Key Chain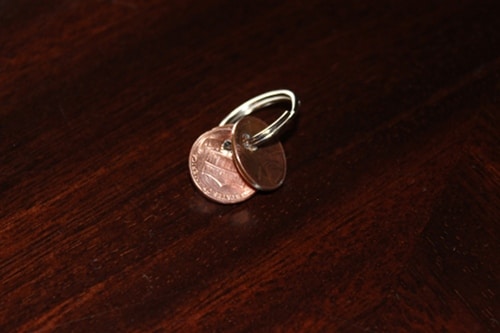 The bracelet is a little quirky, and if it's not your wife's/girlfriend's style, you can make her a key chain with your pennies instead. You'll simply need a 24mm split ring key ring and a larger drill bit (3/18″ worked for me). Drill your holes and thread them on the key ring. Boom. Instant, thoughtful gift.
I'm sure you could get all sorts of creative with either the bracelet or the key chain, but alas, I have the creativity of a drill bit. The real gold, or golden copper here, is the penny idea. Any way you do it, it will make your gal go "awwww," and even if she doesn't like it, she'll think it's mighty thoughtful and keep it forever and ever. Whenever she looks at it, she'll think of how your relationship just makes cents. I'm here all night folks. Please tip your waiters.
Share your DIY Valentine's Day gift ideas in the comments!