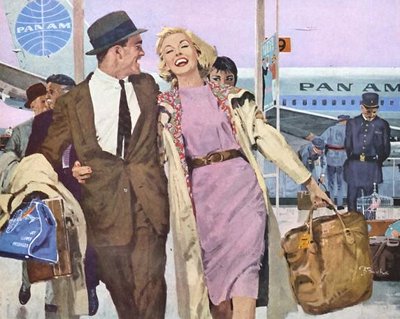 Editor's note: This is a guest post from Sasha Martin.
While dinner and a movie are fine for a typical Friday night, Valentine's Day should be different–a cut above. Looking back over the years, the dates that stand out in my memory are the ones that prompted good conversation, created memorable experiences, and were filled with the unexpected. So this year skip the crowded restaurants and take your sweetheart for a trip around the world with an at home dinner date.
What's that you say? Don't have the dough to whisk your lady from Rome to Timbuktu? Then give her a global experience via "stovetop travel." By whipping up a meal that includes a dish from each of the world's continents, you can give your special someone a charming dose of both culture and amore without ever leaving the kitchen. No jet lag either!
The following dishes from around the world taste fantastic and are simple to prepare. Whether you make part or all of this sampler-style menu, you'll have plenty to talk about and create tons of romance as you rub elbows in the kitchen. Staying in this Valentine's Day could just be the best trip you've ever been on.
Let's get continent-hopping.
First Stop: South America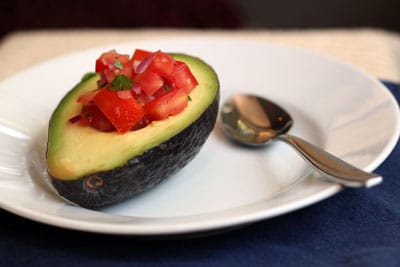 Start off your date with a Bolivian Avocado Salad. Made with ingredients readily available in Bolivia. Simply split the avocado in half, remove the pit, and fill with a mixture of tomatoes, red onion, parsley and vinaigrette. The creamy avocado and acidic tomatoes will really get your taste buds moving. The best part? You can assemble the filling ahead of time. When she shows up just pull the filling out of the fridge and stuff the avocado together.

Bolivian Avocado Salad
Ingredients:
1 avocado, halved and pitted
minced red onion, to taste
1 small tomato, chopped
1 sprigs fresh parsley, minced
1 Tbsp olive oil
2 tsp vinegar
salt
pepper
Method:
1. In a small bowl, combine red onion, tomato, parsley, olive oil, vinegar, salt and pepper.
2. Immediately before serving, scoop tomato mixture into avocado halves. Any extra can be mounded on the side, if desired. Serve cool.
Second Stop: Asia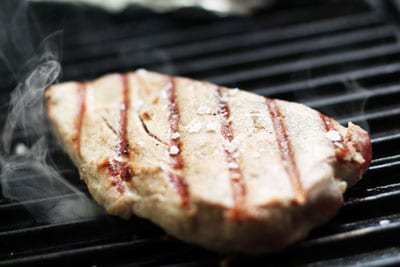 Take her to East Timor (Timor-Lest), where whole tuna are caught fresh from the sea and sold beach-side. While local fishermen slather the entire fish with garlic, butter, and salt, you can recreate this dish by simply brushing tuna steaks with homemade garlic butter and searing on an indoor grill. Finish your Timorese Tuna off with a sprinkling of crunchy, coarse sea salt. Slice thinly and serve over rice or salad. Prep tip: mix up the garlic butter mash the day before.
Timorese Tuna
Ingredients
2 Tuna steaks
2 Tbsp butter
1-2 cloves garlic, crushed
coarse sea salt, to taste
Method
1. Preheat indoor or outdoor grill to medium high. Melt butter and garlic in a small bowl. Brush liberally on both sides of the tuna.
2. Sear 2-4 minutes per side. Serve over mixed greens or with rice.
Third Stop: Europe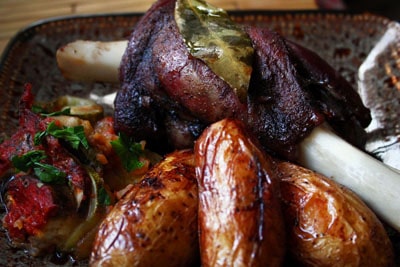 Forget crossing the world via airplane – after about two minutes of prep and two hours of slow roasting in the oven you'll have Ofto Kleftiko–Roast Lamb with cinnamon & ground coriander. This popular celebration food is made in Cyprus where they tightly seal the meat inside a ceramic casserole. You can recreate this moist environment by tightly wrapping the lamb in foil and placing in a regular casserole. This is possibly one of the tastiest ways to eat lamb, with the least amount of effort.

Ofto Kleftiko

Ingredients:
2 lamb shanks, about one pound each
1/2 tsp cinnamon
1 tsp ground coriander
4 bay leaves
salt
pepper
olive oil
Method:
1. Preheat the oven to 375F.
2. Lay out two squares of aluminum foil and place one lamb shank on each square. Drizzle with olive oil, sprinkle with the cinnamon, coriander, salt and pepper. Rub into the meat. Place 2 bay leaves with each lamb shank and wrap tightly in foil.
3. Place in covered casserole and bake for about 2.5 hours. Remove from oven, let rest for about 15 minutes, then unwrap from foil. Serve immediately.
Fourth Stop: Oceania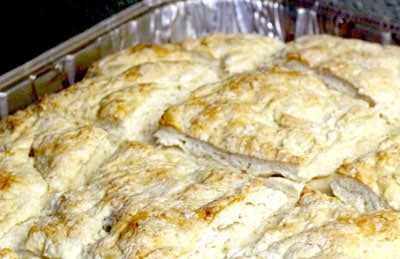 For this leg of the trip, whip up a batch of Australian Damper Bread (rather like a dense biscuit). Traditionally cooked in campfires in the outback, Damper Bread is rustic, manly food. And it tastes great with butter.
Australian Damper Bread

Ingredients:
4 cups flour
1 tsp salt
1/8 cup baking powder
1/8 cup sugar
1 1/4 cups milk
Method:
1. Preheat oven to 425F. Grease an 8×8 pan.
2. Whisk together the flour, salt, baking powder and sugar. Add milk and stir until a stiff dough forms.
3. Press into the pan. Score the dough with a sharp knife, making a grid pattern.
4. Bake for 20-25 minutes, or until golden brown. Serve immediately.
Fifth Stop: North America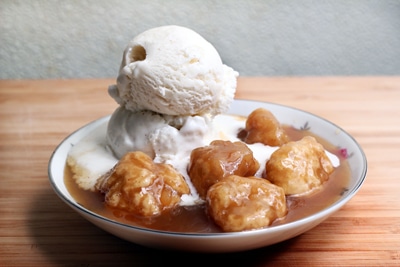 Find her sweet spot in Canada, where maple syrup makes everything better. Feel free to bump elbows in the kitchen as you whip up Grandpa's Maple Dumplings, an incredibly addictive dessert made by simmering balls of dough in maple syrup. Who needs a deep fryer when you have maple syrup? Serve warm with vanilla ice cream.
Grandpa's Maple Dumplings

Ingredients:
(For the dumplings)
1 cup flour
1 1/2 tsp baking powder
1/4 tsp cinnamon
pinch of salt
1 1/2 Tbsp butter
1/3 cup whole milk
(For the cooking liquid)
1 1/2 cups maple syrup
1 1/2 cups water
Method:
1. Bring maple syrup and water to a simmer.
2. Meanwhile, whisk together flour, baking powder, cinnamon, and salt. Using a pastry cutter, cut in the butter. Drizzle in milk until a moist dough forms.
3. Shape into balls and carefully drop into the maple syrup mixture. Let simmer until the balls float and are cooked through. Be careful not to boil. While still warm, spoon over vanilla ice cream
Sixth Stop: Africa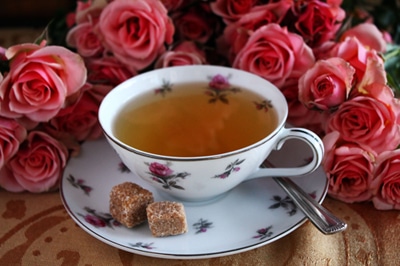 Settle down after all that excitement with a cup of White Coffee. Despite the name, this popular North African drink neither has caffeine nor coffee in it. In fact, it closely resembles tea. Although you can make White Coffee with any number of spices or essences steeped in hot water, the most appropriate for Valentine's Day is a splash of rose water (available at Indian markets). And, honestly, drinking a rose with your sweetheart is about as romantic as it gets.
White Coffee

Ingredients:
16 oz hot water
2 tsp rose water
sugar cubes

Method:
Pour hot water into teacups or mugs. Stir in about a teaspoon of rose water per cup. Add sugar cubes to taste. Enjoy hot!
Bonus:
If you really want to go all out, put together a mix CD with music for every stop on your culinary journey. You can listen to it while you're cooking and eating. Then, when the night is over, give her the CD as a memory of her trip around the world. She'll be talking about this one forever.
___________________________________________________________
Sasha Martin is cooking one meal for every country in the world (A-Z) as a way to help her family eat a healthier and more varied diet, as well as to encourage global respect and understanding. You can find all the recipes, facts, and meal reviews at Global Table Adventure.
All Photos by Keith & Sasha Martin | Global Table Adventure and Used With Permission
Tags:
Recipes