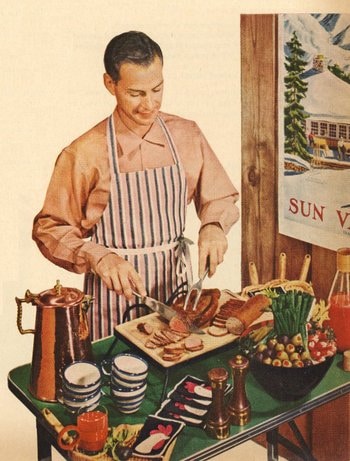 Image from Ellynkocher
Editor's note: This is a guest post from Matt Moore, author of Have Her Over for Dinner. See below for details on how to win a signed copy of Matt's cookbook.
Amber Jones, 6th Grade, and Valentine's Day. I can remember it like it was just yesterday. You see, up to this point in my life, Valentine's Day was an exciting holiday that meant cards, and most importantly, candy from friends and loved ones. In grade school, our teachers required us to write notes to the entire class, ensuring that everyone was equally appreciated. The stresses of defining relationships, expressing mutual admiration, and confessing love to one another had yet to enter our innocent minds. That was, of course, until she came along.
Most of us remember our first crush. Deep blue eyes, long blonde hair, and a mutual interest in Nirvana was all it took to make me smitten with Amber. However, 6th grade just so happened to be the year where equal appreciation was not required.
The annual carnation drive was a Valentine's Day rite of passage in junior high. The rules were simple: specify a recipient, pony up $1.50 for each carnation, and have a volunteer deliver each flower on your behalf. Make no mistake: this was not an affair for secret admirers. Recipients would be notified of the sender by a small tag denoting the admirers name on each flower. Viewing this as a great opportunity, I decided it was best to seek advice from my elders. I rattled off questions like a .38 Special revolver. How many is too many? What if I don't like her, but I might like her? I don't want to upset her, so how many flowers should she receive? You get the idea.
When the big day came around, I made sure I had all of my options covered. Ashley, the cute girl from the 7th grade, received one carnation. Jamie, the quasi-grunge rock chick I sat next to in chemistry, obtained one carnation. Julie, the head cheerleader, received two carnations (always shoot for the stars). I, like Lloyd Christmas from Dumb & Dumber, was putting out the vibe. Amber was a different priority. Mutual consensus had arrived at one conclusion. Twelve bright red carnations would be sent to the object of my desire and true love would commence. Remember, I was in 6th grade.
When the moment finally came, Amber received my dozen flowers, along with about 200 others. I guess I wasn't the only one who had Dreamweaver playing in my mind when she entered the room. My good intentions were lost amongst a sea of other suitors. Looking back, I should have avoided the pomp and circumstance altogether and stated my feelings (it's never too early to man up). It seems that simple strategy would have gotten me further than most. Lesson learned.
At this point, you should be drawing parallels from this childhood experience to the adult dating scene. Sure, we're now sending roses instead of carnations, but our anxiety and uncertainties remain the same. We scrutinize every detail, word, and action. Scenarios are played out in our minds a thousand times until we finally seek the advice and counsel of friends and family. In essence, there's often too much to do about nothing.
It's hard not to get caught up in the holiday hoopla that is Valentine's Day. Society tells us that we must court our dates off to the trendiest restaurants in town to enjoy a prix-fixe menu that has been specifically created for this special occasion. We rely on objects: cards, chocolates, flowers, etc to express our love and appreciation for one another. I know there's a historical significance to Valentine's Day, but it's hard not to think that the service industry didn't blow this thing out of proportion. I realize not all of you fall into this trap, but the majority of us must admit to some level of guilt.
As we approach this Valentine's Day, I challenge you to get back to the basics. The cards, flowers, and chocolates may be tradition; however, they should not replace genuine feelings and action. A heartfelt statement, note, or act of appreciation goes quite a long way, especially when compared to so many material things.
Make this holiday special. Instead of taking her out, have her over for dinner. After all, the fastest way to a woman's heart is through her stomach. She'll be more likely to appreciate your hard work behind the stove than the pricey tab at any restaurant. For those lacking experience in the kitchen, I've laid out a full course meal that allows you to cater towards her preferences.
Keep it simple, genuine, and intimate: the romance will follow.
The Menu
The key to pulling off any special meal is preparation. Rather than spend your entire evening in the kitchen, it's best to have everything prepped and ready to go in advance, thereby spending more time and attention on your date rather than the food. I've put together a menu that can be partially prepared several hours before she arrives. It's best to find out in advance if she's not particularly fond of certain food items so you can adjust accordingly. With that in mind, I've created a versatile entrée that allows for substitutions based on her preferences.
Be sure to clean up your place and put away any unnecessary clutter. Set the mood with background music, a white tablecloth, and a few tea light candles. You don't need to go overboard with atmosphere, but put forth some effort to set this evening apart. If you live together, surprise her with a gift card to her favorite clothing store, and tell her to pick up something special to wear for the evening. This will give you time to prepare, and it will also heighten her anticipation for what's to follow later.
House Salad – a versatile salad with great color and texture contrasts. Prepare the salad in advance, cover with plastic wrap, and place in the refrigerator until ready to serve. Avoid adding the dressing until just before serving, as the greens will become soggy. Serve alongside a toasted baguette if desired.
2 Cups Chopped Romaine Lettuce, loosely packed
½ Cup Shredded Red Cabbage
¼ Cup Shredded Carrots
¼ Cup Diced Tomatoes
¼ Cup Blue Cheese (optional)
6 Tablespoons Extra Virgin Olive Oil
2 Tablespoons Red Wine Vinegar
1 Pinch Kosher Salt
Fresh Cracked Pepper, to taste
Layer the first five ingredients, starting with the romaine lettuce and topping with the blue cheese (if using) into a serving bowl. Cover with plastic wrap and place in the refrigerator until ready for service, up to 2 hours in advance. When ready to serve, whisk together the remaining ingredients. Drizzle the dressing over the entire salad and toss to coat. Serve.
Grilled (Chicken, Salmon, or Portabella Mushroom Caps) over Pesto Linguine and Roasted Cherry Tomatoes – depending on her preferences, this dish will work quite well to satisfy any palate. Because this meal emphasizes using minimal ingredients, focus on buying fresh, quality items. Pay special attention to the substitutions and varying cooking times depending on your selection. Pair with Zinfandel, Pinot Noir, Chardonnay, Pinot Grigio, or a crisp Pilsner/Lager.
Linguine Pesto
2 Cups Fresh Basil Leaves
2 Cloves Garlic, peeled and roughly chopped
¼ Cup Pine Nuts or Walnuts
Kosher Salt
Fresh Cracked Pepper
¾ Cup Extra Virgin Olive Oil
¼ Cup Grated Parmigiano Reggiano Cheese or Natural Yeast (Vegan)
8 oz Dry Linguine Pasta
Chicken or Portabella Mushroom Caps (Vegan)
2 6-8 oz Chicken Breasts (pounded thin) or 2 Large Portabella Mushroom Caps (stem removed, and cleaned)
¼ Cup Extra Virgin Olive Oil
2 Tablespoons Balsamic Vinegar
Kosher Salt
Fresh Cracked Pepper
Salmon
2 6-8 oz Salmon Filets (skin removed)
¼ Cup Extra Virgin Olive Oil
½ Lemon, juiced
Kosher Salt
Fresh Cracked Pepper
Roasted Tomatoes
1 Pint Cherry Tomatoes
2 Tablespoons Extra Virgin Olive Oil
Kosher Salt
Fresh Cracked Pepper
Method
#1. Prepare Pesto: Combine the first five ingredients into a food processor/blender and pulse a few times until ingredients begin to break down. With the processor running, slowly add the oil in a constant stream, scraping the sides with a spatula to ensure all ingredients are combined. Add cheese (or yeast) and pulse until well blended. Cover and set aside at room temperature, up to 2 hours.
#2. Marinate: Based on your selection, add the Chicken, Salmon, or Mushrooms into a sealable bag with the remaining ingredients. Season lightly with kosher salt and fresh cracked pepper; place item in the refrigerator until ready for use, 1 hour.
#3. Roast Tomatoes: Preheat oven to 425 degrees F. On a baking sheet, drizzle tomatoes with oil and season with salt and pepper. Place tomatoes in the oven and roast, uncovered for 20-25 minutes.
#4. Cook Pasta: Heat a large pot of salted water to boiling. Add linguine pasta and cook 9-11 minutes, or al dente. Drain pasta into a colander and return to the same pot. Add pesto sauce to pasta, mix thoroughly, cover and keep warm until ready to serve.
#5. Grill: Preheat a grill pan over medium-high heat. Grill; Chicken (5-6 minutes per side), Salmon (4-5 Minutes per side), Mushroom Caps (3-4 Minutes per side). Remove from heat and set aside to rest, 1 minute. If using mushrooms, thinly slice mushrooms every ½ inch before serving.
#6. Plate: Add a generous portion of the pesto linguine in the center of the plate, followed by the roasted tomatoes on one side. Rest the (Chicken, Salmon, or Mushroom Slices) at the opposing side. Serve.
Dessert
Roasted Berries and Cream – a simple, yet elegant dessert that's the perfect finish to a great evening. It's a good idea to wash and remove the stems in advance, as you can place this into the oven while eating dinner to have dessert out quickly. Many grocery stores sell prepared mixed berries by the pint for convenience. For vegans, substitute a prepared Soy Whip or Coconut Whipped Cream if necessary. Serve in martini glasses.
2 Pints Mixed Berries (Strawberries, Raspberries, Blueberries, Blackberries)
2 Tablespoons Sugar
1 Vanilla Bean, split and seeds removed
Whipped Cream
Mint Leaves, as garnish
Preheat oven to 400 degrees F. On a baking sheet, lay out berries into a single layer and toss with sugar and vanilla bean seeds to coat. Place in the oven and roast, uncovered 18 – 22 minutes. Remove from oven and cool to room temperature. When ready, scoop a generous portion of roasted berries into the bottom of a martini glass. Top with a generous dollop of whipped cream, and garnish with a few mint leaves. Serve.
Have Her Over For Dinner Cookbook Giveaway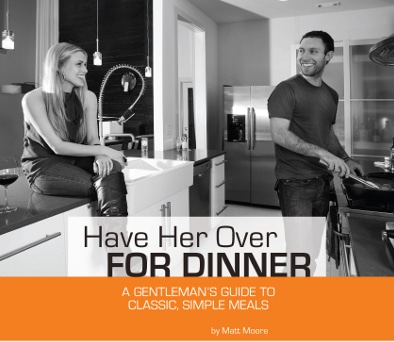 Want more of Matt's simple, delicious, lady-impressing recipes? Then enter to win a signed copy of his cookbook Have Her Over for Dinner.
How to Enter
Entering is easy. Just leave a comment sharing your plans for Valentine's Day.
Deadline to enter the contest is Sunday, February 13, 2010 at 10 PM CST. We'll randomly select a comment in order to pick our winner.
Tags:
Recipes