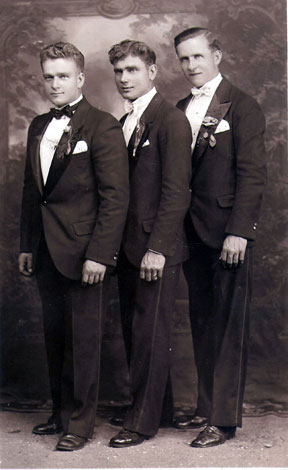 Your groomsmen are your best buddies — guys who have been there for you through thick and thin. And on the most important day of your life, they'll be there for you once again, standing by your side as you take the plunge. In return for their longtime friendship and for coming to support you in getting hitched, it's tradition to bestow upon each of them a groomsmen gift.
A groomsmen gift should be something that fits into the classically masculine category — style, vices, hobbies (like golfing or letter writing), etc. It should also ideally be something your buddies will actually use; no guy needs another knickknack sitting in his desk drawers.
For this reason, while giving gifts that are personalized/engraved is a popular choice, as a general rule of thumb, it's best not to get the item inscribed with "Groomsman" and/or your wedding date; it's an important day for you, but let's be honest here, nobody wants to use a money clip or Zippo lighter with your anniversary emblazoned on it. When personalizing your gift, go with just your groomsmen's initials or names instead.
If you've been stumped as to what gifts to get for your groomsmen, below we highlight both classic and unique options, from a wide range of price options, that are sure to be winners.
Wallet/Money Clip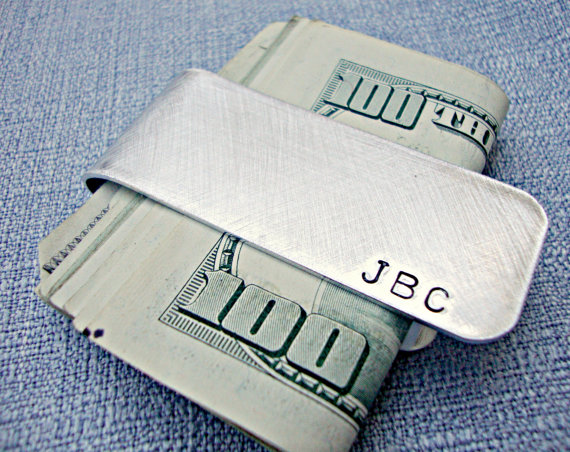 A nice, simple leather wallet — as opposed to the cheap corner market variety — is more likely to replace the duct-tape version in your friend's back pocket. And a metallic money clip (as well as some leather wallets) can be engraved with your buddies' initials or a favorite quote.
Tie Clip/Bar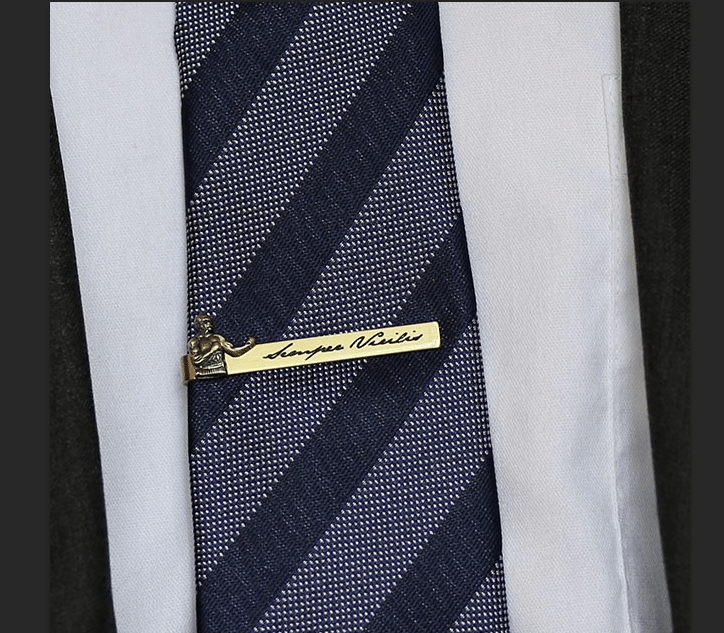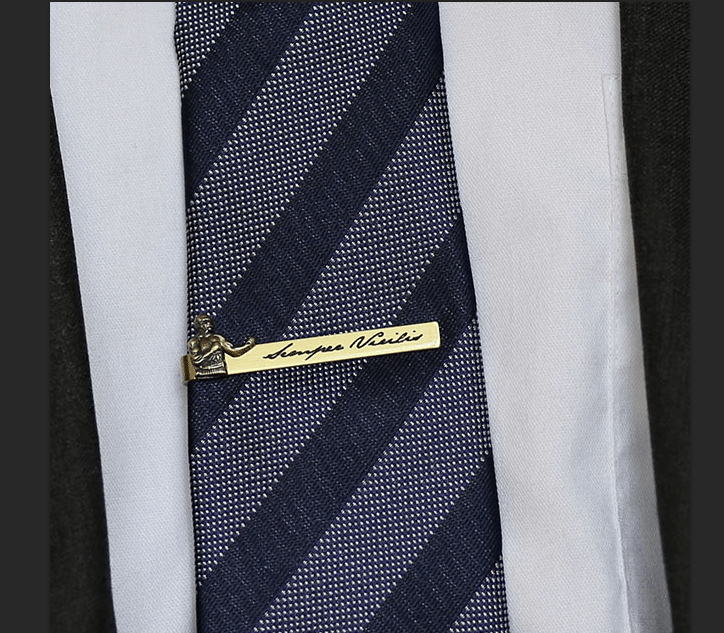 While the tie clip fell out of standard wear during the last couple decades, today they're making a comeback. Not only do they serve a functional purpose — keeping your tie in place — but they add an extra bit of style and interest to your tie. Your groomsmen will look dapper when they stand by your side all sporting matching tie clips.
Umbrella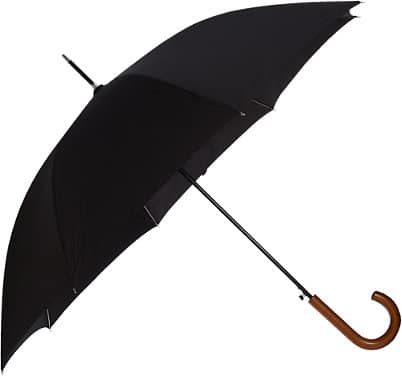 When John F. Kennedy got married in 1953, he presented each of his groomsmen with an engraved Brooks Brothers umbrella. While it's not something you generally think of as a gift for men, it's a classy and unique item that is also practical, especially for spring weddings or rainy locales. It's hard to find a personalized umbrella (especially online) that isn't just another tchotchke, so call around to nice men's stores in your area and see what they can do. Another option is to get a nice wood-handled umbrella and find someone to put a small engraved plaque on it.
For more on what makes for a quality man's umbrella, check out this post.
Catchall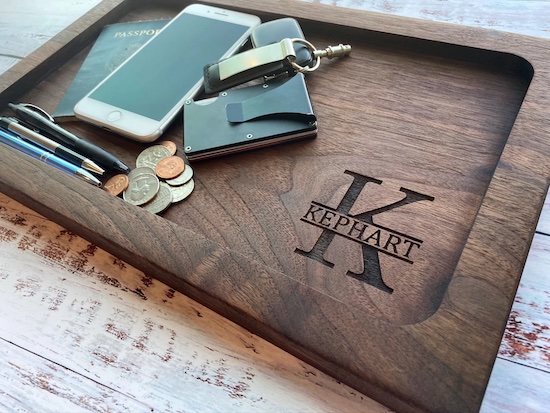 For too many men, their EDC arsenal of a phone, wallet, keys, pocketknife, etc. gets scattered about the house whenever they walk in the door. Rather than adding to that clutter, why not give them something to catch it all and keep it organized. Remember, "a place for everything and everything in its place." It's versatile too — it can contain your EDC, your watch collection, your suit accessories, and more.
Tie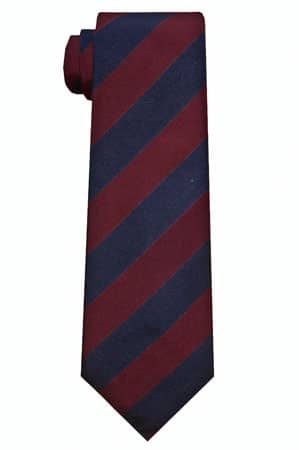 A man can never have too many quality, handsome ties in his collection. To honor your brotherly fraternity, give your friends all the same pattern of an unofficial regimental tie — a style which was originally used (and still is) to denote membership in certain clubs, organizations, or associations. Or give them each a unique tie that suits their particular personalities and style.
Poker Set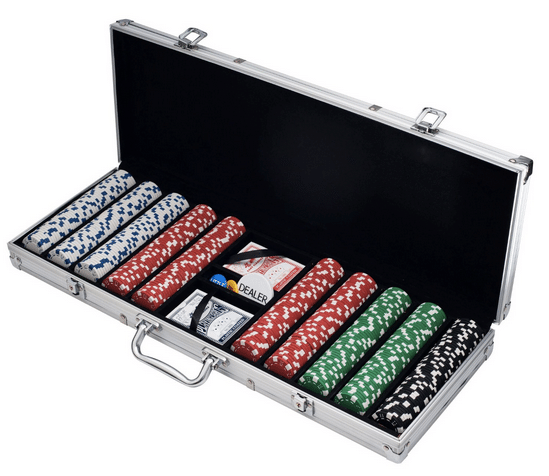 While poker was once considered the game of outlaws, it's made its way into the mainstream in the last decade, largely thanks to internet poker and ESPN broadcasting tournaments and events. A game with friends includes competition, gambling, risk, and always a good amount of food, drink, and laughter. Give each of your groomsmen a nice set of chips, learn how to play, and rotate who hosts your newly-instituted monthly poker nights.
Shaving Kit
If you want to gift your groomsmen something old school. get them an entire kit to help them start shaving like their grandpas. Get a kit that comes with a safety razor, mug, badger brush, and a puck of shaving soap. You could also consider getting them a straight razor.
An Experience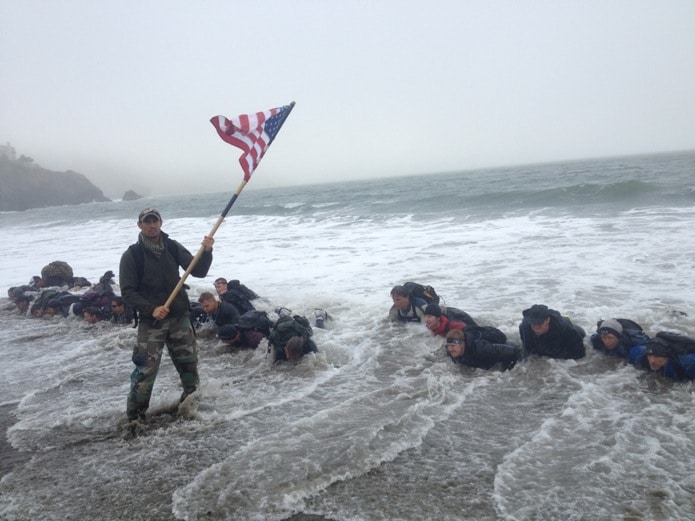 While stuff often ends up in underwear drawers and under beds, experiences are not easily forgotten and only take up space in one's memory. Whether a nice steak dinner, an afternoon of golf, or even a group GORUCK challenge, providing your friends a memorable experience is a great way to say thank you to your groomsmen while not cluttering their homes and apartments with more chintzy gifts.
Flask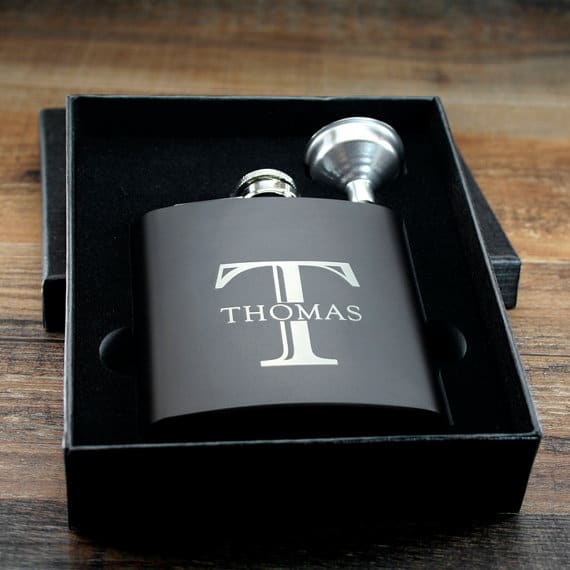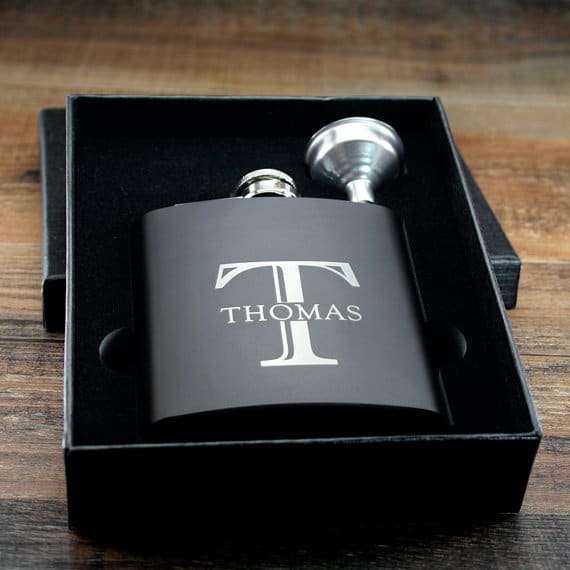 While flasks don't get a ton of use, they do pop up on special occasions, like the birth of a child (sneak one into the hospital), or on camping and hiking trips. Instead of going with the plain aluminum version, get your groomsmen something with their initials and/or name on it.
Louisville Slugger Baseball Bat

It's a real wooden bat — same kind used as the pros. And you can engrave a message, or even your friends' signatures, on it. Your buddy can use it at the company baseball game or wield it when checking out strange noises in the night.
A Keepsake/Treasure Box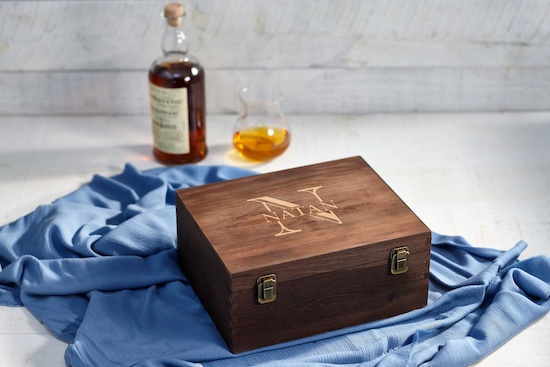 A keepsake or "treasure" box is a place for you to store your manly mementos, and also preserve classic items that your kids will someday love to look through and inherit. What better gift to give to your groomsmen, who will perhaps store an item from your wedding in there. Rather than a cheap hobby store box, for this occasion get something nice and classy.
Zippo Lighter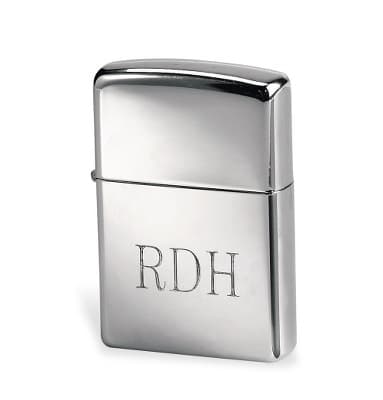 Man has a fascination with fire that can't be explained. And since 1932, Zippo has been making the finest and hardiest fire-making machine around. The Zippo is refillable, and nearly every part is replaceable, meaning the engraved metal casing given to your groomsmen will last just about forever. It'll also be perfect for lighting those celebratory cigars during the reception. Best of all, Zippo offers personalized engraving for free. For a boatload of additional styles, check out their shop on Zazzle.
Pocketknife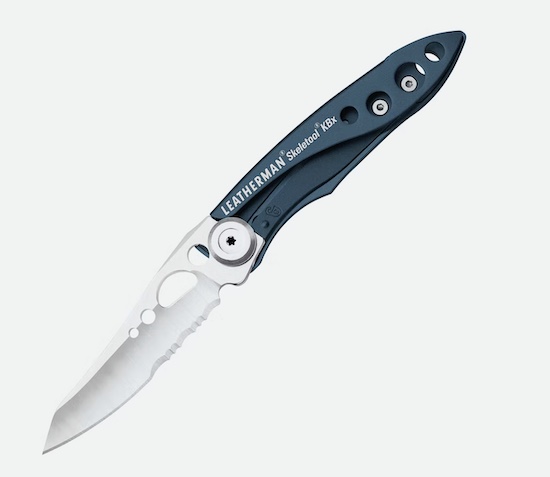 As you know, every man should carry a pocketknife. No need to personalize the knife you gift your groomsmen — just a unembellished, tried-and-true tool is the way to go here. It's hard to go wrong with a Leatherman.
Flint and Steel Fire Starter Kit
Nothing's more manly than building a fire without matches. So if your friends are outdoorsy and you want to find them something unique (read: seriously cool) give them this flint and steel fire starter kit. It's got steel, a flint rock, char cloth, raw cotton, tinder, and instructions all packed in a nice tin. They'll be starting fires like real mountain men in no time.
Shoeshine Kit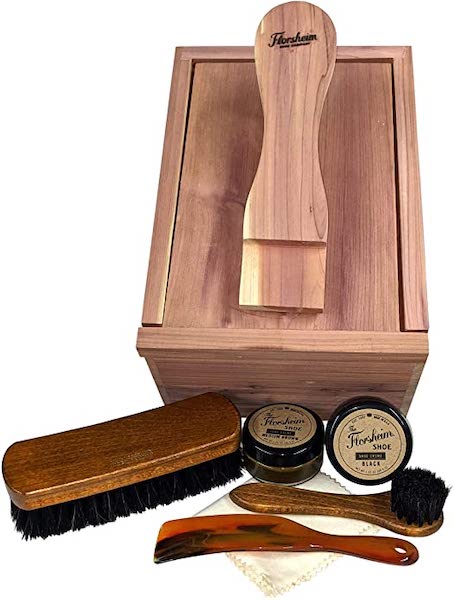 Well-shined shoes are essential to a professional appearance, but a surprising number of guys don't own a shoeshine kit. Hook your friends up with a gift they'll use throughout their lives.
Lapel Pin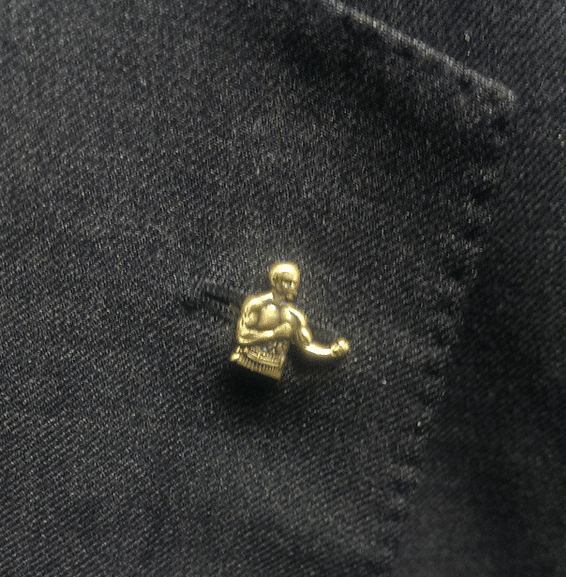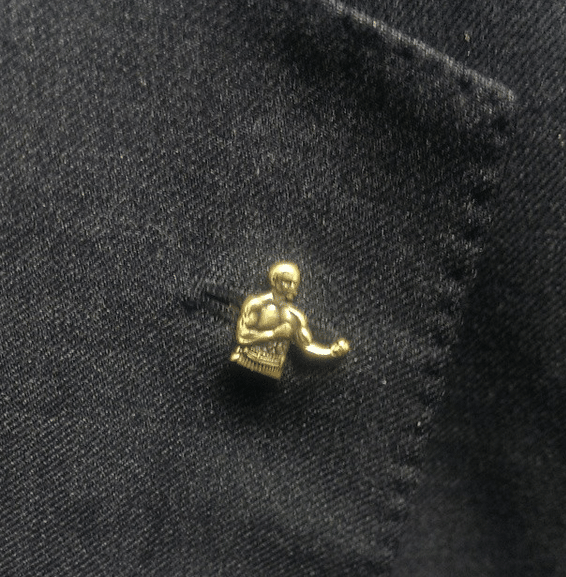 When it comes to accessories for men, we're often stuck with a few standards: watch, cuff links, pocket square, etc. A handsome lapel pin is a unique addition to your suit which allows you to convey a bit of your personality as well. Lapel pins generally aren't very expensive, so they make for a great gift on a budget, or as part of a larger swag bag.
Fountain Pen

Help your friend upgrade from a crummy Bic ballpoint pen to the luxury of the classic fountain variety. There are a ton of cheap and even disposable options, but go with something nice that will get years and years of use. When your friend writes his information on the back of his calling card for a lovely young lady, he'll be doing it in style. It gives him a chance to work on his crummy handwriting, too!

Playing Card Collection/Canister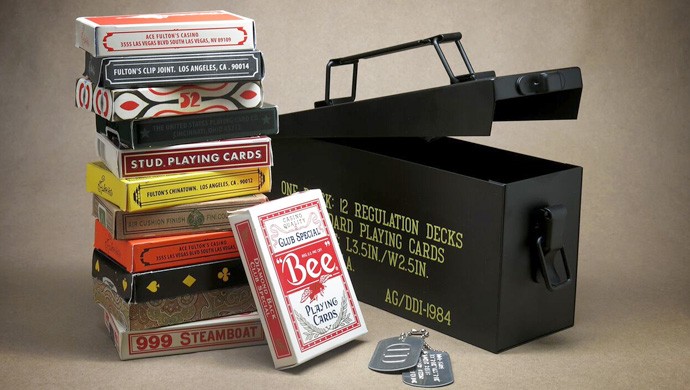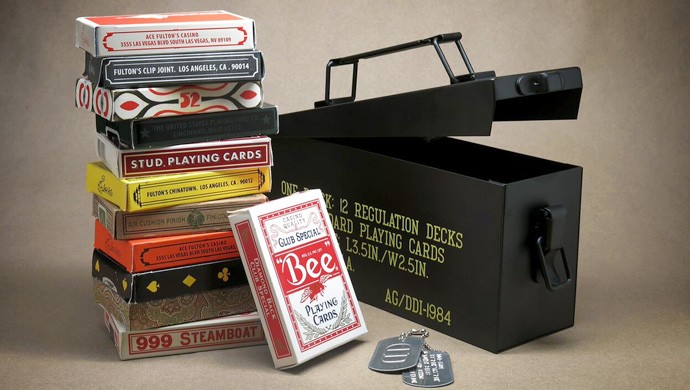 Created by magicians Dan and Dave, this awesome collection of 12 decks of playing cards comes housed in a metal canister inspired by US military ammo boxes. Be sure to check out Dan and Dave's other one-of-a-kind offerings, including a deck of cards made out of plywood.
Pocket Square/Handkerchief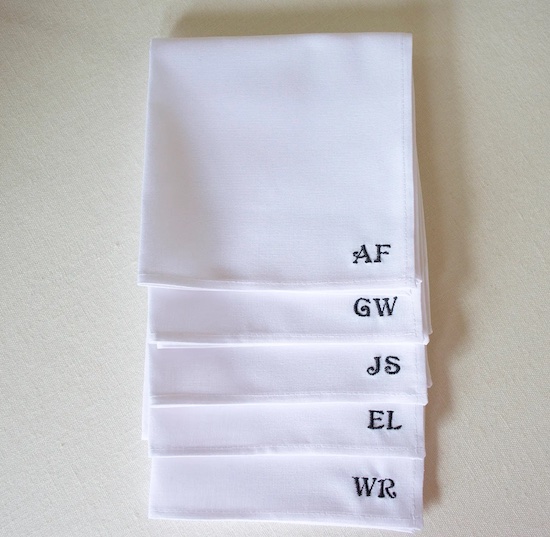 Nothing finishes off a sharp-looking suit like a pocket square, and no gentleman goes without a handkerchief. A solid-colored option can serve both purposes. If you go this route, it's a good idea to get your groomsmen a white one because it will go with almost any color combination. Or get one that matches your wedding colors and that they can wear on the big day. If your groomsmen are like most young men today, they've probably never folded a pocket square. So be sure to include some directions on how to make your favorite fold or sit down and have a man-to-man tutorial together.
Dopp Kit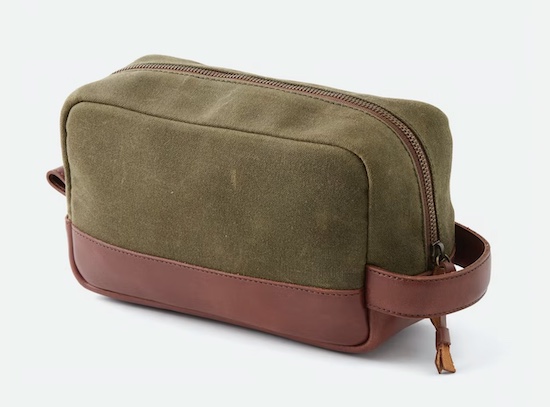 Every man needs a Dopp kit. Get your groomsmen a gift they'll use on all their travels. Tell them to pack it up and not to be a stranger once you're a married man. Let them know your door is always open for a visit.
Art of Manliness Boxed Set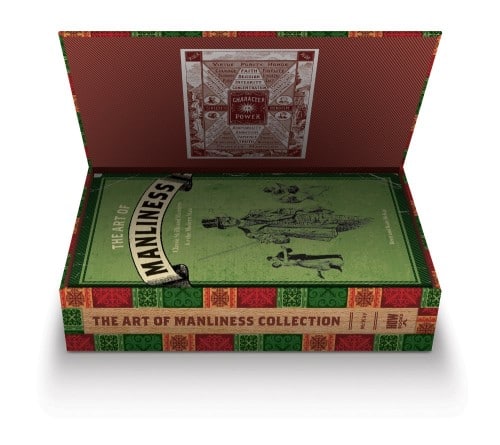 What better gift to give than manly wisdom which has been passed down from generation to generation for centuries? The AoM boxed set contains both of our books, The Art of Manliness: Classic Skills and Manners for the Modern Man and Manvotionals: Timeless Wisdom and Advice on Living the 7 Manly Virtues, as well as a set of manly coasters — all packaged in a hearty cardboard cigar box. We've heard from a number of gents who've used this as a groomsmen gift with great success!
The AoM boxed set is available on Amazon, or pick up a signed set from our store.