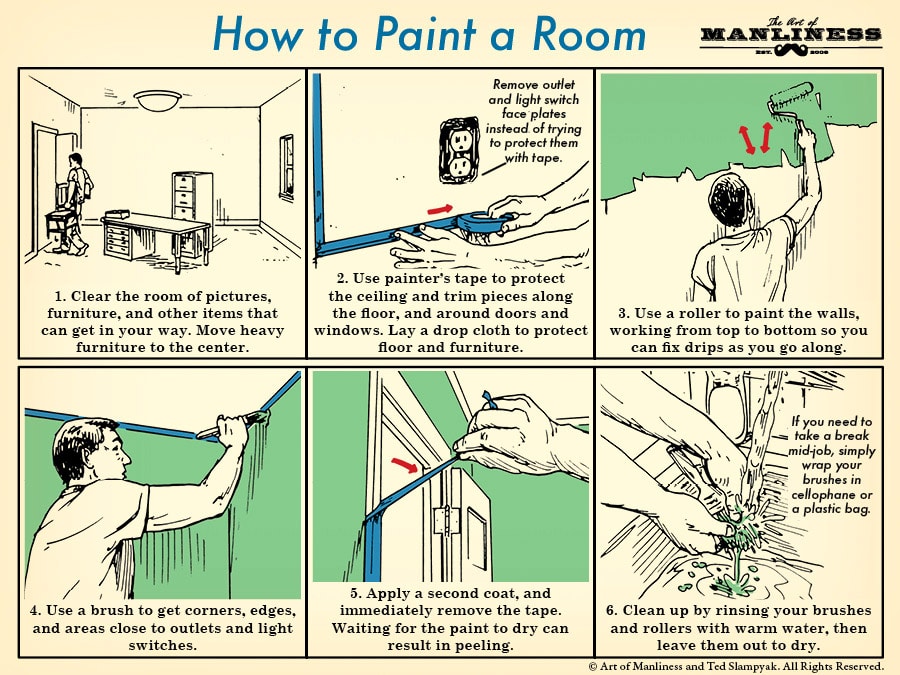 Painting can be one of the hardest and dullest of all household projects, which is why many people put it off. When done wrong, painting is time-consuming, frustrating, back-straining, messy work. When done right, it's still all of those things, but to a lesser degree. As with any chore or project, careful preparation and patient execution are your friends. Take the time to do it right and you'll avoid ending up with a splotchy mess of a room.
Clear the room of pictures, furniture, and other items that can get in your way. Move heavy furniture to the center.
Use painter's tape to protect the ceiling and trim pieces along the floor, and around doors and windows. Lay a drop cloth to protect floor and furniture.
Use a roller to paint the walls, working from top to bottom so you can fix drips as you go along.
Use a brush to get corners, edges, and areas close to outlets and light switches.
Apply a second coat, and immediately remove the tape. Waiting for the paint to dry can result in peeling.
Clean up by rinsing your brushes and rollers with warm water, then leave them out to dry.
Like this illustrated guide? Then you're going to love our book The Illustrated Art of Manliness! Pick up a copy on Amazon.