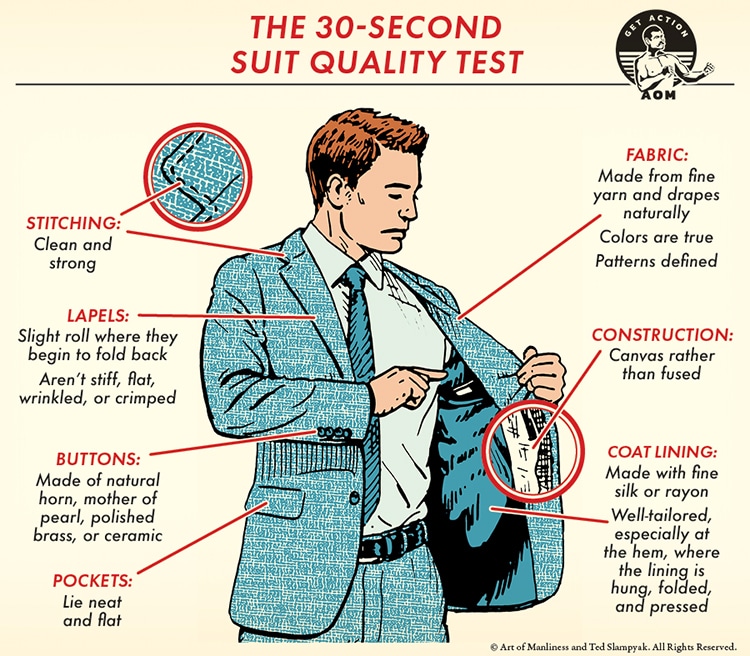 An important part of manhood has always been about having the competence to be effective in the world — having the breadth of skills, the savoir-faire, to handle any situation you find yourself in. With that in mind, each Sunday we'll be republishing one of the illustrated guides from our archives, so you can hone your manly know-how week by week.
When investing in a suit, you generally want one that's going to look great and last long — a quality garment. It's easy to fall into the trap of thinking that cost is the best way of assessing this criteria, but price and quality are not always correlated. A suit might cost a lot because it comes with a famous or trendy label, and yet not actually be made all that well. Conversely, sometimes you can find a real steal on a suit that's actually top-notch.
So how do you tell the difference?
Rather than just looking at the price tag, the authors of The Indispensable Guide to Classic Men's Clothing recommend checking a suit for the 7 signs outlined above; at a glance, you'll be able to know whether or not it's a worthy addition to your wardrobe.
For more information on what some of the above terms mean and what to look for in buying a suit, check out these resources:
Like this illustrated guide? Then you're going to love our book The Illustrated Art of Manliness! Pick up a copy on Amazon.