There are three items of clothing that arguably constitute the trifecta of the most classic style staples for men: denim jeans, white tees . . .
and the Oxford-cloth button-down shirt (aka, the OCBD).
The Oxford shirt was inspired by the way 19th century British polo players buttoned down the collars of their shirts so the fabric wouldn't flap in their faces and was introduced in the United States by Brooks Brothers in 1896.
Since then, the OCBD has served as a simple, handsome cornerstone of the male wardrobe.
Comfortable, durable, versatile, and practically fool-proof to pull off, Oxford shirts can be worn year-round, and in nearly any time and place. Getting some is one of the easiest ways to start dressing better, and they could even become part of your personal uniform.
If you don't already have this shirt in your closet, or have been underutilizing the ones you do own, today we'll offer a guide on how to wear the Oxford with style.
What Is an Oxford Shirt?
Oxford shirts are a type of men's dress shirt.
Dress shirts are defined by having a collar, cuffs, and a full-length, button-fastened opening at the front.
Dress shirts can be divided into "button-ups" and "button-downs." You can, in fact, button up the plackets of both of these types of shirts. The difference refers to the collar; on a button-up, the collar is unadorned and unattached to the shirt, whereas on the button-down, the ends of the collar include a single button that can be fastened to the front of the shirt.
The Oxford shirt is a type of button-down that is made with Oxford cloth. Woven with a basket-weave pattern, Oxford cloth has a unique look and feel and is coarser and heavier than the thinner, smoother, shinier fabric used to make more formal dress shirts. The Oxford-cloth button-down shirt is also distinguished by its soft, unlined collar and cuffs and typically sports a chest pocket.
How to Choose an Oxford
Fabric. While some Oxford shirts are made with poly/cotton blends these days, a classic OCBD is 100% cotton, and a pure cotton Oxford will look, feel, and breathe better.
100% cotton Oxfords will sometimes need to be ironed, but the thick fabric doesn't excessively wrinkle, and the shirt doesn't need too much pressing; a little rumpledness is part of its DNA. You might be able to get away with just tumbling it in the dryer (though hanging it to dry is preferred) and removing it promptly, and if you're going for a particularly insouciant look, then don't iron it at all.
There are "non-iron" 100% cotton Oxfords that are soaked in formaldehyde during manufacture, a process which permanently alters the fabric, making it wrinkle-resistant. These shirts will be easier to care for, but the non-iron finish makes the fabric less soft, breathable, and durable.
Color. The most classic colors of the OCBD are white and light blue, and they also often come in pastel hues. Start your collection with white and blue, and then branch out from there by getting, say, a pink one (yes, you can pull off pink).
Length. Oxford shirts can be worn tucked or untucked, and if you're planning on doing both, make sure the shirt is long enough to stay tucked in, but not so long that it'll look sloppy when untucked.
Fit. Oxfords come in both regular and slim fit varieties, and which you prefer is up to you. Regardless, an OCBD shouldn't feel restrictive and should be roomier than a formal dress shirt. A button-up shirt is designed to be worn under things (like a suit jacket); a button-down may be worn under other garments but is also designed to stand on its own.
How to Wear
Button-down shirts are more casual than button-ups, and the thicker, rougher fabric of an Oxford makes it particularly casual. Yet by nature of its structured, dress-shirt style, it's still a versatile piece of clothing that can be worn in classier settings and dressed up or down.
Note: There aren't hard lines between these dress code categories, e.g., an Oxford with more tailored chinos and dressier shoes can be business casual; swap the nicer chinos and shoes for more laid-back khakis and chukkas, and it's smart casual; swap the chukkas for athletic sneakers, and it's plain casual. When it comes to styling something very basic like the OCBD, little differences in what you pair it with it and how you accessorize it will make an outfit more or less appropriate for a particular setting.
Business Casual
Style traditionalists would advise against wearing an Oxford button-down shirt with a suit, as the shirt's casualness clashes with the suit's formality. However, this isn't a hard and fast rule, and an OCBD can be worn with a suit if you desire, particularly if it's of the less formal, less business-y variety (more texture, less structure).
But Oxfords are really best for all the style categories that sit below the semi-formal range. When it comes to occasions that call for something that's a step down from that dress code but still polished and/or professional, Oxfords look great with chinos, a sports jacket or blazer, and more casual dress shoes like semi-brogue derbies, long-wing derbies, and suede bucks. Or throw a sweater over your Oxford and pair with some trousers.
Go tie-less, or opt for a more casual textured tie. If you choose to wear a tie, because the gap between the points of the collar is smaller on an Oxford, use a smaller tie knot like the simple or four-in-hand rather than a bigger knot like the Windsor or half-Windsor.
Smart Casual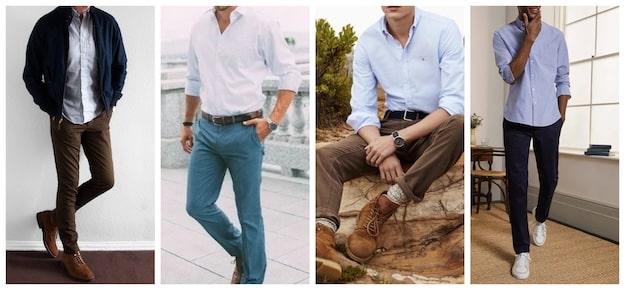 Smart casual — sometimes called for for wedding rehearsal dinners, dates, and work conferences — can be a hard dress code to decipher. Going with an Oxford, some chinos, and leather boots/shoes or suede chukkas is a pretty fail-proof way to navigate it. Wearing your OCBD with nice jeans or corduroy pants would make the look a little more casual, but could work too. During the colder months, throw a sweater on top of your Oxford for a handsome and put-together get-up.
Oxfords are perfect for when you work at an office that's pretty laid-back, but you want to look more put-together than your polo and t-shirt-wearing peers, and it transitions smoothly from the cubicle to an after-work dinner or hangout at a bar.
Casual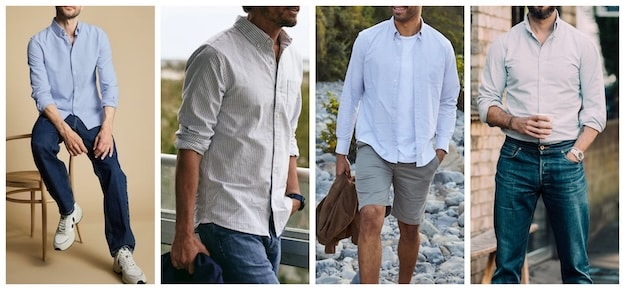 Oxford shirts are comfortable enough to be worn when you're just banging around — when you're not doing anything particularly special but don't want to look like a slob, either.
Wear an OCBD untucked with casual jeans and sneakers, or even shorts and boat shoes (if you're going for a preppy look), and you're ready for a day of errands, hanging out at a friend's house, or grabbing a quick bite to eat. An Oxford shirt can be thrown on over a t-shirt as well.
The more casual you're getting, the more buttons you can unbutton (though you need not go so low as to show chest hair), and don't forget to roll your sleeves up to add to your laid-back vibe.
Oxford shirts look and feel even better as you break them in. So get one, or several, for your wardrobe, and start wearing the heck out of 'em!