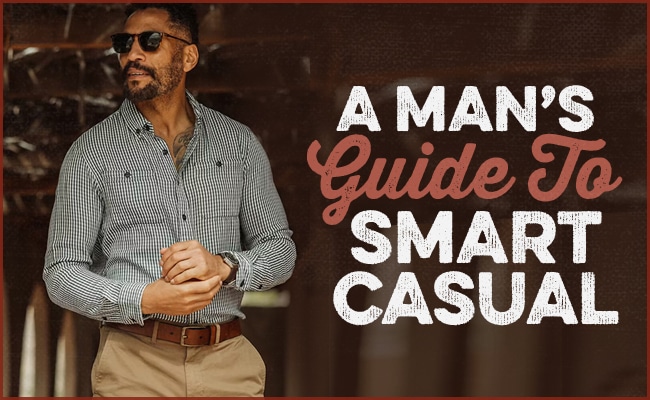 Some dress codes are pretty easy to understand.
When you get an invitation that says the dress code is "black tie," you know that means you wear a tuxedo.
"Semi-formal?" A suit and tie. Easy-peasy.
The "business casual" category is a bit more ambiguous. But it's been around long enough that we have some pretty good rough-and-ready guidelines for what it calls for. Business casual is a step down from semi-formal; you trade the suit for khakis or trousers and a sports jacket or blazer, swap the button-up dress shirt for a button-down, and drop the tie. The look still says "dressy" and "professional" but is more laid-back. Business casual is how dads dressed for work in the 1990s. You know it when you see it.
"Casual?" Well, that's simple. It's pretty much whatever you want. Shorts, polo shirts, jeans, t-shirts, sneakers. Whatever.
There is a dress code category that's emerged over the last twenty years, however, that's more of a head-scratcher: smart casual.
Today, with help from our buddies at Huckberry, we will unravel the mysteries of smart casual dressing and provide examples of smart casual outfits that can work for the office or for a night out with friends.
What the Heck Is Smart Casual?
An invitation may or may not explicitly state the dress code is "smart casual," but for any event that doesn't have an air of formality but isn't entirely run-of-the-mill either, showing up in the smart casual style is a good bet. It's right for after-work hangouts, social events at business conferences, casual workplaces, dates, and dinners with friends.
Smart casual is a dress code that strikes a balance between formal and casual attire. It's a style that's got the relaxed and comfortable feel of casual, but looks more put-together. It's less professional than "business casual" but more sophisticated than "running to Costco." With smart casual, you're not dressed up, but you're not letting it all hang out, either.
A smart casual outfit incorporates things we typically associate with casual clothing like denim, t-shirts, and sneakers and combines them with dressier, more structured items like collared shirts and jackets.
It's casual, but looks sharp.
How to Dress Smart Casual
The key to mastering smart casual dressing lies in finding the perfect balance between formal and casual elements. To do so, start with a casual base outfit and then swap out one or two pieces for more polished alternatives.
For example, replace a jean jacket with a casual blazer or swap out your typical running shoes for a pair of nice, minimalist sneakers.
Another smart casual outfit could be khaki pants (casual) combined with a nice button-down shirt (more formal).
By making these simple adjustments, you can create a smart casual ensemble that offers polish and sophistication without sacrificing comfort.
Layering is an essential styling technique for smart casual dressing, as it allows you to adjust the formality of your outfit with ease. By layering different pieces, you can create depth and contrast in your get-up, adding visual interest and ensuring that your outfit is suitable for a variety of settings.
For example, you can upgrade a casual t-shirt and khakis to smart casual by adding an unstructured blazer. You can also add a sweater over an oxford shirt and jeans for a smart casual outfit that's perfect for fall.
An important point to keep in mind is that smart casual is a spectrum and how far you go towards smart or casual will depend on the context you find yourself in. If your office allows for casual dressing, lean towards adding more polish to your smart casual outfit in order to look more professional. If you're hanging out with friends, lean more towards the casual end of things. You got to use your style phronesis with smart casual.
3 Examples of Smart Casual Get-Ups
The guys at Huckberry recently launched a whole shop dedicated to the smart casual category, and we asked them to put together three looks drawn from it to give readers concrete examples of what smart casual can look like: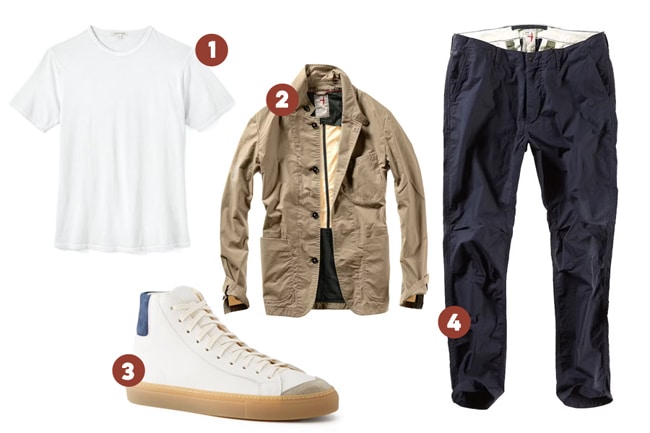 This is how to casualize smart casual. Put on a great pair of sneakers for a fresh take with a blazer, yet still look ready for the office.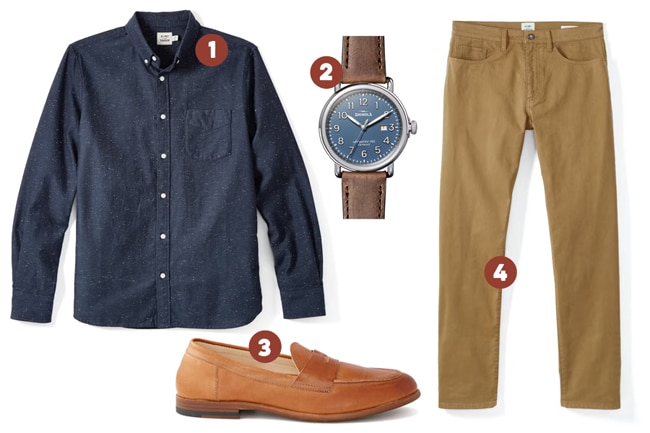 Wardrobe essentials every man needs. A great pair of pants and a slim shirt. Classic and timeless.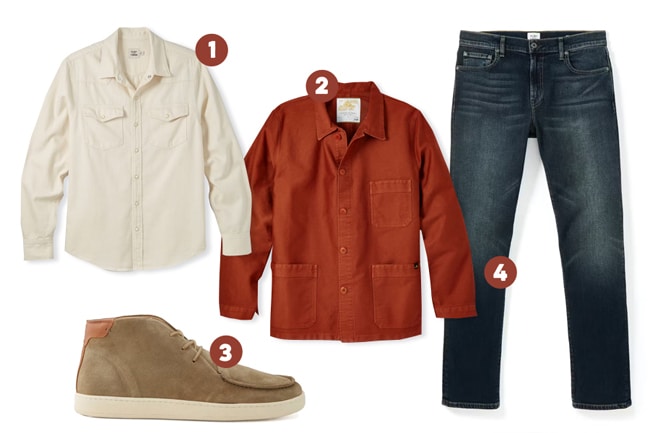 A modern take on smart casual. You can look put-together easily with these iconic pieces.
There you go. Now you know how to be smart about smart casual. Be a bit less casual about your casual, and it's easy to look a big cut above everyone else.