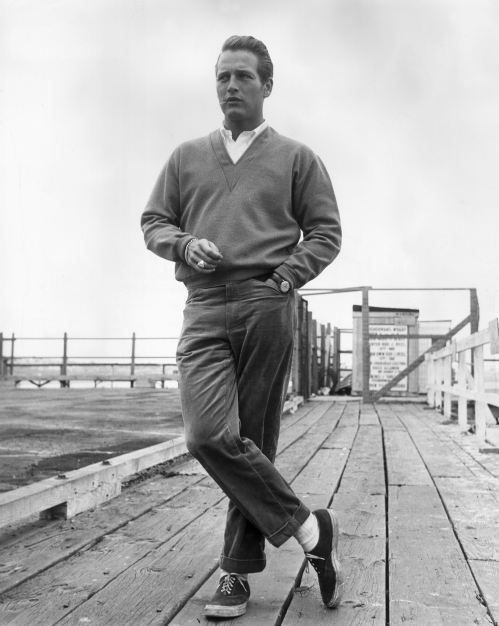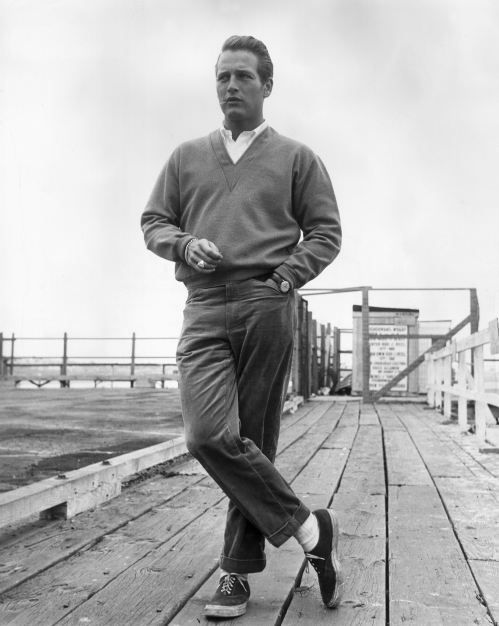 For most guys, their go-to pants are jeans. They're comfortable, easy to wear, and go with most everything.
But I'd like to suggest that there's another kind of pant that's even more versatile and comfortable than denim: khakis.
For many men, khakis are saddled with some unfortunate associations; perhaps they remind you of the school uniform you used to wear, or your mom forcing you to get semi-dressed up for church. Or they likely make you think of office managers and other cubicle-dwelling Dilbert types.
It's true that as workplace dress codes began loosening up during the 90s, a lot of guys made baggy, pleated khakis and polo shirts their default "Casual Friday" get-up, and these unflattering ensembles left a lot to be desired.
But the history of khakis goes back a lot longer than that, and their origins couldn't be farther from the sedentary. Khakis started out as the uniform of the fighting man — cool, comfortable, rugged pants that could look sharp, allow for mobility, and hold up on many an adventure.
Today, khakis retain the potential to be both handsome and functional, as long as you pick the right style and wear them well. How to do that is what we'll be discussing today.
The History of Khakis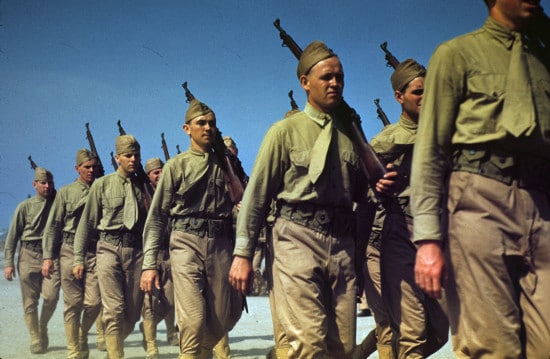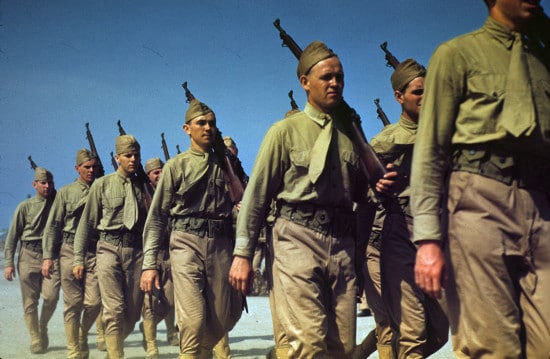 "Khakis" and "chinos" are both used to describe casual trousers made with a 100% cotton twill fabric. Technically, "khaki" is a color (light-brown drab), while "chinos" are a style of pant, so strictly speaking, khakis are brown-colored chinos. But of course, khakis are now also used to mean the type of pant itself, of any color.
People argue over whether khakis and chinos actually represent two different kinds of cotton twill trousers; chinos are sometimes used to describe those that are a little more formal and tailored, while khakis are sometimes used in reference to those made in a more rugged and utilitarian style. But most often these days, the terms are used interchangeably, and I'll be using khakis throughout as a catch-all term.
The reason there's two different names for essentially the same thing, is because these now classic cotton trousers emerged in two different but related places: the British and American militaries.
Khaki got its start in the North-West Frontier of the British Indian Empire (now Pakistan) in 1848. Sir Henry Lumsden, second in command of the Corps of Guides — a part-infantry, part-cavalry regiment composed of Indian recruits — was unhappy with both his and his troops' uniforms. The officers from continental England still wore the traditional scarlet red wool jacket along with white trousers, an ensemble that was both too hot for the climate, and very conspicuous. The duds of the native recruits — brightly colored smocks worn over loose-fitting cotton pants — were cooler, but didn't function well as camouflage.
Lumsden struck upon the idea of creating a new kind of uniform for both groups of men — one made of lightweight but durable twill cotton, and dyed brown to blend with the environment. At first, Lumsden was able to import fabric dyed in a khaki color from England, but when supplies became unavailable, he and his men improvised by dyeing white garments with the native mazari plant, coffee, tea, tobacco juice, and/or curry, or by simply rubbing the uniforms in the dirt and dust. The word "khaki" in fact comes from the Hindustani word for "soil-colored."
Cooler, and better camouflage, the khaki uniform proved its superiority and was eventually adopted for active service and summer dress by all of the region's regiments — British and Indian alike. In 1902, it became the official service dress of the continental British forces as well.
On the other side of the Atlantic, cotton twill trousers were first worn by American soldiers during the Spanish-American War. The military was beginning to experimentally phase in khaki uniforms to its troops, and as they were formerly sweltering in hot wool get-ups, soldiers stationed in the Philippines readily adopted the cotton clothes and brought them back to the states after the war. The flat-front, straight-leg khaki pants they were issued had been imported from China, and it's believed that troops took to calling them chinos from the Spanish word for Chinese. Alternatively, the name may have come from the Spanish word for "toasted," owing to the trousers' light brown color.
In 1902, the Army and Marine Corps adopted khakis/chinos in a more official way, introducing a khaki service uniform to their troops to be used both on base and for field exercises and combat conducted in the summer and in tropical climes. A decade later, naval aviators started wearing khakis; as their service whites were impractical for the dirty and greasy business of flying, they dyed their white uniforms and hat covers brown. Khakis were then adopted by the Navy's submariners in 1931. During World War II, all branches of the military wore khaki as a summer service uniform in temperate climates, and as all-season garrison-wear in places where it was hot the whole year-round.
After the war was over, khaki trousers, like the G.I. undershirt, were an item of clothing veterans held on to and continued to wear as civilians. The pants' classic style didn't scream "military," and easily transitioned into comfortable casual wear. At the same time, a surfeit of army surplus supplies ensured there were plenty of khakis available to those who hadn't served, and the pants quickly became a menswear staple among the broader public.
Why Khakis Are a Style Staple
Khakis are every bit as easy to wear as jeans, and offer several benefits over denim: whereas jeans are stiff, tightly woven, heavy, and hot in the summer, khakis are soft, lightweight, comfortable, and cooler. Khakis are also more versatile than jeans; while both kinds of pants can be worn with everything from a t-shirt to a sports coat, with their neutral color, set-in pockets, smoother fabric, and straightforward, tailored style, khakis will allow you to go another step up in the formality of your outfits. You can wear khakis for chores around the house or a walk in the woods, or to the office or on a date.
You can even sleep comfortably in your khakis, whereas no one would ever want to sleep in their jeans!
Khakis are all-season wear, though they're especially essential in the spring and summer as the temperatures start to rise. Pretty much anytime you'd wear shorts, you'd look a lot sharper in khakis, and won't be that much hotter. Khakis are thus an easy way to upgrade your style in the warmer months.
Khakis are relatively affordable as there's not much difference in quality between middle and higher-end brands. They're also generally durable and last a long time.
Functional, comfortable, hard-wearing, and good-looking: it's hard to go wrong with khakis — especially if you wear them right.
How to Wear Khakis With Style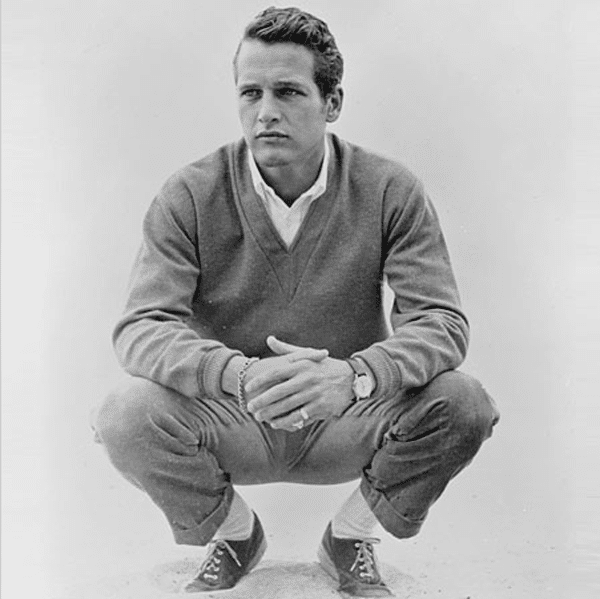 Fit/Style. Khakis need not be high-waisted, pleated, or baggy. Instead, opt for a more modern style: flat front, with a straight leg, or a little taper from thigh to ankle, and an all-around more fitted and tailored look. The pants should have a mid-rise fit that sits around your hips rather than up over your belly button. And while khakis are meant to be a little roomier than other pants, you don't want them to be baggy. They should offer a look that's both relaxed and athletic.
Pockets. A pair of khakis should have four pockets — two in the front and two in the back. A small horizontal coin pocket is an acceptable addition on more casual khakis. Pockets on the sides turn them into cargo pants, which should only be worn if you're actually engaging in tactical/outdoors pursuits. Cargo pockets add unnecessary bulk to your trousers, giving you a less sharp and streamlined look.
Wear. Khakis age well, and actually look better the more broken-in they get, hitting their peak handsomeness right before they start falling apart. So for casual clothes, it's okay for them to show a little wear and tear — a few scars and some fraying on the cuffs add character. A little wrinkling is also natural and part of khakis' insouciant look; under no circumstances should you iron a crease into them. When wearing khakis in a more professional setting, stick with a crisper and more unblemished pair (though you still shouldn't iron a crease into them).
Color. Khakis come in just about every color these days, but the most traditional is drab brown. I'd recommend getting a darker brown, rather than a school uniform-esque golden wheat, as it's sharper and more versatile (it'll look appropriate in both winter and summer). Navy also looks very classic, and pairs well with a sport coat or button-down shirt. Beyond those two, you're entering more fashion-forward territory; you need to know what you're doing to pull off fire engine red chinos.
Length/Cuffs/Rolling. Tailored cuffs add a little weight to the bottoms of your pants, look a bit more formal and conservative, and draw attention to your shoes. Avoid cuffs if you're on the shorter side, however, as they make your legs look shorter. Generally, I'd recommend going cuffless, as it's the most versatile style.
Cuffs or no cuffs, khakis should either just graze the tops of your shoes or drape 1-2 inches over, creasing a little at the hem. When wearing khakis in more professional settings, err on the side of a little longer. But they should never excessively bunch around the ankles.
If you khakis are too long, you can make your own cuff by rolling them up, which has become trendy in recent times, and is something you can try if you'd like to show off your socks/shoes more, or simply keep your pants out of the wet/dirt. Rolling works best with slimmer fit khakis and those that are tapered (as opposed to boot-cut or a baggy wide-leg). For a tighter roll, roll once, pinch the fabric at the seam and fold it over, and roll it up again. Try a 1 to 1.5-inch cuff, doubled — too many rolls and it'll look like you're going digging for clams.
Dress them up, dress them down. You can wear khakis with everything from a t-shirt to a sports coat or blazer.
When going for a more formal look, choose a pair made with a fine, lightweight twill and trouser-like tailoring — a leg that tapers to the ankle, and possibly features details like a tab closure and cuffs.
Khakis match best with more casual, less structured, soft-shouldered jackets (think cotton, linen, corduroy). The more structured and formal a jacket is, the more it calls for a proper pair of dress trousers. When dressing up your khakis, pair them with a leather belt, and leather boots, loafers, wingtips, or suede oxfords.
For a more casual look, choose khakis that are made with a thicker, more rugged fabric and have more a relaxed, utilitarian, militaristic style. Casual khakis pair well with sweaters, striped and solid t-shirts, polos, henleys, and denim or chambray button-downs. For footwear, throw on some leather boots, chukkas, canvas sneakers, or boat shoes. Wearing those last two options sockless with your khakis makes for a great summertime look.
Though it may be desirable to have one pair of khakis for more formal situations, and one for more casual ones, a single middle-of-the-road, not too casual, not too formal pair can work for all scenarios. The Effortless Gent has a great post on how a single pair of tan khakis can work in five different outfits.
Conclusion
I've hope you've come to see that khakis shouldn't be pigeonholed as Casual Friday office pants. Strong and rugged, cool and comfortable, sharp and versatile, they're date night pants, travel pants, errand pants — action pants and all-around adventure pants. Give 'em a try and they just might become your new go-to pants.