With our archives now 3,500+ articles deep, we've decided to republish a classic piece each Sunday to help our newer readers discover some of the best, evergreen gems from the past. This article was originally published in May 2019.
Chukka boots represent one of the simplest styles of men's footwear, and have been a sartorial staple for decades.
Despite their status as a classic menswear "basic," however, guys still often have a few unanswered questions about them — questions that may keep them from getting, and rocking, a pair themselves.
So today we'll answer some of those FAQ's, so you can get more comfortable and confident with the chukka.
1. How do you pronounce "chukka"?
It's "chuck-uh" (rhymes with "yucca") rather than "choo-kuh."
The name is believed to have arisen from British polo players living in colonial India; a "chukka" or "chukker" is a period in the game of polo. It's unclear, though, whether the boot was named for its similarity to boots worn by players during the game, or to the footwear favored by them off the field.
2. What makes a chukka boot, a chukka boot?
Chukka boots come in a wide variety of colors and materials and may have little twists in style, but to be a true chukka, the distinctive features outlined above must be in evidence.
In addition to those fundamentals, chukkas most typically and traditionally sport thin laces and are made with either unlined leather calfskin or suede.
3. Are "chukka boots" and "desert boots" the same thing?
Yes and no. While "desert boots" and "chukka boots" are sometimes used interchangeably, desert boots are a specific type of chukka boot, so that all desert boots are chukkas, but not all chukkas are desert boots.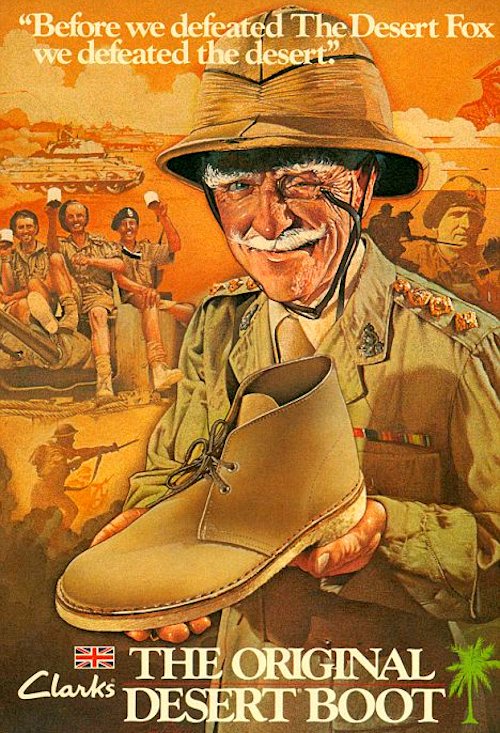 The desert boot variation of the chukka arose during World War II. British soldiers fighting in the Western Desert Campaign in Egypt and Libya found that their military-issued boots didn't do an adequate job offering traction in the sand, nor of keeping that sand from migrating inside of them. They admired the footwear of traders in the Old Bazaar in Cairo, which was in turn influenced by the footwear of South African soldiers. British officers had cobblers make chukka boots for them based on that design, which married the traditional chukka upper that tied up close to the ankle (the better to keep out sand), with a crepe rubber sole (the better to walk upon it). These "desert boots" were popularized after the war as civilian footwear by the Clarks company.
Today the desert boot can be distinguished from a "standard" chukka by its thick rubber sole — it is also most often made of suede, and its most classic color is, not so surprisingly, sand. While dark chukka boots with a thin, hard leather sole are more formal, desert boots are more comfortable to wear, and sit on the more casual side of the chukka spectrum.
4. What can I wear with chukkas?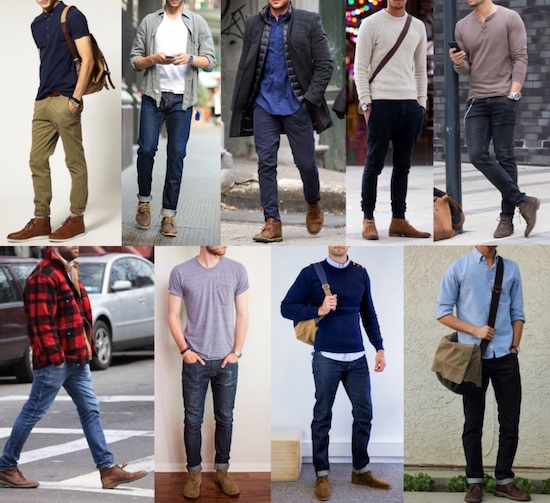 Nearly everything in your closet.
While all types of chukkas reside more on the casual end of the footwear spectrum, these versatile boots can readily be dressed both up and down.
On the most casual level, they look fine with jeans and a t-shirt — at least a nicer, solid/striped tee rather than the graphic variety.
Chukkas are most at home at the next notch up: smart casual. They pair great with dark denim/chinos + a button-down, polo, or sweater. Stylish yet comfortable, swapping sneakers for chukkas is an easy way to elevate all your casual looks.
They remain suitable as you rise a little higher to business casual, and can be worn with khakis and a sport coat or blazer.
Now, as to whether you can rise another formality level still and wear them with a suit, we'll address that in its own question below.
But first a few general style tips:
Contrast the color of your chukkas and pants; so darker-colored boots with lighter pants/lighter-colored boots with darker pants. Avoid having the color of your boots and pants match too closely; e.g., sand-colored chukkas + sand-colored khakis.
Consider rolling your pants up a bit to show off the distinctive styling of the upper part of the boot; with it covered, the boot just looks like a generic leather shoe.
Choose pants that break a little higher and have a narrower leg; a little rounded toe sticking out of a baggy, wide leg pant looks weird.
Click here for more specific recommendations on how to style a pair of chukkas with 3 different get-ups.
5. Can you wear chukkas with a suit?
Yes, with a few caveats.
First, chukkas are more appropriate when paired with a suit for after-hours social occasions rather than professional ones. The combination will look out of place in more traditional banking and legal offices.
Second, if you do wear chukkas with a suit, it should be those with leather soles and calfskin uppers, rather than suede desert boots with rubber soles. With the bottom of your suit pants covering the tops of your chukkas, the toes of such boots won't look too different from those of another leather dress shoe.
Finally, while it can be done, because of the casual nature of chukkas, they're definitely not ideal for pairing with the formality of a suit; a dressier shoe will invariably look better.
6. Can you wear chukkas in the summer?
Given the fact that they're called desert boots and grew out of the hot climes of Africa and India, you'd think the answer to this one would be obvious — yes!
The hesitation about wearing chukkas in the summer of course comes from the idea that you shouldn't wear boots during the hotter months. And indeed, you shouldn't wear high-cut, heavy duty boots in the heat (unless they're for function). But with their ankle height, and typically unlined, thinner fabric, chukkas are an exception to the rule. In fact, they're one of the best of the limited options available for classy, closed-toed, but laid-back summertime shoes for men.
You can technically go sockless with chukkas, but they tie up so close to your ankles, that dropping socks isn't going to make your feet much cooler — just sweatier and stinkier.
If you can wear them in the summer, can you wear them with shorts? Not recommended. It makes you look like you're going on an African safari, and can only be pulled off if that's what you're actually doing. If it's hot enough you need to don shorts, it's time to go sockless in an even lower cut of leather footwear like the boat shoe. Or better still, the "City Slipper."