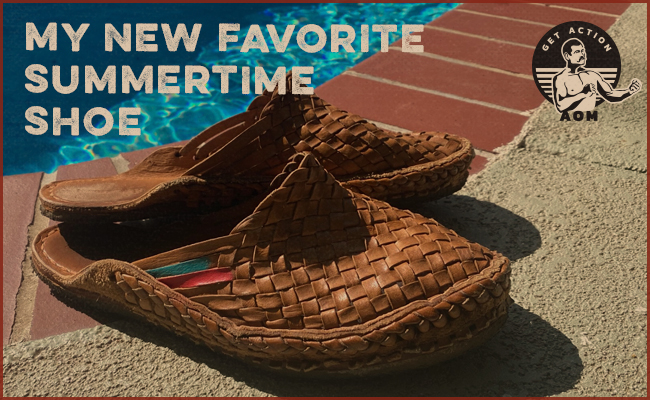 In the colder months, a man's got plenty of footwear options: sneakers for casual occasions, dress boots for classier events, leather moccasins for hanging around the house.
Summertime footwear is trickier. Optimally, you want something that's cool (that you can ideally wear without socks), comfortable, and decent-looking. But the options that hit this combo are few and far between.
A lot of dudes opt for sandals or flip-flops as their go-to summertime footwear. They're easy to slip on, and they're supremely breathable. While I sported sandals regularly during my high school days, as I've gotten older, they've lost their appeal. Except for going to the beach or wearing Chacos while rafting, I don't think sandals look that good or seem very dignified in most situations. That's just my personal taste; I don't feel my centaur feet make a great impression.
For many years, the boat shoe was my own go-to summer shoe. They're closed-toe, slip on quickly, and because they're kind of dressy looking, extremely versatile. I could wear boat shoes while I schlepped around the house in my gym shorts and t-shirt or pair them with khakis and a polo to go out for a date night dinner.
But the problem I had with boat shoes is that they're not very breathable. My feet would get awfully hot and sweaty while wearing them during the hot and humid Oklahoma summers. And then the shoes would get kind of stinky.
So at the start of the season, I was on the lookout for a new summertime shoe. My criteria were: 1) it had to be slip-on, 2) it had to be breathable without exposing toes, and 3) it had to have some class. Basically, I didn't want to wear Crocs.
Thankfully, I've found a shoe that fits all those criteria: the City Slipper from Mohinders.
The Backstory of the City Slipper
Mohinders was founded by a fella named Michael Paratore. When Michael was on a trip in Mumbai, India, he came across a pair of handwoven leather slip-ons. He liked the shoes so much that he decided to track down the craftsmen who designed them and start a company to sell them to the masses.
He and Indian craftsmen from the city of Athani, India, modified the design of the original slip-on to make them a bit more stylish, durable, and comfortable. The City Slipper was born.
Instead of taking this design and then manufacturing the City Slipper in a big factory, Mohinders works with families of 3rd-and 4th-generation shoemakers and leather tanners in Athani. They're made with an eye towards both quality and minimal environmental impact; the sole is crafted from natural crepe rubber and the upper from full-grain water buffalo leather tanned with natural ingredients.
Why the City Slipper Is the Perfect Summertime Shoe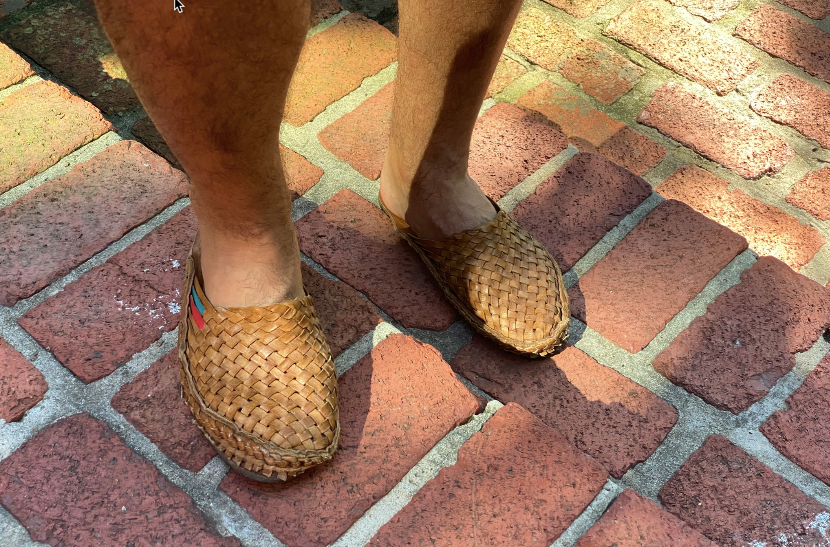 I first came across the City Slipper when Huckberry started featuring the shoe in their store a year or so ago (that there is an affiliate link, but this isn't a sponsored post, and my endorsement is unsolicited and genuine). I was immediately drawn to the City Slipper when I saw it. It was right on with what I was looking for in my summertime footwear: it slips on, and the weave design makes the shoe breathable without exposing my gross man toes to the world. Plus, they looked like something Ernest Hemingway would wear around his house in Key West while writing, petting his dozen cats, and plotting his next great adventure.
I didn't pull the trigger on buying the City Slipper then because I still had some wear left in my boat shoes. After I wore my boat shoes into the ground last summer, I was ready to purchase the City Slipper this summer.
After a couple of months of field testing, I can't recommend them enough.
Unique, easy to put on, comfortable, breathable, with a touch of that relaxed, Papa Hemingway coolness to them.
I pretty much wear my City Slippers all the time. At home, around the pool, for get-togethers with friends. I usually wear shorts with them, but I wore them with a pair of jeans the other day, and it looked sharp. I've gotten compliments on them from lots of people, and they've asked where they can get a pair.
Like leather moccasins, City Slippers get more comfortable as you break them in, and they conform to your feet. The leather on mine has developed a handsome patina already.
The one downside to the City Slipper is the high price tag: $145. But you're supporting artisans in rural India with the purchase of your shoe. You're also buying a product that will last longer than a pair of flip-flops from Old Navy. You can even get them re-soled. Despite wearing my City Slippers every day for two months, so far they've held up nicely, and I imagine I'll be enjoying them for a while to come. Exactly how long they do last, and thus what their ultimate "price per wear" turns out to be is something I'll have to gauge down the road, but for now, I'm certainly enjoying doing the road test.