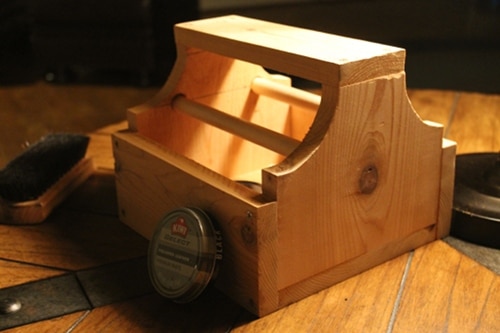 Here at the Art of Manliness, we've talked a few times about the manly ritual of a good shoe shine over the years. For awhile now, I've kept my own shoe shine supplies in a box I got for Christmas a few years back. It's a pretty nice box, but I've always had an itch to make one with my own two hands. Then a few months ago I was looking through some old Popular Mechanics magazines, and a nifty shoe shine box design in an issue from 1950 caught my eye.
It's a simple design. You've got a place to hold your brushes and polish cans and a place to rest your foot when shining your shoes. What makes this design so nifty is the two free-turning dowels placed inside the box. After you've given your shoes a good polishing, the dowels serve as rollers for your polish cloth for buffing your shoes to a mirror shine. Here it is in action:
This is an incredibly easy and inexpensive project. It only takes an hour to complete, but you'll end up with a unique and sturdy little box that will last you a lifetime.
The Design
Here's the modified Popular Mechanics design that I used to make my shoe shine box:
Materials & Tools Needed
Materials
(1) 3/4″ x 8″ x 8′ board (I used a cedar board I bought at Home Depot for $11. I was able to make two boxes out of one board. You can use whitewood for an even cheaper box.)
(1) 5/8″ wooden dowel
(18) #6 1-1/4″ wood screws
Tools
Saw (I used my table saw. Miter saw works, too. Heck, you could even use a handsaw for this project.)
Power drill
Band saw or coping saw
11/16″ bore bit
Compass
Measuring tape
Measure and Cut Wood
Here are the measurements you'll need:
(1) 8  1/2″  x 7  1/4″ (this will be your bottom piece)
(2) 5  5/8″ x 7  1/4″ (these will be your end pieces)
(2) 3  1/2″ x 8  1/2″ (these will be your side pieces)
(1) 2  3/4″ x 8 1/2″ (this will be your top)
(2) 5/8″ x 7  7/8″ dowels
Mark Arcs and Bore Holes
Cut Arcs
Bore Holes for Dowels
Screw Pieces Together (and Insert Dowels)
 Sand
Enjoy Your Shoe Shine Box You Made With Your Own Hands