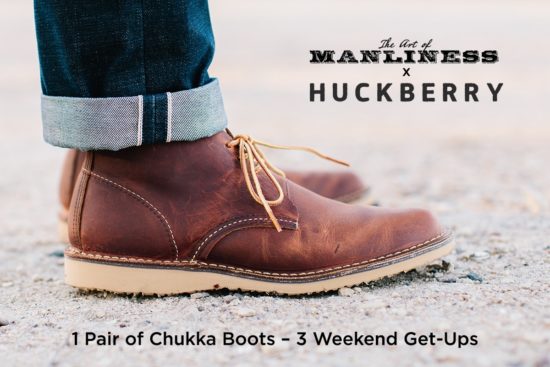 Editor's Note: These promotional galleries were put together by the gents at Huckberry.
For over three generations, Red Wing's Heritage boot collection has kept pace with some of America's toughest workers — miners, loggers, even paratroopers. Along the way, the Minnesota-based brand has forged a reputation as solid as their footwear, and now, thankfully, Red Wing is putting their best foot forward — into the weekend. Their Weekender Chukka is built from the soles up with the same American-built quality and handmade detail as their work boots, but offer a sophisticated, albeit more casual, look.
Also known as "desert boots" this style of shoe is lightweight, makes for great footwear in the spring and summer, and can be easily dressed up or dressed down for wherever the weekend takes you. Plus, the Chukka offers amazing comfort straight out of the box. Absolutely zero breaking-in required. All this adds up to an off-the-clock shoe-in. Which is why we bugged Ben, one of the best-dressed guys and resident Chukka Connoisseur at Huckberry, to show us exactly how to wear them for each day of the weekend (plus Friday!). Long live Red Wing, and long live the weekend.
Casual Friday x Happy Hour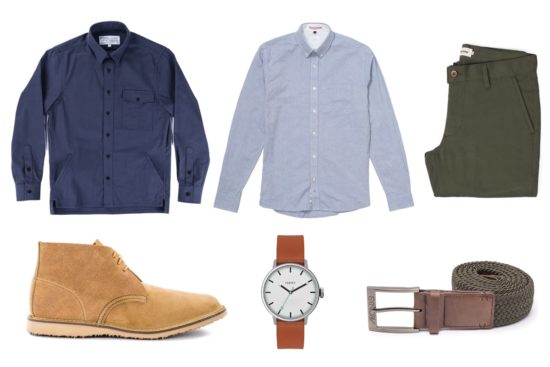 We're firm believers that you should never dress for the job you have, but for the job you want, even — and maybe especially — on Casual Fridays. Red Wing's Weekender Chukka (in Copper Rough & Tough or Hawthorne Muleskinner) is the place to start. They feature roughout leather, which is made using a reverse-suede technique. While most tanneries split, thin, and weaken the hide to create the rough suede surface, Red Wing simply uses the other side of the hide, making it just as durable as other leathers.
Socks are optional here, but try pairing the shoes with some nice rolled-up chinos. Taylor Stitch makes a super-comfy, dark green pair from breathable, brushed Spanish twill. For shirts, Apolis' light blue Oxford Button Down is an optimal choice. Each one is meticulously crafted from a 90-year-old Honduran tailoring collective with super soft cotton milled in Brazil. If your office runs a tad chilly, we recommend Copin's Brushed Cotton Shirt Jacket. Finish it off with Arcade Belt's bestselling and high tensile elastic Hudson, and this minimalist Tsovet timepiece. All things considered, both are super-affordable and complete the casual, refined wardrobe we want for a Casual Friday — one that'll seamlessly carry us into after hours.
Saturday Night Out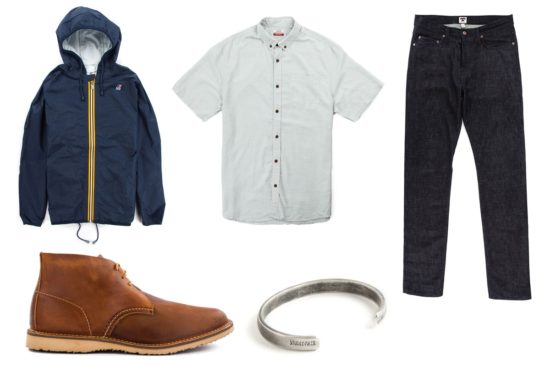 Think about it for a minute: there are only 53 Saturdays in 2016. When this post goes live, 18 are gone, leaving just 35. If you're a typical 9-to-5er like us, that means there are only 35 perfect days remaining where you're entirely the boss. So, why not dress the part for what should be the week's high point? For this, start with Red Wing's Weekender Chukka in the Copper Rough & Tough colorway. Built from premium quality, oil-tanned leather, it's water, stain, and perspiration resistant, and gives a subtle shine.
Saturday nights call for nothing less than the best selvedge denim, which means a pair of Tellason's Elgin Slim Taper. They're cut from Cone Mills White Oak red-line raw selvedge. In time, they'll mold to your body shape and produce entirely unique fade patterns. (Read the full care instructions here). Katin's Cloud Short Sleeve is a great shirt choice with its summertime surf vibes and carefully-woven cotton construction. If you're not a watch guy, check out Studebaker's handsome line of hand-forged cuffs. Ben is partial to the Lodge Cuff's simple silhouette and sterling silver construction. When rain falls, stay dry with K-Way's super-portable Rain Jacket. It can be easily stowed in its own waterproof pocket, which is small enough to fit in your lady's purse.
Sunday Funday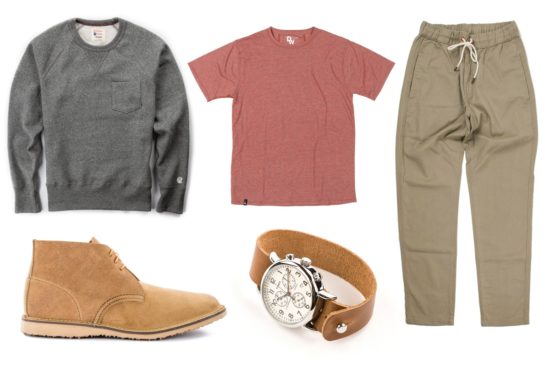 For those Sundays spent out and about, the name of the game is casual comfort. The Weekender Chukka is still the perfect place to start. Try the tan suede Hawthorne Muleskinner colorway for a less dressy alternative to the Copper Rough & Tough. Whichever suits you, Red Wing has equipped both with a patented insole and footbed for superior comfort. Again, no break-in-period required. They're ready for Sunday Funday right out of the box.
Now for pants, Iron & Resin's USA-made Trenchtown Pant gets our pick. It sports a lightweight, breathable cotton twill weave and waist cinch drawcord. Pair it with Duckworth's Vapor Tee. Its fabric cools you due to conductive Re-Vaporation, which really kicks in during exercise. If it's still a bit chilly in your neck of the woods, warm up with this Pocket Sweatshirt from Todd Snyder x Champion. Complete the look with a Timex Chronograph watch, which continues to be one of Huckberry's all-time bestselling items. It's easy to see why: vintage 3-dial face (in Navy or Cream), handsome leather strap, and button stud fastening.
______________________
Join Huckberry's 1 million+ adventure community. We deliver the coolest gear at the best prices, inspirational stories, and a hell of a lot more to your inbox every week. Membership is free and takes seconds.