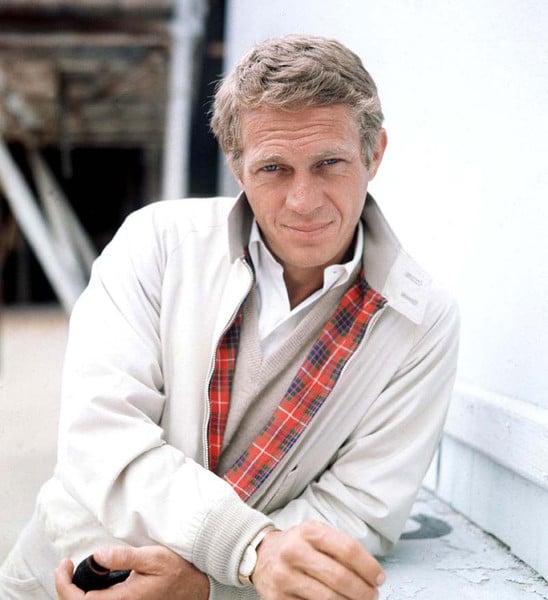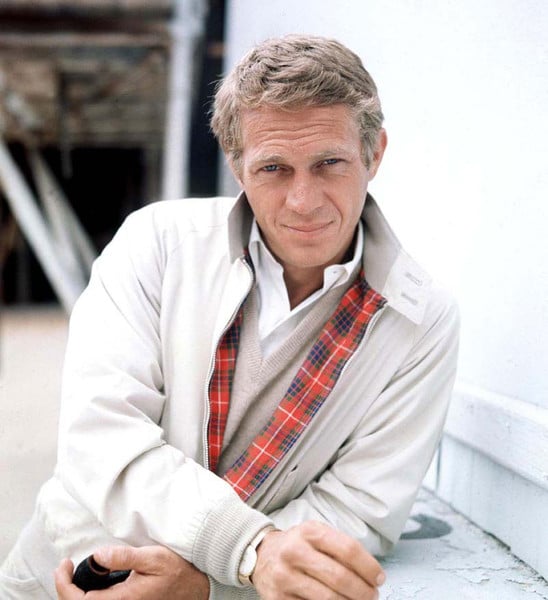 Spring is here, and with this transitional season comes unpredictable weather. On some days, harbingers of the coming summer surge, along with sunny skies and warm temps. Other days, winter tenaciously persists, and you face chilly air and rainy downpours.
Picking a spring jacket is thus a tricky proposition. You need something that can straddle the season's many fluctuations; something that provides protection from wind and rain, but won't overheat you on balmier days. Men will often reach for a denim or leather jacket, technical windbreaker, or even just a hoodie to bridge the gap before summer arrives and outerwear can finally be fully shed.
But there's a better option:
The Harrington.
The Harrington has been my go-to spring jacket for several years now, and I heartily recommend adding one to your own wardrobe. In today's post I'll explain why you should consider this true classic of men's style, give a brief rundown on its history and features, and offer tips on where and how to sport one.
What Is a Harrington Jacket?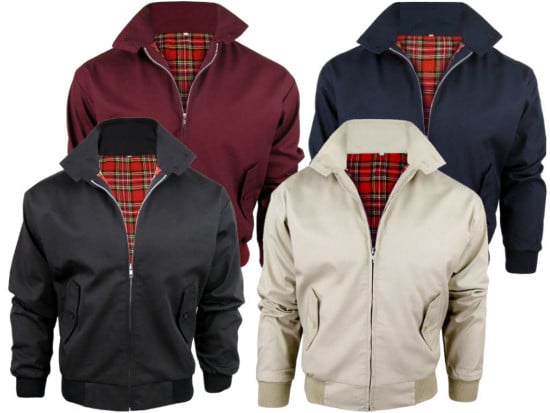 A Harrington — also known as a blouson, windbreaker, or golf jacket — is a waist-length, zippered, solid-color jacket which typically sports the following features:
Made with a lightweight, water-resistant/rain-proof cotton/synthetic (nylon or polyester) blend (there are leather/suede/wool jackets made in the blouson-style, but a 100% cotton or cotton blend is the most traditional material)
Sleeve cuffs and bottom hem are made with an elasticized material; the jacket thus gathers at the wrists and waist, with the material "blousing" over
Slanted, buttoned, flap pockets on each side of the front of the jacket
Umbrella-inspired vent on the back of the jacket, designed to run rainwater off the shoulders, and over the waistband, so your pants don't get wet
Double-button, straight, stand-up, mandarin-esque "funnel collar" that can be snapped shut so rain doesn't go down your neck
Raglan sleeves (the sleeve starts up by the collar, rather than being attached flush with the shoulder) for added range of motion
Lined with a tartan pattern design
The History of the Harrington Jacket
Blouson-style jackets were first made by several companies in England during the 1930s. James and Isaac Miller produced what would become its most iconic iteration — the Baracuta G9 — in 1937 in their garment factories in Manchester, England. The Miller brothers had been making rainwear for companies like Burberry, and put this know-how into creating a sporty, waist-length, water-resistant jacket that could be worn for a wide variety of active pursuits and tasks. The Millers received permission from Simon Fraser (Lord Lovat) — a British commando and 25th Chief of the Clan Fraser — to line the jacket with his family's red tartan pattern. The jacket had primarily been designed for the Millers' fellow golfers, but its short, lightweight, and roomy fit also found favor with working men and everyone else who needed something that could curb chill and shut out the rain, while still allowing them to bend and move.
The G9 was exported to the U.S. in the 1950s and quickly took off, perhaps because its waist-length, elastic-cuffed style mirrored and dovetailed with another style trend — that of the bomber/flight jackets worn by pilots during WWII and the Korean War.
The Harrington jacket was soon adopted by an astonishingly wide variety of groups and classes. As an emblem of "rebel cool," it showed up on the silver screen on the likes of James Dean and Elvis Presley, and was frequently spotted being worn by the King of Cool himself, Steve McQueen. As a utility garment, it found its way to police departments, mail carriers, delivery men, and other service workers. And East Coast college students embraced the blouson as a piece of preppy, "Ivy League" style. In the 1960s, actor Ryan O'Neal often wore the jacket while playing the character Rodney Harrington on Peyton Place — and calling the jacket by his surname stuck.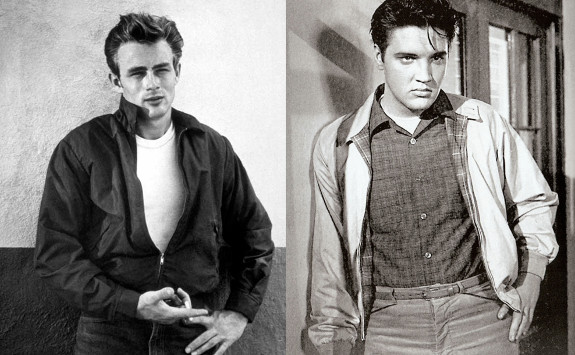 Back across the pond, English "Mods" donned the Harrington in the 60s whilst riding their scooters around town. Compared to the hippy fashions of the day, the jacket was such a conservative throwback, that it exuded its own kind of nonconformist cool. In the 70s and 80s, the Harrington's fan base expanded even further and it became popular amongst British punks and skinheads — typically in black and paired with Doc Martens — as well as many singers and rock/pop band members.
Today you'll continue to find the Harrington worn by all of these groups, and even on world leaders; the POTUS rides around on Air Force One with a blouson-style jacket (though with folded collar), complete with the presidential seal on the breast.
Why the Harrington Jacket Is a Style Staple
The Harrington jacket is an incredibly versatile piece of outerwear in terms of both style and function.
Few other garments can walk the line between rebel cool, everyman ethos, and executive power — between sportswear and sharp, classy casual. The Harrington looks equally good with a t-shirt or a button-down shirt and tie, when worn by either punk rockers or presidents.
So too, few other garments can straddle the swings of warm and cool weather. It's waterproof and windproof, to cut the chill on the brisk, breezy days of summer or fall. But its lightweight fabric ensures you won't overheat as summer approaches and temperatures creep up.
Finally, the Harrington's got great built-in comfort, roominess, and mobility. Compared to a leather or denim jacket, the material is flexible, and the raglan sleeves allow you to swing your arms and easily move around in order to tackle active tasks and pursuits. You can stick your hands in your pockets to keep them warm, or to achieve that insouciant look.
In short, the Harrington has the function of sportswear, with the simple, clean lines and style of sharp casual dress, so that it can easily go from the golf course, to the business casual workplace, to a date on the town. It's a great jacket for traveling too.
With such versatility, it's thus perfect for those seeking to build a minimal wardrobe — it's likely the only jacket you'll need for spring and fall.
Tips for Wearing
A Harrington jacket is meant to be a little roomy, so you want one that fits you decently without either being too tight or overly baggy. You should be able to move your arms freely. The jacket is also designed to be short, but you want the elastic hem on the bottom to cover your waistband. The sleeve cuffs should meet your wrists.
As far as color goes, you can find Harringtons in a rainbow of hues, but navy and natural/khaki are the most classic. I personally endorse the natural color as it pairs best with denim and looks sharp in the spring and in places where it's balmy year-round. If you wear khakis more often than jeans, then you might opt for navy instead.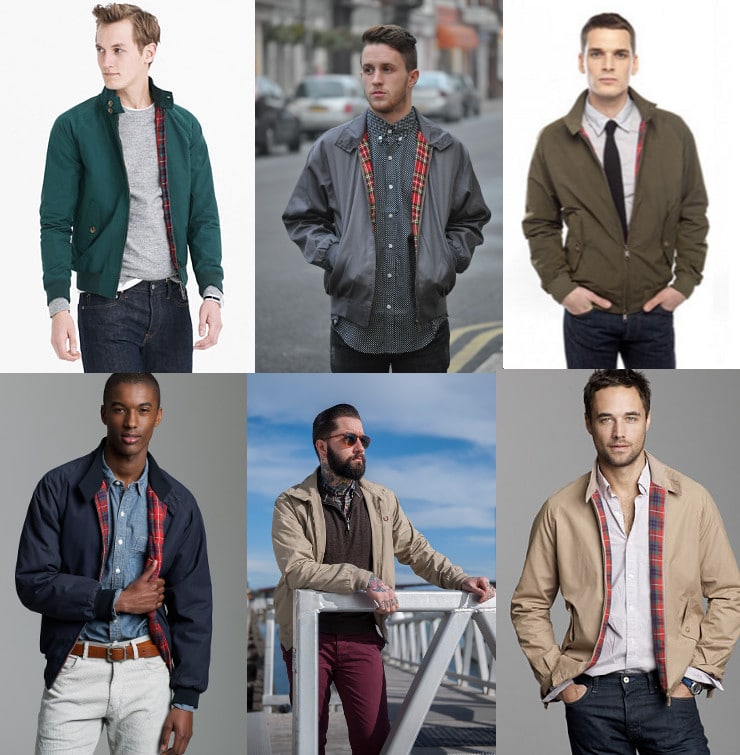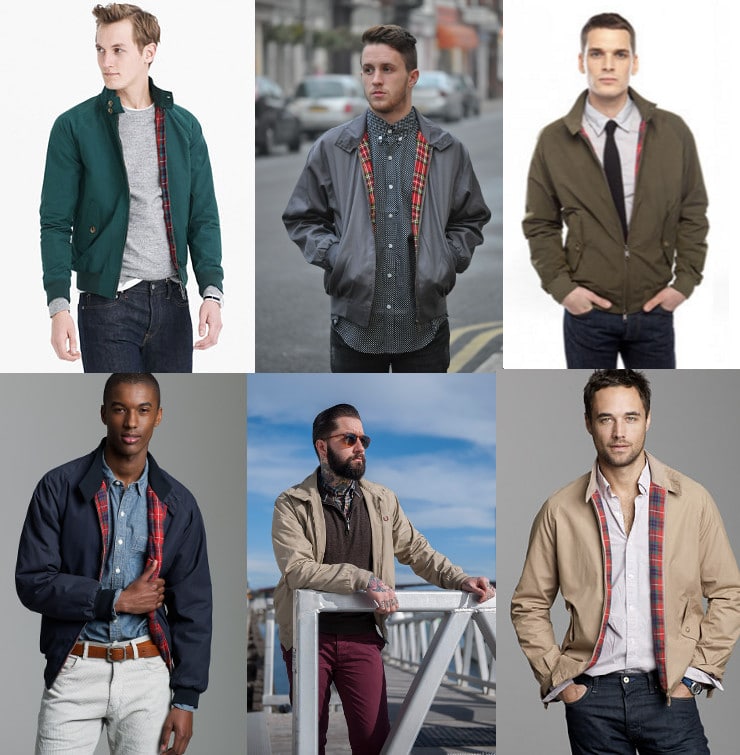 You can pair a Harrington with everything up to where you would wear a sport coat. You know it's not the right outerwear choice if your get-up requires a dress shoe. But below that, anything goes: t-shirt/henley and jeans; khakis and a polo; button-down and slacks. Because of its golfing heritage, a polo + Harrington is a particularly winning combination.
Where to Buy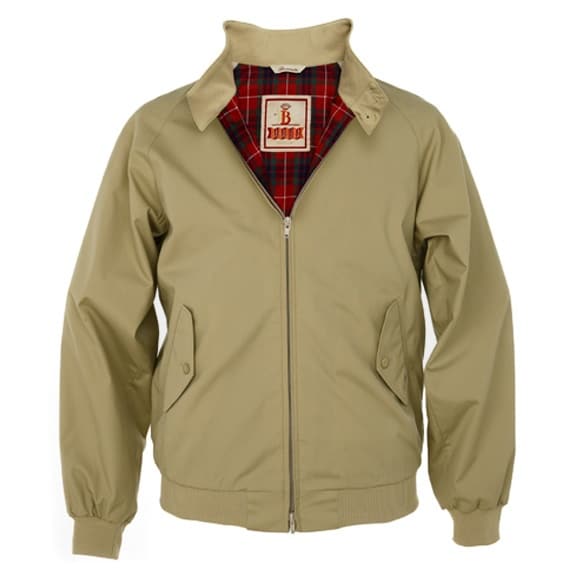 You can still purchase a jacket close to the original Baracuta G9. The one that's available now is still made in England and features some upgrades, like a more effective water-resistant coating, and a Coolmax lining. But the fit is slimmer than it used to be, which may not be desirable for those who prize a good range of motion. It's also quite expensive at $425 (J. Crew sells it for a little less here in the States).
Harringtons made in England are still the gold standard, but several other companies make blouson-style jackets as well. Here's a list of a few of them (most are based in the U.K.):
I personally own a Harrington-style jacket made by Orvis and have been quite happy with it. Here's how it looks: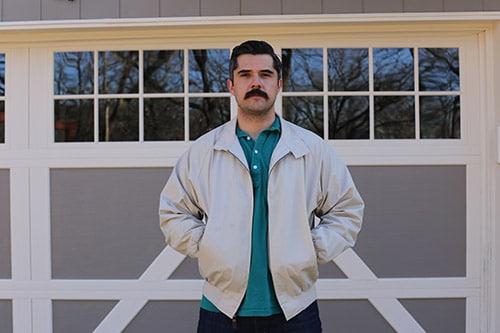 The Harrington is truly a classic, functional, versatile piece of menswear and is an essential piece for those looking to dress both sharp and casual. Instead of wearing a nylon windbreaker around this spring like you're heading out to climb Mt. Rainier, up your style game by donning the handsome and iconic Harrington jacket.