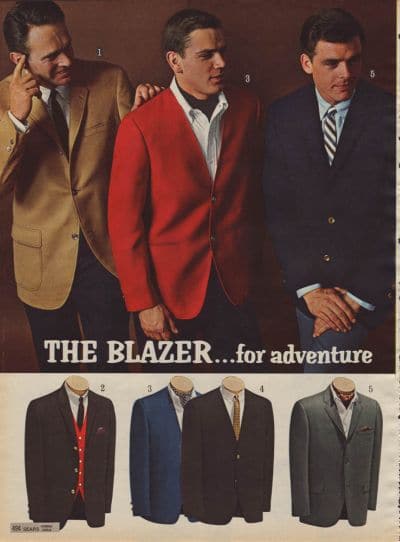 Incredibly versatile, a navy blazer is one of the core garments a man should own if he lives in a large city, near the water, or has a lifestyle where the wearing of suits and sports jackets needs to be bridged. A blazer should always be matched with odd trousers (never a fabric too similar) and is not a substitute for a suit; rather, it is meant to fill the void between a business suit and casual dress. Technically, blazers are more formal than light colored or rough weave sport jackets and about on par with a suit worn without a tie and loafers. A blazer is at home dressed up with a tie and dark slacks and is a natural dressed down with an open collar striped dress shirt, white trousers, and boat shoes.
Blazer Jacket History
The story behind the men's blazer jacket is a muddled one. Today what we generally call a blazer jacket is actually the offspring of two distinct jacket styles, one being double breasted and having a British military origin while the other is single breasted having evolved from the jacket worn at rowing clubs. From 1870 to 1950 there are about 10 different stories that I know of as to how the blazer became a classic – I'll bore you with none of these. What I can tell you for certain is that the blazer jacket has been serving men for over 100 years, is a style that has been approved of and worn by kings, and because of its naval history evokes a feeling of nautical adventure in its presentation. The modern blazer is a hybrid of this heritage – it can be found in single or double breasted styles, is often cut from a wide range of colors, utilizes a variety of buttons and patches, and is used by businessmen, sportsmen, and school children to signify belonging and placement in society.
Blazer Jacket Style
Blazers come in all types; for this article I will give you an overview of the traditional "country" styles. However, it's important to note that an Italian can ask his English tailor to make him a jacket in the American style……in other words travel and fluid borders have made it so that these distinctions have less to do with location. Instead, these country styles serve as more of a historical guide on what was and is still possible to create. But hybrids incorporating a mix of the below characteristics are common and often even preferred.
American Style Blazer – The traditional American style blazer is normally a 2 button navy blue jacket with soft shoulders. The jacket's pockets can either be patch or flap pocket, with the lapel style being notch. Normally you'll see a center vent here, although I encourage men to choose a double vent as it flatters more body types.
English Style Blazer – English style blazers vary from their American counterparts in that they are built around more structured shoulders with a suppressed waist (assuming the man in question is of the right build). They build out the chest a bit more and have less of a box shape. Made in either a single or double breasted style, the English style blazer will have a double vent and if double breasted always peak lapels. The single breasted version will have notch lapels and most likely 3 buttons but possibly 2.
Italian Style Blazer – The Italian style blazer varies from the other two in that the fabric selected is lighter weight, and the entire jacket build is much less structured. Extremely soft shoulders and a flexible but gently constructed inner lining allow the jacket to float next to the wearer's body. Vented or unvented, 3 buttons or 2, the Italian jackets have more flair and are a reflection of their wearer's personality and quirks.
Blazer Buttons
The most noticeable detail on a blazer jacket, blazer buttons can range from delicate smoked mother of pearl buttons to heavy solid gold family heirlooms passed from father to son. Most manufacturers will make their jackets with simple generic brass buttons; although many never change these, a man in the know can easily turn one jacket into many by simply having a few sets and changing the buttons out with the seasons. Mother of pearl for spring & summer, silver for fall, and gold for winter.
Blazer Fabric
Blue worsted Serge is the classic blazer fabric, although any navy worsted or flannel wool is a classic choice. Rougher weaves or fabrics with a slight pattern technically transform the jacket from a blazer to a blue sportcoat, but the distinctions are blurred by most, and I have to admit my favorite "blazer" uses a blue glen check fabric that I love. Besides navy, blazers also come in bottle green here in the United States and lighter colors across the world.
How a Blazer Jacket Should Fit
A blazer should fit in the same fashion a suit jacket and sport coat should.
Room in the shoulders to allow full arm movement but not so much room that the shoulders are over extending the shoulder points by more than ½ inch.
Room in the chest to fully button the jacket but not enough to hide a baseball.
The blazer jacket sleeves should extend to the wrist bone and show ¼ to ¾ an inch of shirt cuff when standing straight.
The jacket length should always fully cover your backside – it can be a bit longer if you are taller than six foot, and should lean on the shorter side if you are shorter than five foot six.
What to Wear with a Blazer Jacket
Grey Flannel Trousers – the perfect partner for a blazer jacket, grey flannel trousers compliment a wide range of sport jackets as well and have historically been the go to trousers for stylish men for almost a century. They are comfortable, classic, and durable.
Khaki Trousers – Will make a man look a bit shorter as this combination's contrast in color draws attention to the midsection instead of allowing the eyes to flow from head to toe. Men south of five foot seven and those with substantial midsections should try to wear either darker shades of khaki or skip this option altogether.
White Cotton Slacks – A great summer choice, white cotton trousers require a bit of personality to pull off and need to be worn with care. The pros outweigh the cons here though; if you can pull it off, the contrast looks great.
Quality Denim (aka Jeans) – Levi 501s and 505s are my favorite, but there are so many types out there it shouldn't be too hard to find something that works for your body shape. The key here is to know that the quality and color of the jeans will determine the dress level of the outfit. Dark colored 501s and a blazer – Andy Warhol pulled this off at big events in NYC; shredded designer jeans and a double breasted blazer…..you're on your own there! And never wear baggy jeans like this with a blazer.
Lastly, remember the details. A blazer deserves nice slip-on dress shoes, a crisp dress shirt, and always looks great accompanied by a simple pocket square.
Finally, the question I hear most often – Can you wear an old suit jacket as a blazer?
The answer is yes, assuming that-
1) the jacket fits you.
2) the style is simple (no 4-button, Saturday Night Fever, or Zoot Suit coats).
3) the fabric is solid navy or dark blue.
4) the plastic buttons are removed and proper blazer buttons are attached.
Written by
Antonio Centeno
President, A Tailored Suit
Articles on Custom Suits – Dress Shirts – Blazers & Sports Jackets
Join our Facebook Page & Win Custom Clothing