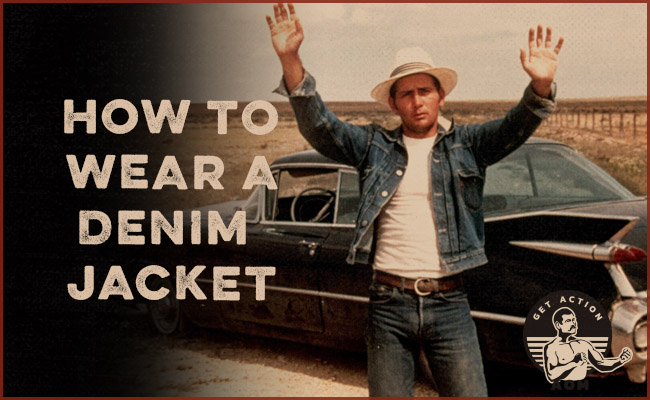 It took Levi Strauss a decade after creating the world's first blue jeans to realize that the material that worked so well to clothe a man's lower half, also worked brilliantly to outfit his upper half as well.
The modern man needn't take so long to make that leap.
Denim not only makes for some of the best-looking and easy-wearin' pants, it also makes for a handsome and rugged jacket.
140 years after first outfitting men who worked on railroads and ranches, the jean jacket continues to serve as functional, low maintenance outerwear; its durable material provides decent protection to one's arms and torso, doesn't wrinkle, takes a beating, and lasts for the long haul. Light in weight, it's a great jacket for those just-a-bit-chilly days that mark the seasons of spring and fall.
With a collar and a structure that typically tapers to the waist, the denim jacket also creates a more masculine silhouette and adds to the visual appeal that arises from layering in ways that faintly echo a sports jacket, but with an entirely different vibe — casual, rebellious, oppositional-to-the-suits. Thrown over a t-shirt, it instantly adds a lot more interest to an otherwise basic get-up.
Given these assets in function and form, why are guys often hesitant to make what is really a rather simple staple of menswear part of their wardrobe?
The fact that the denim jacket is associated with miners, cowboys, truck drivers, and rockers adds to its iconoclastic appeal, but at the same time, guys may worry that its tough and cool legacy might not sit comfortably on their shoulders; they don't want to look like a wannabe or have the jacket come off as "costumey." They also don't want to look like a hipster who's trying too hard to channel the ethos of blue collar workwear. Or maybe a fella just associates the jacket with the 1980s and wonders if they're still in style.
Well, the good news is that these hang-ups needn't be an issue: a denim jacket can suit a man whether or not he swings a hammer or slays a guitar, can be adopted in a way that's both natural and sharp, and when worn well, will always be, no matter the decade, perennially in style.
Choosing a Denim Jacket
If you'd like to add a denim jacket to your closet, choosing one comes down to thinking about two main qualities: fit and color.
Fit. As with all garments, fit is king with the jean jacket. You don't want the jacket to either be too baggy, nor too tight. A well-fitted jacket should exhibit the following qualities:
Fits over the thickest top you plan to wear it with.
Can be buttoned up without tightness or pulling when worn over a t-shirt (denim jackets are not commonly buttoned up, but can be; if you do button up, still leave at least the top and bottom buttons undone).
Fabric hangs down in straight planes.
Bottom hem hits at about the hips; the denim jacket is a shorter jacket, and the bottom hem shouldn't extend much past your beltline, with about the middle of your fly/upper thigh being the longest it should fall. However, the jacket shouldn't be too short either; if it creeps up to your waistline and above, it will look too cropped, and begin to approach a more feminine style of jean jacket.
Ends of sleeves hit a little past the bends of the wrists, but don't extend past the creases of the thumbs.
You're able to cross and swing your arms comfortably; if you find denim fabric feels too constricting (this can be the case with darker and raw denim; lighter washes will typically be pretty soft), look for a jacket made with a bit of stretchy material added to the cotton fabric.
Color. While denim jackets are available in a variety of colors these days, blue is the most classic and versatile. Of blue jackets, their "formality" ranges along with the washes of their denim. All jean jackets are inherently very casual, but one made with a dark wash denim will be slightly "dressier," while one with a light wash denim will be the very most casual. A medium wash sits right in the middle and is arguably your best pick — it's versatile, classic-looking, and soft.
What to Wear With a Denim Jacket
Denim jackets aren't versatile in the way sports jackets are — unlike the latter, they can't be dressed up or down to meet the requirements of just about every dress code. While some very fashion-forward sartorialists will put a jean jacket over a dress shirt and tie (and even a waistcoat), the contrast between the more formal underlayer and the very casual outerwear is too jarring to make for a good look.
Denim jackets are versatile, however, in that they pair well with most every other garment that resides in the casual category of your wardrobe. These pairings can still be more or less ideal, however, and we'll delineate that spectrum below.
On Bottom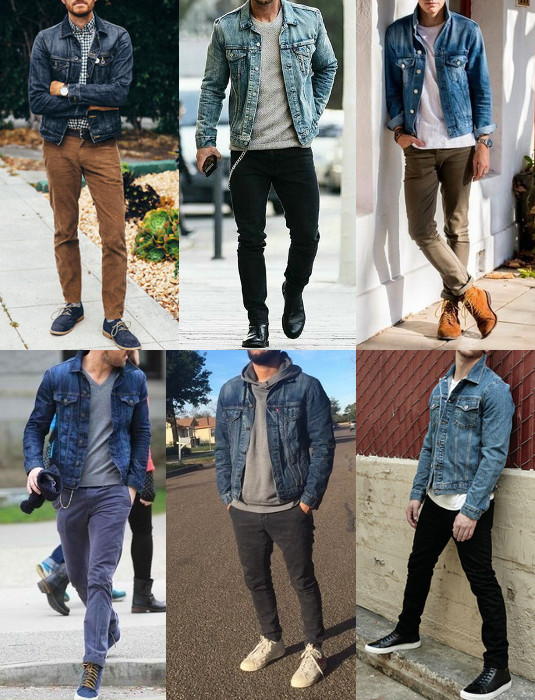 The one rule you've probably heard about wearing a jean jacket is to never do "double denim"; that is, you shouldn't wear a denim jacket on top of denim jeans. The result of this pairing is what's called the "Canadian tuxedo," named after an incident in the 1950s, when Bing Crosby was banned from a swanky Canadian hotel for wearing an all-denim get-up, and the Levi's company responded by making him an entirely denim tuxedo to rock.
The reason that "double denim" is considered a faux pas is that when your denim jacket and jeans are too matchy-matchy, it looks like you're wearing a weird pseudo suit. But avoiding this combo isn't a hard and fast rule. While it's more difficult to pull off well, you can wear a denim jacket with jeans, as long as you make sure there's a good amount of contrast between the two pieces. That is, instead of wearing a medium wash jacket with medium wash jeans, you wear a darker jacket with lighter jeans, or vice versa. You can also wear jeans in a color other than blue — black or charcoal can look good with a denim jacket.
And you know what, if you're a little daring, you can even break the rule entirely and wear a jacket and jeans that are close in color. I do! I just like my so-called Canadian tuxedo, and don't care if it's "wrong." I guess that's the rebel in me, eh?
If you're not sure if you can pull off double denim, or just don't like the look of it yourself, it's best to just heed the proscription against it. Below are common and safe guidelines for how to clothe your lower half while wearing a denim jacket, with options ranked from less to more ideal:
Poor:

Dress trousers (too much high low/contrast)
Jeans that closely match the color of your jacket

Alright:

Jeans in a color that contrasts with the jacket
Joggers

Best:

Chinos/khakis (in brown, tan, olive, gray, etc.)
Corduroys
As far as your footwear goes, think casual: canvas/leather/suede sneakers, leather boots, chukkas, etc.
On Top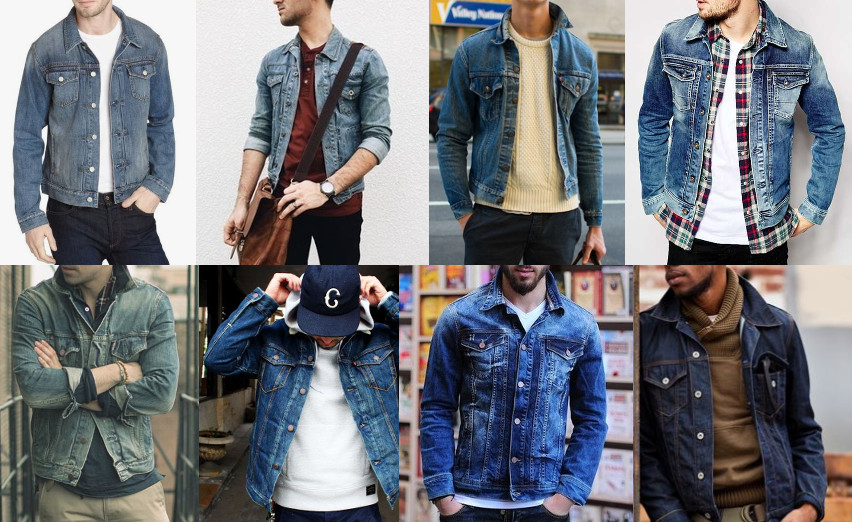 When it comes to what to wear under your denim jacket, a single layer is often all you need; while additional layers can be interesting, you don't want to or need to add much bulk under a denim jacket. A thin base layer will let the jacket hang comfortably, and without constriction. Jean jackets just lend themselves to a more simple, "spare" look too.
Below we break down your underlayer choices from unadvisable to can't-miss:
Poor:

Button-up dress shirts (too formal)
Technical-fabric workout shirts (too casual, even for a denim jacket, with a shiny texture that doesn't complement the jacket's matte ruggedness)
Chambray button-downs (while chambray is technically a different fabric from denim, it looks close enough to it to make this another iteration of "double denim")

Alright:

Sweaters (some thin and very casual sweaters can work, but many can look funny under a jean jacket)
Polos (an okay pairing, but the preppy nature of the shirt clashes a bit with the jacket's more rough-n-ready vibe)
Button-down shirts (in a very casual workplace, a jean jacket can serve as almost a kind of sports jacket substitute when worn over a button-down; a checkered print is a nice look here)

Best:

T-shirts (of all kinds, but the plain white tee is an especially classic choice)
Long- or short-sleeve henleys
Hoodies (evinces a more "urban" look)
Flannel/plaid shirts
As you mix your bottom and top layers with your denim jacket, you can prevent your get-up from looking too "costumey" by avoiding pairing too many things from one "archetype." For example, if you wear a flannel shirt under your jacket, don't also wear leather work boots and a beanie. Or don't wear a white tee under your jacket, along with black jeans, and black work boots, unless you're a biker, or intentionally going for that look. Just let the jean jacket be a natural accompaniment to the other casual clothes you already wear.
A denim jacket makes a great addition to a man's casual wardrobe — there's a good chance that deep down you want one, so get one. And then start wearing the heck out of it. It only looks and feels better with age. Clothing is only as authentic as the real use you get out of it.