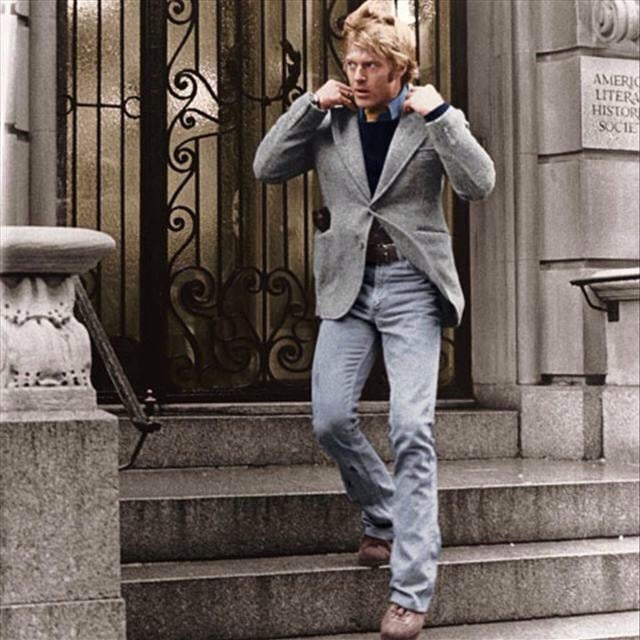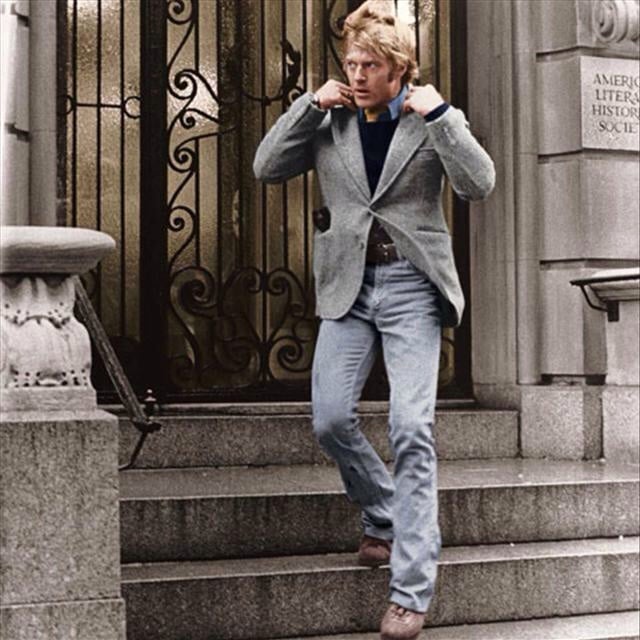 The sports jacket is one of the best, most versatile items a man can have in his wardrobe. The benefits of this piece of clothing are myriad. First, it enhances your silhouette, broadening and heightening your shoulders, slimming your midsection, and giving you a more masculine appearance overall. Second, it offers a good number of pockets, so you can lighten the load on your trousers and have what you need ready at hand. And third, it affords you an opportunity to be a gentleman; should a lady friend become cold, you can remove your jacket and lend her its warmth.
Thus, any way to extend the times and places in which a sports coat may be worn is a win by me. And one such way is to pair one's jacket with jeans.
Wearing jeans and a sports coat is a somewhat controversial move; it has been called "the business mullet" (formal up top, casual on the bottom) by its critics. And it's true that done wrong, the look can come off quite poorly.
But executed well, pairing a sports coat and jeans results in a sharp, casual look that will easily become your go-to getup for a variety of situations. The key to pulling it off is simply to choose the right jeans, the right jacket, and the right accessories. How to do that is what we'll be covering today.
The Overarching Principle for Successfully Pairing a Sports Jacket With Jeans
The main reason the sports coat and jeans look fails is that the two pieces are too jarringly matched. Generally, the jeans are too casual, and the jacket is too formal. And often both pieces are too baggy. The solution of course is to make sure that top and bottom complement each other well — that your jeans are a little more formal, your jacket is a little more casual, and everything fits well. Remember, fit is the foundation of style!
Choose Your Jeans
This is the easiest part of the equation: choose clean, dark, well-fitted, trouser-esque denim. Avoid ripped, baggy, faded, and distressed jeans. Lighter denim can sometimes work, especially if you're Robert Redford circa 1975. But to keep it simple, go with a nice, deep indigo.
Choose Your Sports Jacket
This is the area where you'll have to exercise more discretion.
The first question that often arises is whether one's coat has to be of the sports variety, or whether one can pair jeans with a suit jacket or blazer.
When it comes to wearing a suit jacket and jeans, the answer is, with very few exceptions, decidedly no. A suit jacket is more structured, spare in details, smooth in fabric, and formal in appearance; thus, paired with the casualness of jeans, the resulting look is simply too discordant and jarring.
The blazer jacket sits in-between the formality levels of the suit jacket and the sports jacket. It can work with jeans, especially if it is made of a thicker, more textured fabric like flannel or serge, rather than the fine worsted wool common to suit jackets. But it can still come off as too formal to pair well with denim.
When it comes to style, most men are better off adhering to fairly simple rules, rather than delving into nuances and exceptions, so when it comes to donning a jacket with your jeans, I recommend sticking solely with the sports coat. It's hard to go wrong with it. The sports jacket was created in the 19th century for gentlemen who needed a more rugged, utilitarian garment for active pursuits like shooting, hunting, riding, and golf. The jacket was thus constructed of thicker fabrics and adorned with patch pockets for cartridges, elbow patches for durability, and slits in the back for mobility. These rustic, casual style details are what make the sports jacket a quite fitting companion for the rustic, casualness of denim. In fact, the more casual the jacket, the better it will complement your jeans.
For more on the differences between suit jackets, blazers, and sports coats, check out this article.
Here are a few things to generally look for in a sports jacket that will pair particularly well with jeans:
Unstructured and soft-shouldered.
Casual, textured fabric. Linen or cotton in warmer months; tweed, corduroy, etc. for colder weather.
Casual style details like patch pockets and elbow patches.
Two buttons over three.
Thin notch lapels over peak lapels.
Well-fitted. Sports coats are cut roomier than suit jackets and blazers in order to allow for layering underneath. But you don't want the fit to be too baggy.
High color contrast with jeans. Sports coats, unlike suit jackets, aren't supposed to match your pants, and in fact look best when they form a sharp contrast with them. Thus a light-colored sports coat generally looks best with dark denim.
The Accessories
The other pieces you pair with your sports coat and jeans will go a long way towards ensuring your getup works. You can choose to go with a slightly dressier look, or a more casual one, but your general goal is to dress the jacket down, rather than to dress your jeans up. There's only so much dressing up of the look you can do before the elements of one's outfit become discordant.
Shirt. Go with a casual, open-collar button-down. A crisp oxford looks good with a slightly more formal sports jacket, while a denim or chambray button-down goes well with a very casual one. Checked and striped shirts often look sharp. Wearing a t-shirt underneath a sports coat is almost never advisable, as its casual nature clashes too much with the jacket.
Sweater/vest. A layered look goes great with jeans, so don't hesitate to pull a v-neck sweater or casual vest over your dress shirt, and under your jacket.
Shoes. When dressing up the look, choose a brown pair of brogues or oxfords. For a step down from there, go with leather loafers or double monk strap shoes. More casual still, would be to don dress/work boots (like my personal favorite, the Wolverine 1,000 mile) or chukkas. And of course cowboy boots with jeans and a sports coat is a classic look that transcends categories and works well in certain regions of the country.
Tie. A tie is an unnecessary addition to what is a relatively casual look, but it can be pulled off, as long as the tie is heftier and more casual, and thus complements the rest of your getup. Think textured and thicker — beefier wool over shiny silk.
Pocket Square. Another sharp addition if you're going for a snazzier ensemble. Just like with ties, choose a thicker, more rustic fabric rather than silk, and it's usually best to go with a simple, low-profile fold rather than a puffy, flowing one.
In incorporating all of these elements, stick with a consistent theme; that is, if you're going for a slightly dressier look, rock brogues, a crisp oxford, and a pocket square. If you're going for a more casual look, pair leather dress/work boots with a chambray shirt and no tie.
When to Wear a Sports Coat and Jeans
A sports coat paired with jeans is not a formal or semi-formal look. It's inherently casual in nature. That being said, it's an extremely versatile outfit that's particularly perfect when the dress code is a little squiggy — events where you know things aren't going to be very dressy, but you don't think it's going to be super casual either. Sports coat + jeans bridges the gap between causal and dressy, town and country, and is thus a highly adaptable outfit that will allow you to seem neither too dressed up nor too dressed down in a variety of situations, including:
First date. A handsome look a lady friend is sure to appreciate. The sports jacket provides plenty of pockets to hold the essential items in a man's first date arsenal, and you can offer your coat to your gal should she get cold. Plus, as ladies often wear dressed-up denim out on the town, this getup will allow you to look sharp without outdressing your date (something a gentleman strives to avoid).
Casual/creative job interview. When you're applying for a job in a very casual workplace, where employees wear t-shirts and hoodies to work, the sports coat/jeans combo can be just the right sharp, but not-too uptight look for an interview.
A job that straddles field and office. If you work a job where you're sometimes in an office, and sometimes out in the field (at a construction site, for example) the combination of durability, functionality, and put-togetherness of a sports jacket + jeans will allow you to move comfortably between different sites and roles.
Traveling. The sports jacket's pockets come in handy when you're traveling, while the jeans will keep you comfortable. Together the look ensures you'll arrive to your destination in style.
Other situations where a sports coat and jeans would fit right in include casual business functions, casual church services, dinner at a steakhouse with friends, parent/teacher conferences, etc. Tinker with the formality of the accessories listed above to arrive at a look that'll best fit the particular situation. Antonio Centeno at Real Men, Real Style recommends making the sports jacket/jeans combo your default getup for day-to-day life!