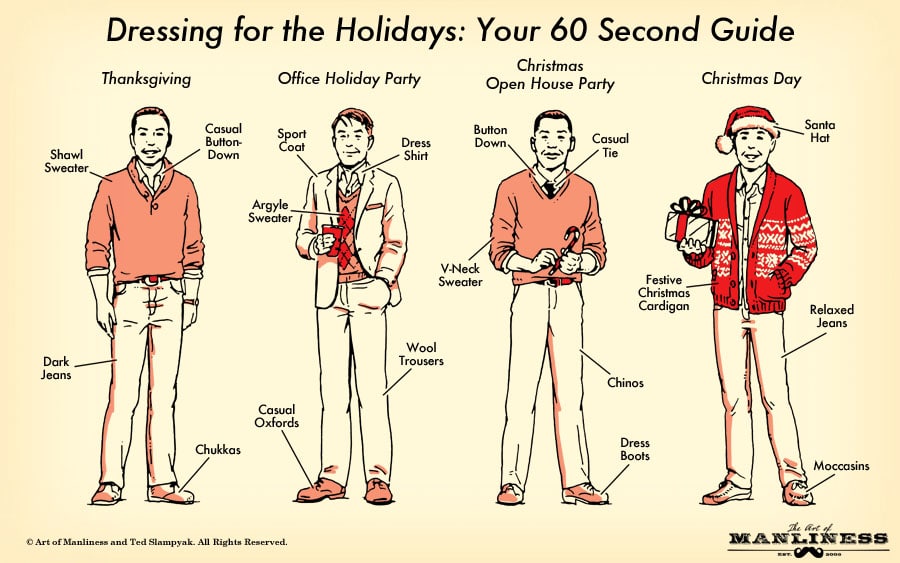 The holidays are supposed to be a break in our everyday lives — something special that lifts us out of the mundane. Part of what makes an occasion feel special for us, and contributes to an atmosphere that makes it feel special to others, is how we dress. Sit down to Thanksgiving dinner in a t-shirt and jeans and it feels like any other day; dress a little sharper and it feels more like a holiday.
You can mix up the style of sweater you wear for these occasions — we just wanted to get you thinking about the range of options out there. Just read up about which sweater styles are appropriate for certain situations. If you're looking for more tips on dressing for the holidays, check out this guide.
Thanksgiving
– Shawl sweater
– Casual button-down
– Dark jeans
– Chukkas
Office holiday party
– Sport coat
– Dress shirt
– Argyle sweater
– Wool trouser
– Casual oxfords
Christmas open house party
– Button-down
– Casual tie
– V-neck sweater
– Chinos
– Dress boots
Christmas day
– Santa hat
– Festive Christmas cardigan
– Relaxed jeans
– Moccasins
Like this illustrated guide? Then you're going to love our book The Illustrated Art of Manliness! Pick up a copy on Amazon.