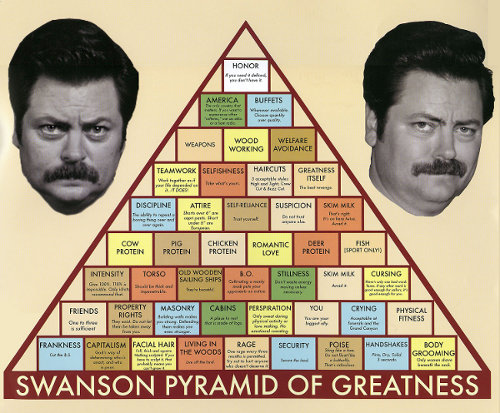 30 Rock and Parks and Recreation are two of my favorite television shows. On Parks and Recreation, actor Nick Offerman plays Ron Swanson, head of the Pawnee Parks and Rec Dept. Ron is a conservative libertarian who loves woodworking, breakfast foods, hunting, and fishing, and he keeps a sawed off shotgun in his desk. Like the The Most Interesting Man In the World, Ron exudes the kind of over-the-top manliness that is both awesome and awesomely hilarious. In one episode, he presents his Pyramid of Greatness to the boy's basketball team he coaches. Ron says the pyramid represents a "perfectly calibrated recipe for maximum personal achievement." The pyramid, which satirizes basketball coach John Wooden's Pyramid of Success, includes such gems as:
Body Grooming: Only women shave below the neck.
Old Wooden Sailing Ships: They're beautiful
and
Perspiration: Only sweat during physical activity and love making. No emotional sweating.
Click here to see an enlarged image of Ron's Pyramid of Greatness.
Watch Ron present his Pyramid of Greatness.
What's you favorite Swansonism?
Hat tip to Drew K for the link.