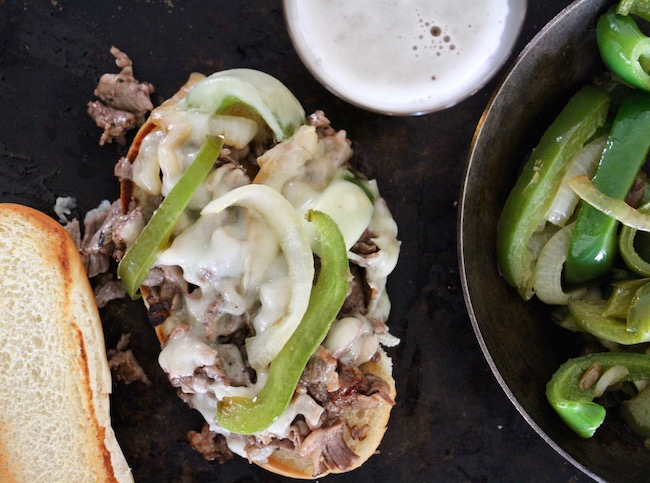 The Philadelphia Eagles might have recently gained a slew of new fans, but the city's iconic sandwich, the cheesesteak, has always been destined for greatness.
I like to think that such distinguished and famed foodstuffs are created both out of necessity and a desire for simplicity.
As the story goes, the Philly cheesesteak was created in 1930, by Philly frankfurters Pat and Harry Olivieri. Tired of the tried and true hot dog, Pat "frizzled" or crisped up some thinly sliced steak along with some seasonings, and sandwiched it between soft, white bread. A cabbie, in the right place at the right time, caught a sniff, and scored the new creation for a dime – thus creating the first of what would become hundreds of millions of cheesesteak transactions. Pat's humble hot dog stand soon ditched the dog entirely, and Pat's King of Steaks was born.
But every good story always has a twist. Some credit the addition of cheese to that of "Cocky" Joe Lorenzo, an employee of Pat's, who added a healthy dose of provolone to the mix. Others are not too quick to give Lorenzo credit for all the cheesy goodness, instead passing along praise to Geno's Steaks owner Joey Vento.
No matter who deserves the credit, I've been fortunate enough to spend a summer day or two in South Philly dividing my time, and appetite, between Pat's and Geno's, which sit across from each other at the intersection of 9th and Passyunk.
Locals and elitists alike will tell you that both places are tourist traps, which is partially true – but sometimes the trappings of tourism serve as a launching pad towards seeking out more "authentic" creations from the likes of John's, Jim's, Tommy DiNic's (technically not a purveyor of the cheesesteak, but worth mentioning), and Tony Luke's — in other words, there's a lot of great cheesesteaks, and arguments as to whose is best, in Philly.
If where to eat wasn't confusing enough, there's an ordering system that's nearly akin to ordering soup from Seinfeld's infamous Soup Nazi. Let me help you:
"One wit wiz" — with onions and cheese
"One wit-out" — without onions
"One wiz wit-out" — without onions, but with cheese
You get the idea. If you aren't able to make it to Philly, I'm fortunately convinced you can still make a great cheesesteak at home. I called on my friend, and James Beard Best Chef in America, Michael Solomonov to give me the lowdown on this dish. Let's first offer a few notes about the ingredients, then get into how to make it.
The Meat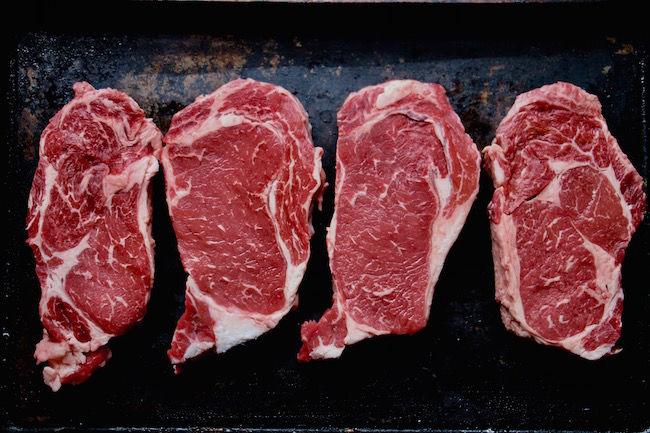 Traditionally, thinly sliced rib-eye is used as the base of the sandwich. Rib-eye has a flavorful combo of tender meat and fat, which provides great texture and moisture in the sandwich. The downside is that rib-eye can be quite expensive — so other cuts like beef short rib, sirloin, or even top round can also be used. Remember, your meal will only be as good as your ingredients, so whenever possible don't skimp on the quality of the steak.
The Cheese
There's a divided camp when it comes to cheese. Whether you favor American, provolone, or Cheez Whiz, whatever you do, don't be John Kerry, who infamously made the faux-pas of ordering Swiss on his cheesesteak. (It's no wonder he lost his bid to run the country.)
Provolone is considered the gold standard order when it comes to the dish — a slightly sharp and tangy flavor that works well with the savory beef.
American cheese, specifically white American, also plays nicely in the sandbox due to the fact that it melts easily, and provides a rich, creamy texture with the steak.
What about the intensely controversial Cheez Whiz? Solomonov says: "You should never make a cheesesteak with Cheez Whiz. Always make it with sharp provolone or American — then subconsciously you can be more okay with craving it."
You've heard the chef's verdict: no Cheez Whiz. Admittedly, I have to agree with Michael, as there's just something a bit strange about the neon orange concoction. And when I'm making this recipe at home, I always avoid the goo.
But sometimes, guilty pleasures find ways of growing on you, and I'm sure there's a camp of loyalists right now who are inflamed by such a stance. So, I'll play to both sides. Cheez Whiz certainly has its place, and it can be indulgent and delicious in its own unique way.
Everybody happy now?
Bread
This is an easy one. Your steak should be served on Amoroso's brand rolls. If you aren't able to find those, a soft white roll with a slightly salted flavor can be substituted. The bread-to-meat ratio is key, so if the roll has too much bread in the center, I suggest pulling some out to create the right balance.
Toppings
The most common toppings are griddled onions, peppers, and mushrooms, either folded into the steak as a mix, or served atop. Condiments like mayo and ketchup are also regulars, but rarely mustard. A pizza steak is created when topped with marinara and mozzarella. Cheesesteak hoagies add lettuce and tomatoes, and are traditionally served cold.
Putting It All Together
Ingredients (makes 4 sandwiches)
2 8 oz. ribeye steaks
4 soft white rolls
8 slices cheese (provolone or white American), or, if you must, 1 jar Cheez Whiz (warmed)
Seasonings (salt, pepper, garlic powder)
Vegetable oil
Optional sautéed/griddled toppings: green pepper (the traditional color, though red or yellow can be used for added sweetness), onion, mushrooms
Optional condiments: ketchup, mayo
Directions
1. Freeze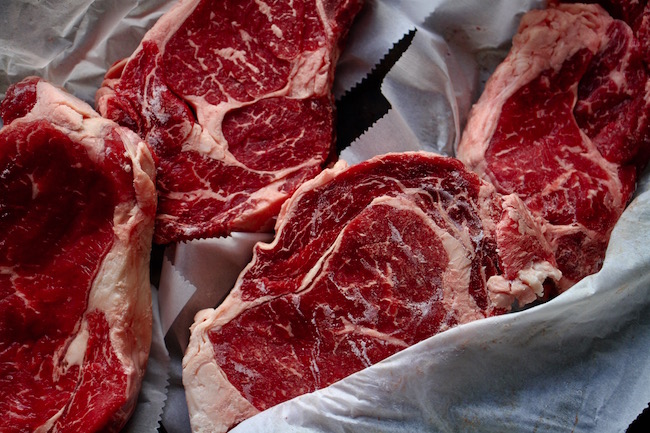 Place the steaks into the freezer for 45-60 minutes. This will allow the meat to firm up without freezing, allowing you to easily thinly slice the meat.
2. Slice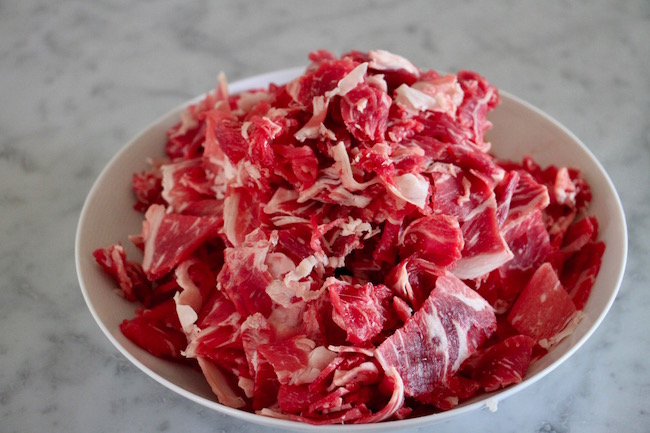 I'll take any excuse I can get to break out the only wedding gift I requested: a meat slicer. I contend that every man needs a meat slicer, and it works perfectly for this dish. For those without (most of you), a sharp knife will do. You want to slice the meat against the grain, and as thin as possible.
3. Cook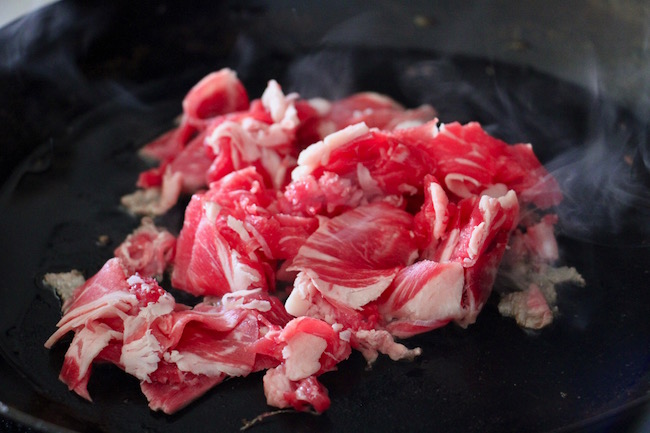 Traditionally, a stainless steel flat top stove is used, yet I prefer a cast iron pan, which allows me to get a crispy edge on the meat. Stainless steel pans can also be used. Avoid using non-stick pans, which hold too much moisture, and lessen the chances for that crispy texture you're looking for. Add vegetable oil to a pan over medium-high heat, adding the thinly sliced steak in small batches; do not overcrowd, which will steam the meat instead of "frizzle" it. Season liberally with salt and pepper, and a touch of garlic powder.
4. Pull & Chop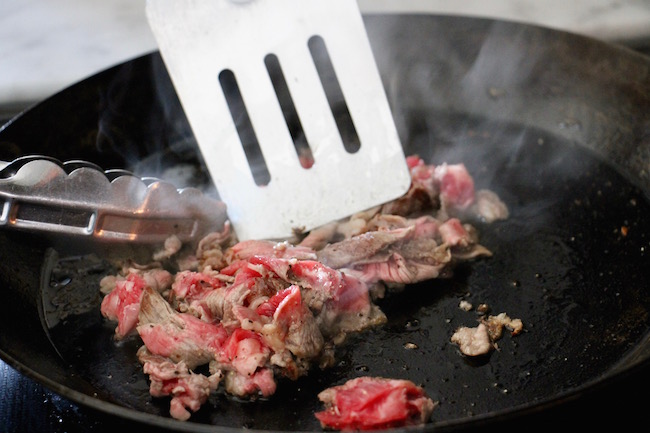 After a minute or so of cooking, use two spatulas or tongs (or a combo) to pull and chop at the meat, breaking it apart slightly while cooking. This is a key technique in making sure the steak achieves the right texture.
5. Cheese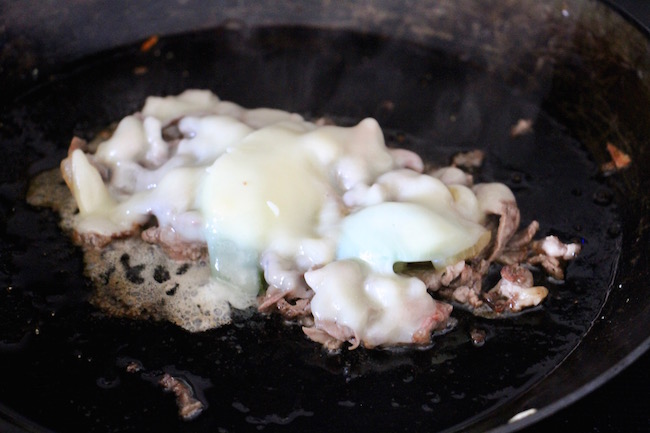 Add two slices of cheese over the meat, or top with Cheez Whiz. Optionally, you can add other toppings now, or wait until finished. Allow the cheese to melt over the steak, while also allowing the bottom layer of meat to crisp up in the pan for an additional minute or two. It's crucial not to overcook the meat; this entire process from start to finish should take less than 5 minutes, which will keep the meat super tender. Overcooking the meat will result in a chewy cheesesteak — no good.
6. Assemble & Eat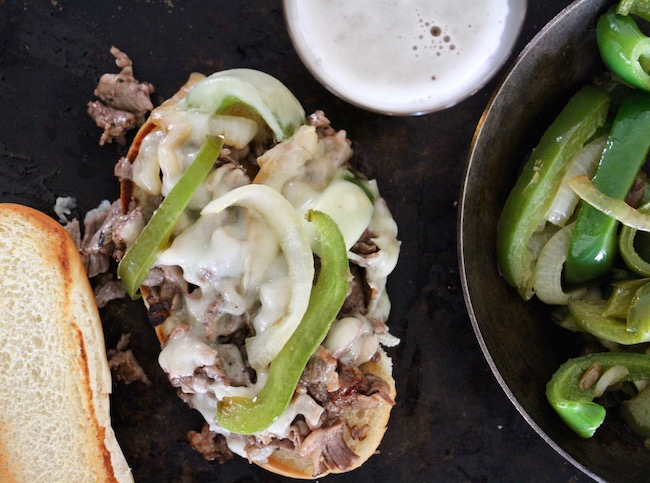 Use a spatula, or two, to get underneath the meat, and transfer to a warmed bun. Serve immediately, or wrap in parchment, followed by foil, until ready to serve.
_________________________
Matt Moore is a regular contributor to the Art of Manliness and the author of The South's Best Butts.