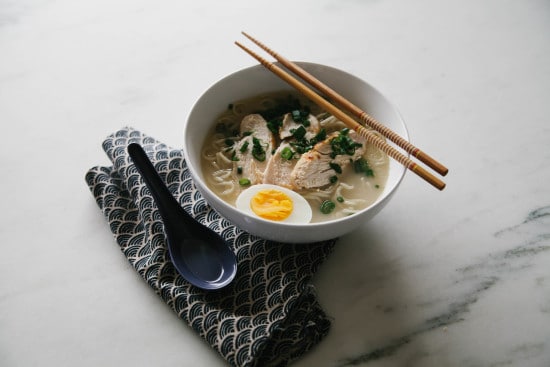 During my freshman year at the University of Georgia, I can recall many late nights staring down into a styrofoam canister, slurping ramen noodles in hopes that said consumption would somehow alleviate the foreshadowed morning of pain, a result of the one-too-many-drinks I'd consumed hours earlier downtown.
That was then. Nowadays, I've come to accept a love-hate relationship with the dish. And I'm not talking about the freeze-dried noodle multi-packs you pick up in a Walmart. I'm talking about the real stuff — authentic ramen, beloved by the Japanese, and in recent years the rest of the world too. I say "love-hate" partly in jest, as I've never met a good bowl of ramen that I didn't like. I suppose I mean hate in the best of ways — once I get ramen on my mind, I'm on an insatiable hunt to quell that hunger. Like a moody, adolescent teenager, I need a bowl of ramen, stat.
Clearly, I'm not alone, because ramen has become its own food frenzy these days — spawning pop-ups, Japanese-style izakayas (gastropubs), and even airport eateries that claim to authentically replicate the dish in its true form.
This isn't so surprising since authentic ramen has a lot to love about it. It's a wonderfully casual dish — something the Japanese literally stand and slurp for a quick lunch — and in its native habitat, it's quite affordable (this is not so much the case with the hip ramen places here in the States!). And then there's that incredible taste: A hearty, luscious and fatty broth, served up savory and seasoned with toothsome noodles, all adorned with myriad toppings that simply speak to everything that's great about comfort food. One might argue that good ramen can be as prophetic as great gumbo or chili.
Yet unlike those other soups/stews, which you probably enjoy eating at restaurants and whipping up at home, the idea of making ramen in your own kitchen seems pretty darn intimidating. This needn't be the case, however.
Ramen and the Home Chef
Real ramen certainly has a reputation for being notoriously difficult to make. This, of course, only adds to its appeal to foodies, who tend to gravitate towards dishes that aim for the highest echelon of expert preparation. Ramen chefs spend a lifetime learning the trade — stewing and brewing beautifully nuanced stocks that literally take days-upon-end to finally serve in a dish that should be quickly slurped in one sitting (or standing). Like great pit masters, ramen chefs are truly iconic and even celebrated for their art.
Yet despite ramen's legendary culinary status, it is a dish you can make at home — as long as you keep my cooking mantra in mind: Keep it simple stupid! Instead of diving into a super complicated version of ramen, start with a basic one. Focusing on a few ingredients, exercising proper technique, and having a willingness to learn are the vital characteristics to authentically making this dish on your own.
But that's not me talking; after all, making ramen ain't my forte.
Instead, I decided to reach out to a great friend, and the woman who helped introduce me to this dish in the first place. Fellas, say hello to Sarah Gavigan.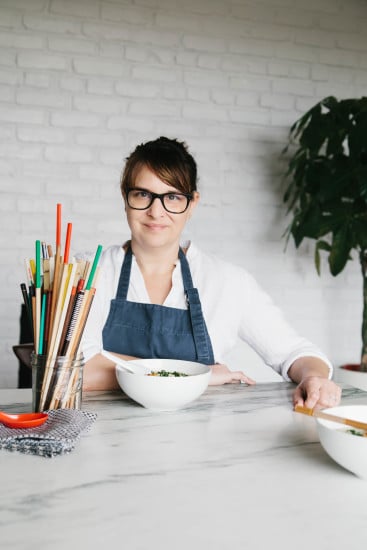 Sarah found a love for ramen during her 20 years living in LA as an exec in the music business. Along with her husband Brad, a weekend habit for the two was to explore the Japanese-oriented neighborhoods of LA — Little Tokyo on the West Side near Sawtelle St., downtown, and Torrance.
Upon moving to Nashville, TN, Sarah laughingly says, "life was devoid of said pleasure so I tackled it head on." So it began, night-after-night, cutting up pork bones and brewing them in stockpots of a hundred pound measure. I can remember late night parties where she'd tell me about her habit of cooking pork broth to un-sensical proportions. In her own baptism by fire, and with a passion to learn, Sarah slowly inched her way to learning the mastery of the dish. Despite some initial hype from her pop-up success (Otaku South), she decided to remain focused, turning down expert training for a year of trial-by-doing — an earnest endeavor. The hard work paid off — it always does, gents. There are no shortcuts to long-term success. Sarah now owns two successful Nashville dining institutions, racking up accolades for her trade along the way.
So, about that homemade ramen…let's get to work!
How to Make Ramen at Home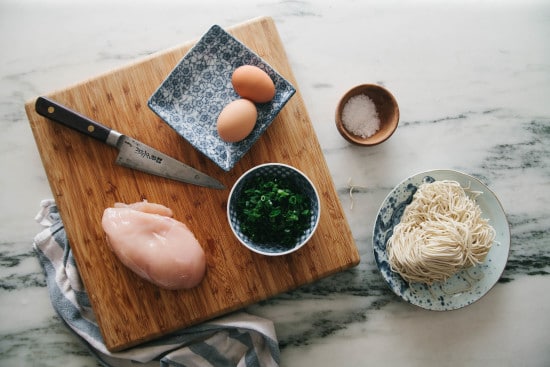 I've said it about gumbo in the past, but there as many types of ramen as there are chefs. George Solt, professor of Japanese history, even goes so far to say that there as many types of ramen as there are ramen chefs (you might want to check out his book for further ramen goodness). That said, there are some tried-and-true points which need to be kept at the forefront. After much debate and discussion, we decided to focus our efforts on a type of ramen called shio — which translates to "salt" ramen, involving chicken and chicken broth. We did this on purpose. Tonkatsu ramen (pork ramen) might be the rockstar of the trend, but its ingredients, preparation, and feasibility in the home environment seemed a bit too much. It requires a full commitment, and often ingredients that might be difficult to source for most readers.
So, you can think of shio ramen as the Japanese version of your grandmother's chicken noodle soup. It's surprisingly simple, straightforward, and delicious.
Ingredients
Broth:

1 whole chicken (minus the breast)
Salt (try using different varietals to enhance flavor such as Fleur de sel, Maldon, or Kosher)
White pepper
Ramen:

Ramen noodles
Large eggs (at room temperature)
Reserved chicken breast
Thinly sliced scallions
Directions
1. Quarter a Chicken

Start by breaking down a whole chicken, preferably one that's between 3-6 lbs — a big ole fat chicken will always do. You don't have to be an expert at this — but you do want to cleanly quarter the bird. Remove the breast from the bone and skin, which will be reserved and seared later on as a topping.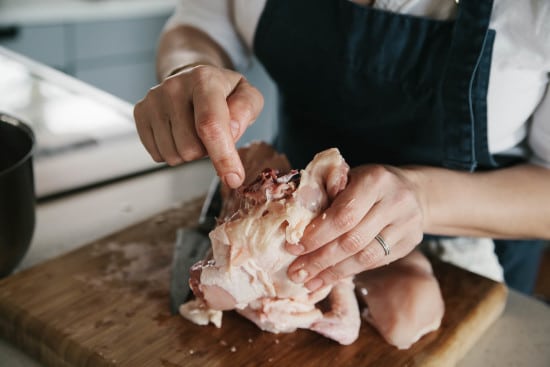 An important tip is to break the backbone (lower spine) from the cage, exposing the bone and marrow, which will add more to the gelatinous, fattiness of the broth. It's what makes you lick your lips — a sign of good ramen. Boneless, skinless breast reserved, throw the bird — fat, skin, bones, meat, and all — into a large heavy-bottomed pot or Dutch oven (or pressure cooker if you have one — more below).
2. Make the Broth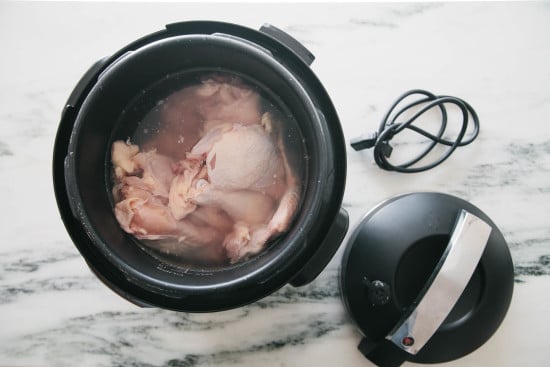 Now we've arrived at the most important part of this dish! A typical French broth calls for 1 part chicken to 4 parts water. For ramen, flip that ratio — 4 parts chicken to 1 part water. That's right, you are cooking a super concentrated broth. You'll want to put in enough water to just cover the chicken, then add one more cup.
The key to making a good ramen broth that is not too cloudy is to never bring it to a heavy boil. Instead, bring the temperature up slowly and deliberately over medium-low heat, partially covered. You simply want the stock to lightly bubble (like grandma's pasta sauce) for six or so hours.
(For faster results, you can put this dish together using a pressure cooker at its highest setting. Skip the extra cup of water; just cover the chicken. The cooking time will be approximately 3 hours.)
After the broth has stewed and brewed, it's time to strain. Trust me, you will see plenty of fat, which is a good thing. Honestly, this is where making such a broth completely blew my mind. When you taste it in its unseasoned, strained form, it's literally the most concentrated, best-tasting chicken stock in the world.
For this preparation of shio ramen, we are simply seasoning the broth with salt and white pepper. I was shocked at how little salt (compared to making a traditional chicken noodle soup) was needed for it. Sarah prefers to use two different types of salt — fleur de sel (brighter) and Maldon (earthier). Honestly, any type will do, but if you do want to add a bit more complexity, you can experiment with different types of salt and white pepper. You could enhance the broth, should you choose, by steeping some thinly sliced ginger as it cools.
On a side note, some ramen is named for its tare — a unique blend of highly concentrated seasonings. Think miso (fermented bean paste) and shoyo (soy sauce) ramen. It's something that every chef has up their sleeve that truly individualizes each ramen. This is not a ramen that calls for the tare; we're just using salt and pepper.
3) Make a Soft-Boiled Egg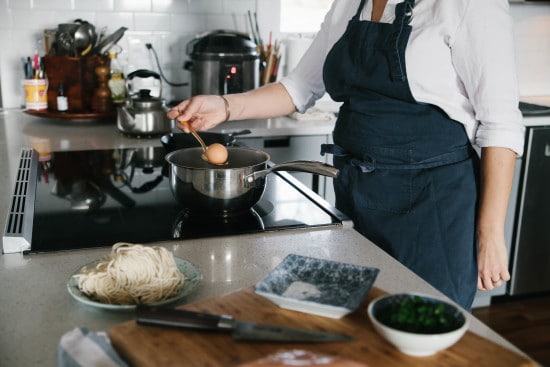 These can be prepared days in advance if needed, and make for a handy snack as well as a traditional topping. Here's how you get perfect eggs, every time:
a) Bring large eggs up to room temp.
b) Bring water to a full raging boil.
c) Drop eggs into water, and cook for 8 minutes. Do not alter the heat.
d) Remove from boiling water, and shock the eggs in a bath of ice and water.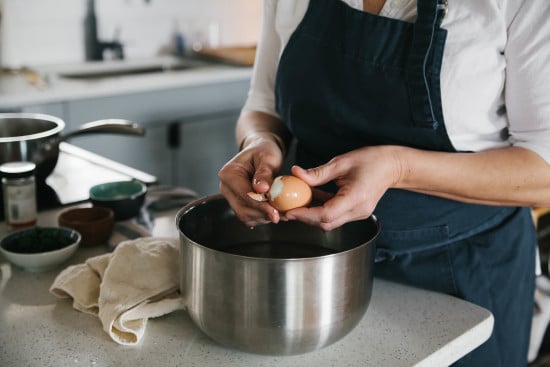 e) Peel eggs; crack bottom of the egg, pinch the pocket, and use thumb to remove peel.
f) Slice with a knife, or better yet, use a taught fishing line to cut the egg.
4) Sear the Chicken Breast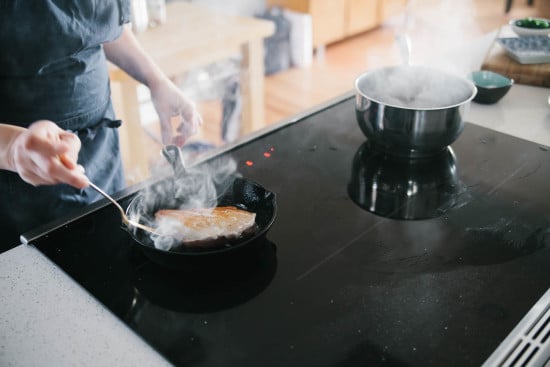 The chicken breast will be used as our topping. Sear it in a cast-iron skillet with canola oil. Generously season the breast (again, just with salt and pepper). In an untraditional method, Sarah likes to score the breasts vertically to get as much seasoning into the meat as possible. After getting a good sear on both sides, the breast can be placed into a warmed oven until cooked through.
5) Prepare Noodles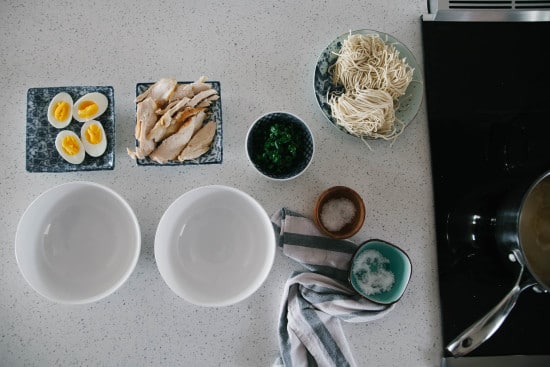 Sarah prefers to cook with Sun Noodles, and it's likely you can find these guys at a store near you. In a pinch, dried (fresh pasta will break down too quickly) spaghetti noodles can work — but traditional ramen noodles are always preferred.The texture of the noodles is key — after all, it's the noodle which gives the dish its name. Keep in mind that ramen noodles, which contain no egg, often need to be refrigerated and have a much shorter shelf life than ordinary pasta.
The noodle and broth should be well-matched — a good shop spends an infinite amount of time matching the broth to the noodle. So, if you do find Sun Noodles, make sure you are buying the specific variety that's attached to the type of broth/ramen you intend to be making.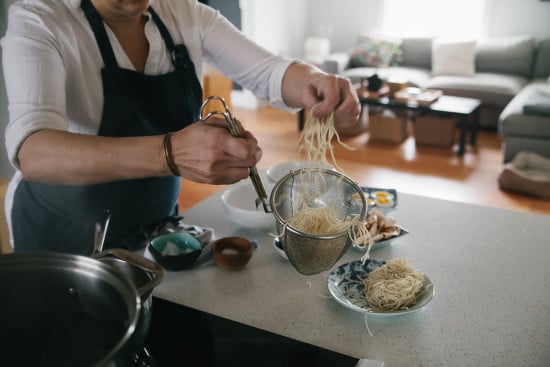 In large pot of water, boil the noodles — if you have a noodle basket, that helps untangle the noodles first. Use chopsticks to stir them from time to time as they cook. Cook by the time listed on the packaging.
6) Assemble Soup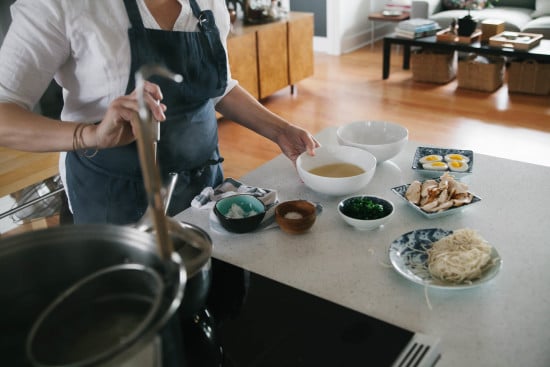 Add piping hot broth to a bowl as the noodles cook. Strain the noodles and add to broth — do this quickly and without any delay. Lay the noodles out into the broth to ensure they are evenly coated. Assemble sliced chicken, soft-boiled egg, and garnish simply with thinly sliced scallion.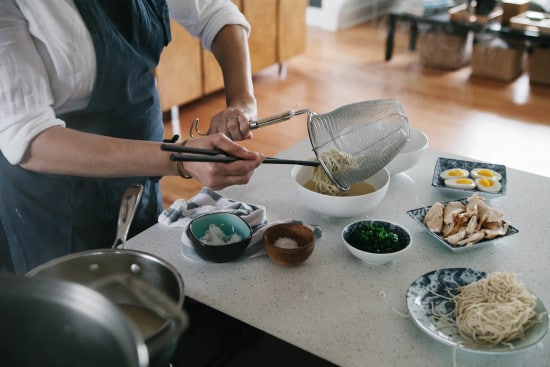 The Proper Way to Eat Ramen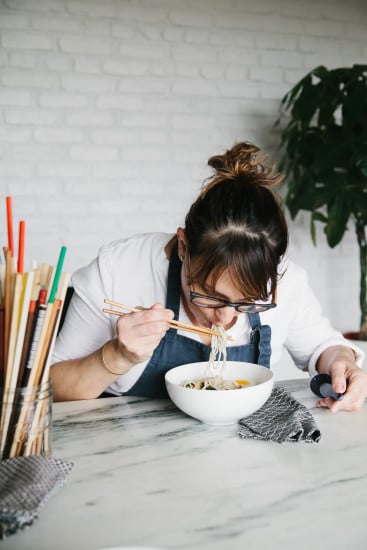 You want to serve the dish in a big, deep bowl. Eat it hot, rather than waiting for it to cool down. You'll need a big spoon, along with chopsticks that have some traction to help you pick up the noodles. You can use the spoon to sip the broth, scoop up the eggs, or to gather some noodles to then grab with your chopsticks.
Give the bowl of ramen a smell, as you would a nice glass of wine. Taste the broth and savor. Mmmm. Now get in there and pick up some noodles out of the bowl until they are untangled, and lower back down and get your slurp on. The slurp is key — it helps cool the noodle, while also marrying the broth to the noodle at the same time. This is why the Japanese literally stand and consume this dish in less than a ten-minute period.
Keep in mind, due to the quickness at which this dish should be served, it is best when reserved for a few of your closest friends. In other words, don't try to host a ten-person dinner party on your first run!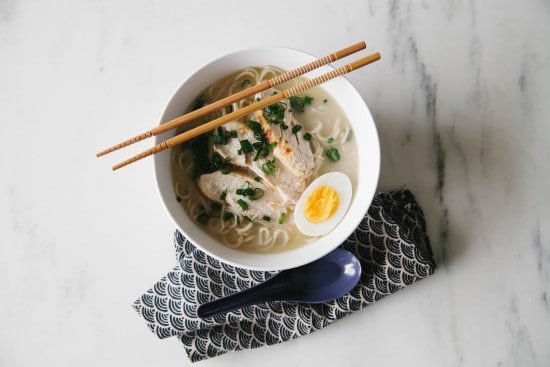 Oh, and this dish pairs fantastically well with a cold Sapporo or two!
___________________
Matt Moore is a regular contributor to the Art of Manliness and the author of A Southern Gentleman's Kitchen.
A special thanks to Sarah Gavigan (@sarahgavigan) for the expert advice and recipe, and Hannah Messinger (@hmmessinger) for photography.