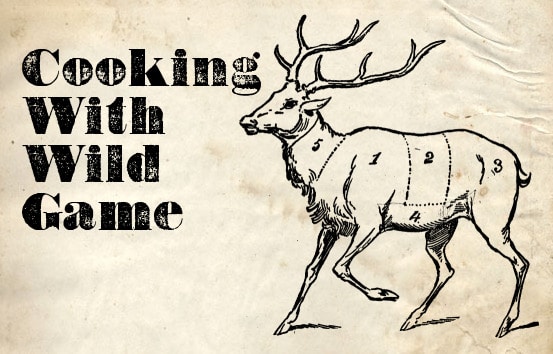 It is 5:30 a.m. on a cool fall morning, and my phone is incessantly ringing. In somewhat of a comatose/hung-over state, I rush out of bed to see a picture of my buddy, Miller Gunn, staring back at me on my iPhone. Oftentimes when Miller calls I'm inclined to hit the silent button and go back to sleep, as it probably means he needs a ride home from a long night of honky-tonking on lower Broadway–again. And the only thing I'll get as a thank you for this favor is a $1 breakfast burrito.
But this call is different, so I answer it. I know I stand to benefit from this early morning wake-up call.
College football aside, there is one other event that takes place each fall season that ranks among my favorites: hunting season. Though as strange as this may sound, I must admit that I've never really been into the whole hunting thing myself. Sure, I've taken part in many deer, turkey, duck, and quail hunts during my days, but there's something about getting up at the crack of dawn and freezing my keister off that just never did it for me.
So what do I like about hunting season? Well that's pretty easy: I like to eat.
Perhaps that makes me less manly, seeing as though I let my friends handle the hunting and gathering while I do the cooking. Hmm, bite your tongue for a second–those could be fightin' words. So I'd rather just call a spade a spade: You hunt, I cook.
During this time of the year, I get a lot of calls like these, since my friends know that I'm always willing and ready to handle their meat processing free of charge–well, almost free. While still in the woods, I tell Miller Gunn (a great name for a hunter) to save me the backstraps and the hind quarter.
Within the hour, Miller arrives with his fresh kill. Now, even though I live in Nashville, Tennessee, with the looks that he and I receive as we haul a field-dressed deer out of his truck and into my downtown loft, you'd think people were witnessing something out of a Stephen King novel. Apparently Nashville is filled with a lot more city folk than I'd thought.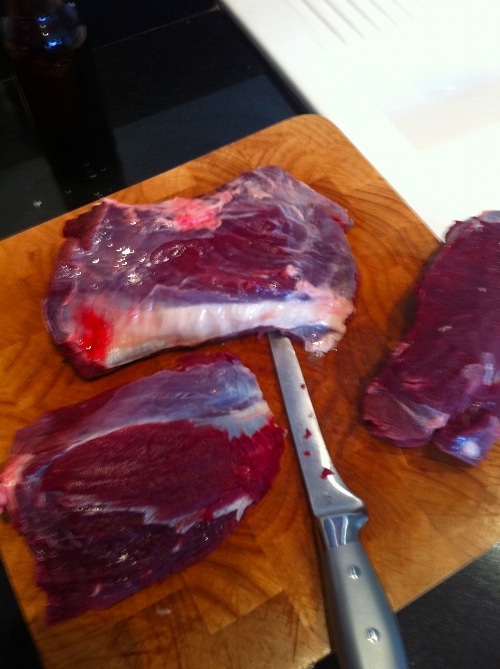 What ensued was hours of trimming, butchering, processing, and finally cooking. Venison chili was the dish of choice to cheer on the Georgia Bulldogs as I watched them squander yet another season. Oh well, at least the food was good.
And so it goes–I always answer my phone, no matter how early, on a (fall) morning.
As a chef, I'm always thrilled to work with different ingredients. Fortunately, I have several great friends who provide me with an endless supply of wild game throughout the year. Just a few weeks back, fellow country music singer Easton Corbin unloaded several elk steaks on me after a stint in New Mexico. As detailed below, they were fantastic.
But quite frankly, I find that the majority of people are fearful of both cooking and eating wild game. The comment, "it tastes gamey" is enough to make most folks steer clear of any dish beyond their beloved beef, pork, or chicken. But, as more and more people join the "local food movement" and learn about sustainable practices, sourcing and preparing wild game is becoming more popular than ever.
Keep in mind I could write an entire book on the preparation and safe handling of wild game. Instead, I am providing you with my favorite "go-to" recipes when I'm presented with such treasures from the wild. Of course, if you are offered any such meat, make sure you can trust its source. Many of your hunter friends probably are also reliable butchers–so go with your instincts. Otherwise, processing houses and markets are your best bet as they are governed on quality and control.
My advice? Get out there and enjoy the great outdoors. Trust me, it tastes good!
MM
Venison Chili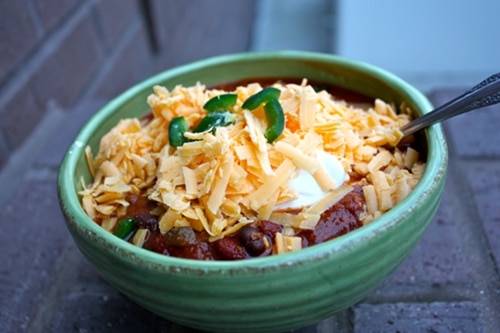 Ground venison is lean and full of flavor. With that said, because of this leanness, most processors will actually add beef or pork fat into the ground venison to boost its moisture and to impart a familiar flavor. If you prefer a chunkier chili, skip out on the ground version and slice up the trimmed meat from the hind quarter into ½ inch chunks, and simmer the meat in the sauce for at least 3 hours, or until tender. For those who've never tried venison, this dish is a good place to start, as its bold flavors work well to hide any taste of game. As far as other cuts such as steaks, chops, or backstrap (tenderloin) go, venison is best cooked rare to medium-rare to retain flavor and tenderness.
(Prep 20 minutes, Cook 1 hour, Serves 4 – 6)
1/4 Cup Canola Oil
1 Onion, finely diced
2 Cloves Garlic, minced
2 Jalapeno Peppers, seeded and diced
1.5 lbs Ground Venison
2 Tablespoons Chili Powder
1 Tablespoon Cumin Powder
1 Tablespoon Kosher Salt
1/2 Tablespoon Black Pepper
1 Cup Dark Beer
1 28 oz Can Tomato Puree
1 28 oz Can Petite Diced Tomatoes
1 14 oz Can Black Beans
1 14 oz Can Kidney Beans
Shredded Cheddar Cheese (topping)
Sour Cream (topping)
Sliced Jalapenos (topping)
Preheat a Dutch oven over medium heat; add oil. Next add onions and sauté for 8 – 10 minutes, or until tender. Add garlic and jalapeno peppers and sauté until just tender, about 2 – 3 minutes. Add ground venison and seasonings and cook until meat is just browned through, about 4 – 5 minutes, stirring on occasion. Deglaze the pot by adding the beer and scrape up any browned bits from the bottom of the pan using a spoon. Finally, add the remaining ingredients, reduce heat to medium low, and simmer partially covered for 30 – 45 minutes. Remove from heat and serve with desired toppings.
Pan Seared Duck Breasts Over Brown Rice Stir-Fry

Duck tends to be one of my favorite dishes at most high-end, fancy restaurants. This at-home recipe adds in bold Asian flavors that perfectly compliment this wild bird. For those who've found duck meat to be oily or tough in the past, this quick pan-seared version will change your mind. Cooked perfectly medium-rare, the meat turns out tender and moist–without any excess oil. I've plucked the feathers and trimmed the fat for this "lean" version. Of course, duck fat is the king of flavor and moisture, so you can always sear the breasts with the skin on while basting the breasts in its own fat for added flavor, moisture, and well, extra calories. Either method turns out a deliciously cooked bird.
(Prep 1 hour, Cook 20 minutes, Serves 2)

2 Wild Duck Breasts, plucked and trimmed
1/4 Cup Teriyaki Sauce
Fresh Cracked Pepper
1/4 Cup Sesame Oil
2 Cloves Garlic, minced
1 Pinch Red Pepper Flakes
1/4 Cup Onion, diced
1/4 Cup Carrot, diced
1/4 Cup Red Bell Pepper, diced
1/4 Cup Asparagus, sliced
1/4 Cup Broccoli Florets
2 Cups Cooked Brown Rice, at room temperature
2 Large Eggs, beaten
Soy Sauce, to taste
Green Onions, sliced (garnish)
At least one hour before cooking, liberally season duck breasts with fresh cracked pepper and douse with teriyaki sauce; set aside at room temperature. Heat a cast iron skillet over high heat and sear duck breasts on each side for 2 – 3 minutes, or until medium rare (125 degrees F internal temp). Remove and allow to rest while finishing the stir-fry. Meanwhile, in a wok over high heat add oil, garlic, and red pepper flakes; sauté 30 seconds, careful not to brown the garlic. Add the remaining vegetables and cook until just tender. Add rice and eggs, stirring until eggs are just scrambled; remove from heat. Add soy sauce to taste. Begin plating by placing a generous portion of the stir-fry onto the center of each plate. Slice the duck breasts, on the bias, every half inch or so and rest on top of the stir-fry. Garnish with sliced green onions. Serve.
Bison Burgers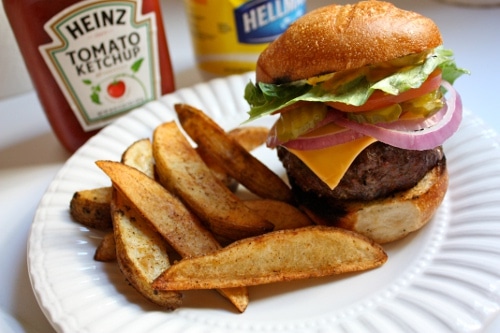 Nowadays most bison is commercially raised and can be found in high end grocers and even large national chains. So bison is not what most of us typically consider "wild game" these days; however, a lot of people are still wary about giving it a try. I advocate frequently swapping traditional beef for bison in your recipes due to its rich flavor and health benefits. Studies have shown that bison is lower in fat, calories, and cholesterol than beef, while also being nutrient dense with higher levels of protein and iron. Due to its lean composition, I recommend cooking ground bison to medium or medium-rare. Bison steaks and chops should be served rare or medium-rare.
(Prep 15 minutes, Cook 15 minutes, Serves 4)

Burgers
1.5 lbs Ground Bison
Kosher Salt
Fresh Cracked Pepper
4 Hamburger Buns, sliced
Unsalted Butter
Toppings
American Cheese
Lettuce
Sliced Tomato
Sliced Onion
Dill Pickle Chips
Assorted Condiments
Preheat a grill over medium-high heat. Divide ground bison into 4 patties, using your thumb to create a small well in the center of each patty. Season each patty liberally with kosher salt and fresh cracked pepper. Lightly butter the cut side of each bun, and add to the grill for 60 – 90 seconds, or until just toasted and browned. Add bison patties over direct heat and grill covered for 2 – 3 minutes on each side for medium-rare/medium. Remove from grill (or top with cheese to melt) and rest 3 – 4 minutes. Build burgers with desired toppings and condiments. Serve immediately.
Grilled Elk Steak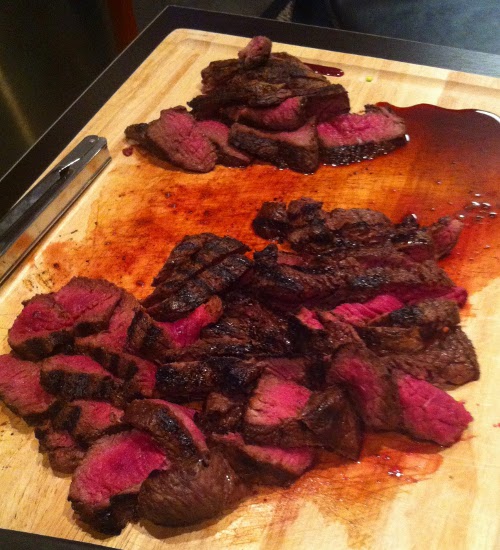 This recipe utilizes the elk's backstrap (tenderloin) which is the leanest and most tender part of the animal. Sure, fattier cuts are more flavorful, but this is my preferred cut to serve others, especially those first-timers who might be squeamish about trying a new animal. Elk has a rich, deep flavor, similar to that of grass-fed beef or venison. Kin to its wild game cousins, the lean composition of this meat lends itself best to being prepared quickly over high heat and cooked to rare or medium-rare. Most importantly, this recipe keeps things simple. A touch of balsamic vinegar helps adds some sweetness while also tenderizing the meat–after that it's just good ol' salt and pepper that bring out the flavors of this beast. Keep it simple, stupid.
(Prep 15 minutes, Cook 10 minutes, Serves 4)
1 2lb Elk Tenderloin, trimmed and at room temperature
½ Cup Extra Virgin Olive Oil
¼ Cup Balsamic Vinegar
Kosher Salt
Fresh Cracked Pepper
Preheat a grill over medium-high heat. Whisk together the oil and vinegar and pour over the tenderloin to marinate, 15 minutes. When the grill is ready, shake off the excess marinade and add to grill over direct heat. Cook for 2 – 3 minutes on all four sides, and remove from heat when the internal temperature reaches 120 – 130 degrees F, depending on your desired level of doneness. Tent the tenderloin with foil and rest for 5 minutes. Using a sharp knife, slice the tenderloin across the grain every half inch or so. Serve with desired sides.
Tags:
Recipes