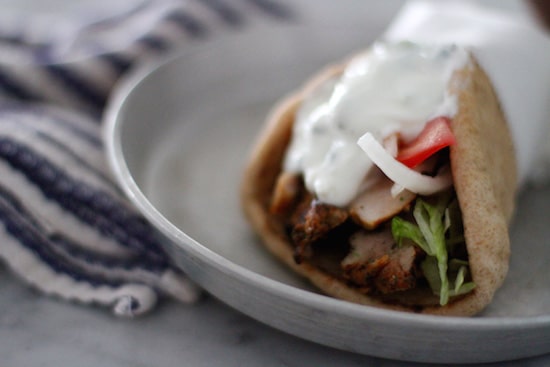 "If you had to choose one type of cuisine (Mexican, Italian, Japanese, etc.) to eat for the rest of your life, what would it be, and why?"
Supposing you and I ever take a road trip together, that's just one of the many exploratory, or as my wife calls it, annoying, questions I'll likely pose.
For me, it's quite simple: I'd go Greek.
I'd get to have my fill of pasta, pizza, seafood, feta cheese, olives, pork, beef, lamb, chicken, and basically every other temptation on the planet. But most importantly, I'd get a lifetime of eating one of my guiltiest pleasures — gyros.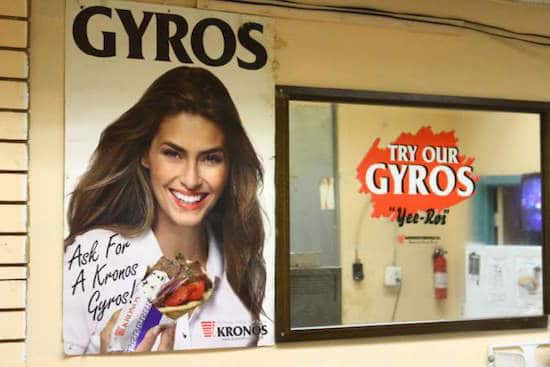 I'm quite certain most Americans are hip to this Greek treat, with much debt owed to Chicago-based Kronos for marketing the "Greek taco" of sorts through beautiful models. I've always loved a good gyro, whether in a mall food court, from a street vendor, or at a fancy restaurant — it's one of those dishes that just speaks to me.
So, when I surprised my wife with a trip to Greece last month, it wasn't the history, beaches, blue skies, or famous sunsets that served as my main motivation. Nope, I needed to get my fix of gyros — and by that I mean driving a 4-wheeler throughout the Greek isles consuming a gyro nearly every two hours.
I got so used to eating the darn things that I needed to figure out a way to make them on my own at home. After doing a bit of research, I found that a famous chef and a well-respected website had already covered the topic in great detail.
But here's the deal: That lamb, beef, or combination thereof that we all know as gyro in the States is rarely found, if ever, in Greece. Though I was disappointed at first not to find said meats on a rotisserie, my eyes were soon fixated on the "authentic" gyro meat — which is the meat of the gods: pork.
After my fifth pork gyro, I'll never go back. The pork is well-seasoned, tender, and moist, and has a perfect char. Here piggy, piggy.
Another unique addition that the Greeks add to the gyro is fried potatoes stuffed right in the sandwich. It's obviously a heartier sandwich with said addition, so I loved it and thought it was worth mentioning here.
Since most of us do not have a rotisserie to slowly roast and carve a large chunk of meat, I had to come up with my own technique to yield a similar result for the home cook. After much trial and error I settled on a kebab method to grill the meat. This allowed me to get plenty of char on the outside, while still leaving the inside moist and tender. It's also accessible — all you need is a grill (or even an oven set to broil) and some skewers.
Traditionally, multiple cuts of pork are skewered together and slow-cooked, and finally charred on the rotisserie. In order to get that same texture and feel, I went back and forth to find the right cut of pork to put on a skewer, finally settling on pork tenderloin. Though it's the most expensive of all pork cuts, it really takes well to the marinade and results in a tender, flavorful meat.
Sliced and stuffed into a warmed pita and topped with homemade tzatziki and other accoutrements, I promise you will soon feel painfully full in the best way possible.
Pork + Marinade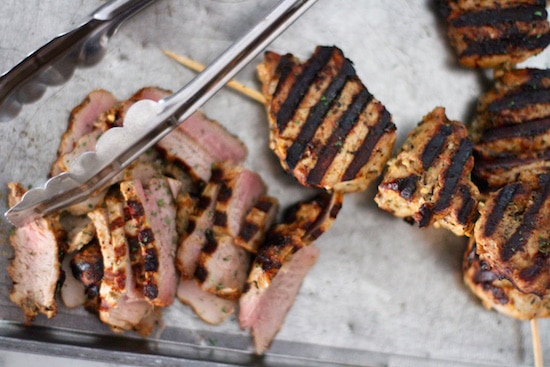 Serves 4
Ingredients
1 8oz. pork tenderloin, silver skin removed and cut into 1.5″ chunks
1 Tbsp. kosher salt
½ Tbsp. fresh cracked pepper
1 Tbsp. extra virgin olive oil
¼ cup plain Greek yogurt
2 cloves garlic, finely minced
½ lemon, juiced
½ tsp. smoked paprika
¼ teaspoon dried rosemary
¼ teaspoon dried thyme
¼ teaspoon dried marjoram
Wooden skewers
Directions
Combine all ingredients (except the skewers, of course) into a ziplock bag, seal, and marinate in refrigerator overnight.
Preheat grill to medium-high heat. Meanwhile, skewer pork pieces together. Be sure not to overcrowd the skewers, as the meat will steam instead of char. You want to give a bit of space between each cut to ensure it takes on the maximum flavor during the grilling process.
Place skewers on grill and cook for 4 minutes per side. Remove from grill and tent with foil for 10 minutes to rest.
Remove meat from skewers and slice as thin as possible for assembly.
The acidity from the yogurt and lemon juice really help to make a tender cut like pork tenderloin even more perfect. With the addition of some herbs and the overnight marinade, this meat will take on all the traditional flavors that you've come to love from a traditional gyro.
Tzatziki Sauce
A gyro ain't a gyro without a great tzatziki. This yogurt sauce is infused with plenty of garlic and cucumber and is not only absolutely addictive, but healthy to boot. Try it as a dip for vegetables, on a baked potato, or basically any cut of grilled protein. I've simplified my version to the very basics, but you can always amp up the flavor of this sauce with fresh chopped mint should you choose.
Ingredients
1 cup plain Greek yogurt
1 clove garlic, very finely minced
1 Tbsp. fresh lemon juice
¼ cup finely chopped cucumber
1 pinch kosher salt
1 Tbsp. extra virgin olive oil
Directions
Combine ingredients into a mixing bowl and stir until evenly incorporated. Serve immediately or keep cold until ready. Keeps for 1-2 days in the refrigerator. (I'd advise adding the garlic last minute if not serving immediately.)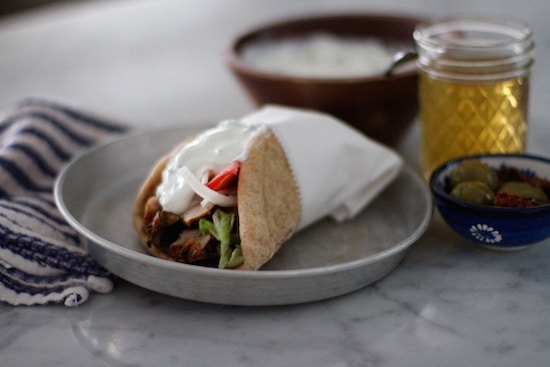 When it comes time to put this masterpiece together, warm up some pita bread and pile plenty of meat on top. Shredded lettuce, tomatoes, onions, and fries are all great toppings — finish with a dollop of tzatziki and enjoy with a cold beer or three.
_______________________________
Matt Moore is a regular contributor to the Art of Manliness and the author of A Southern Gentleman's Kitchen.