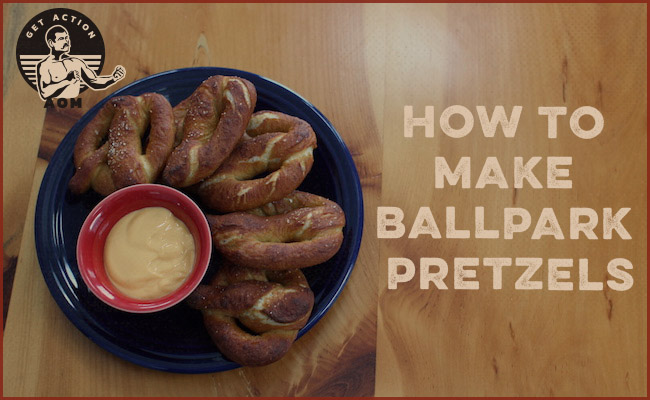 Spring is here, and so is the baseball season, and with these atmospheric and athletic shifts, my thoughts are turning to warm evenings spent at the stadium with a cold beverage in one hand, and a big pretzel — with a soft inside and a crisp brown crust — in the other. 
Happily, however, one need not live out this picturesque scene only on game days: you can in fact make delicious ballpark pretzels right at home. 
These are admittedly a little bit involved, so it's not a great project for the newbie baker. But if you're a seasoned pro, or if all you've ever made are simple loaves of bread, soft pretzels are a good way to take your skills up a notch if you have a few hours to kill on a weekend afternoon.
Ingredients
3 3/4 cups bread flour (450 grams if using a scale) 
4 tsp salt (Plus about 2 tsp more for dusting pretzels at the time of baking. You want to use a salt on top of the pretzels with a bigger flake/"grain" that will hold up on the crust; if it's too fine — like regular table salt — it'll just get absorbed into the dough. I used Diamond Crystal Kosher Salt for both mixing into the dough and as a topping, which worked fine; you can also use special pretzel salt.) 
2 tsp instant yeast 
1 1/2 cups water, room temperature 
2 tbsp vegetable oil 
2 tbsp brown sugar 
1/4 cup baking soda 
Note: it's easier if you have a stand mixer, but it's certainly not a must. 
Directions 
Step 1: Mix Ingredients 
In a mixing bowl, whisk together flour, salt, and yeast. In a large measuring cup, whisk water, oil, and brown sugar together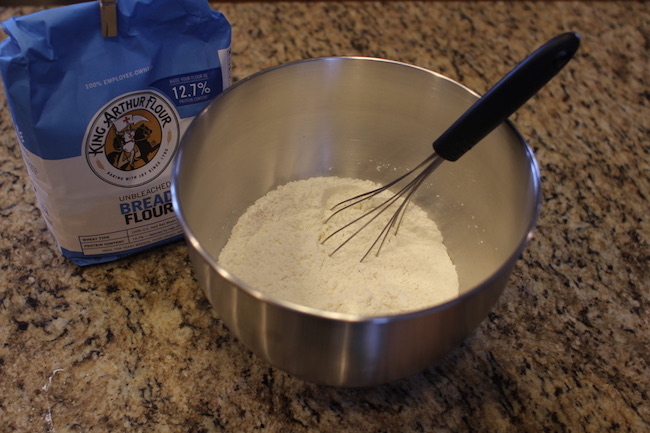 until sugar is dissolved.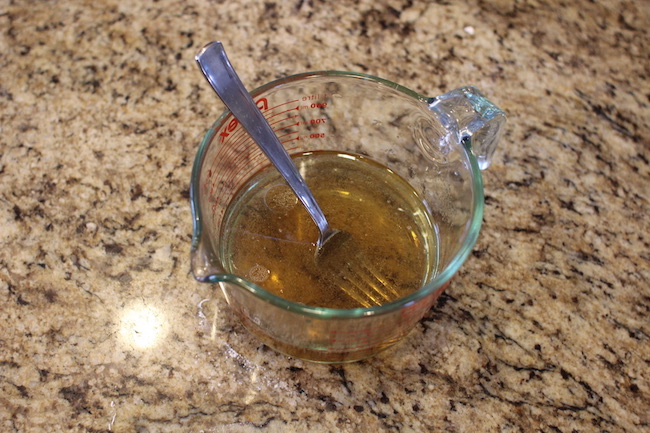 Step 2: Mix Wet and Dry Ingredients
Using the dough hook on low speed (if using a stand mixer), slowly pour in the wet mixture, increasing the speed to medium until a cohesive and elastic dough forms and clears the sides of the bowl. Should take a few minutes.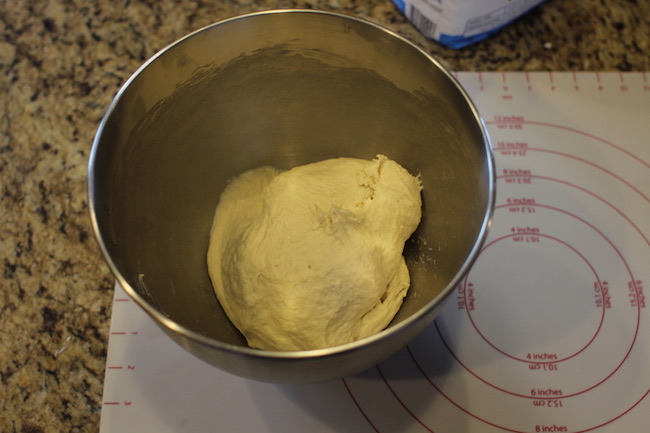 Step 3: Knead Dough and Let Rise
Transfer dough to a lightly floured counter (or baking mat) and knead until a smooth ball forms. Will just take a minute or two. Place into a lightly greased bowl, cover with plastic wrap, and let rise until doubled, 1 1/2 to 2 hours.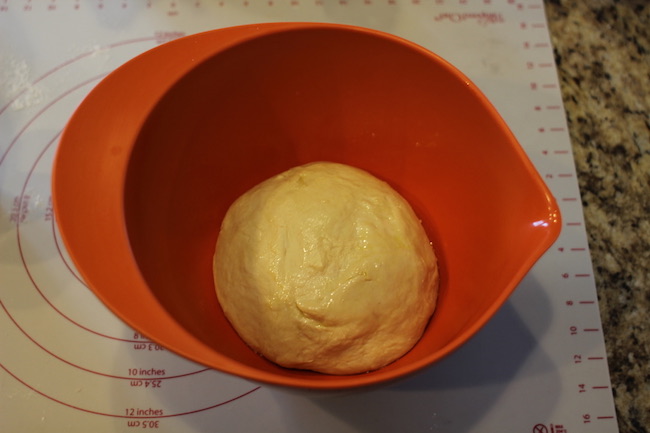 Step 4: Flatten the Dough and Cut Into Strips
After doubled, transfer dough to counter or baking mat. Deflate and press into a large rectangle roughly 12 x 6 inches. Using a pizza cutter, cut the dough into 12 one-inch strips.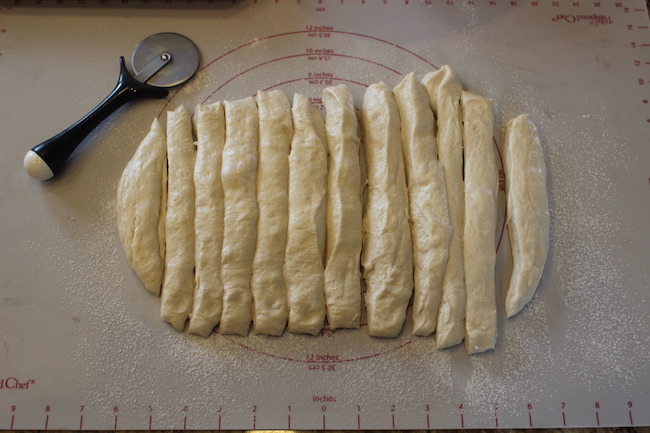 Step 5: Form Dough "Ropes" Into Pretzels
Time to form the pretzels. Work with one strip of dough at a time, and start by rolling/stretching it into a long rope, about 20 inches long (doesn't have to be exact). Getting the rope to be as uniform in thickness as you can will be helpful, just for the sake of evenly shaped pretzels. 
Next, form a large U with the rope, about 2 inches wide at the bottom.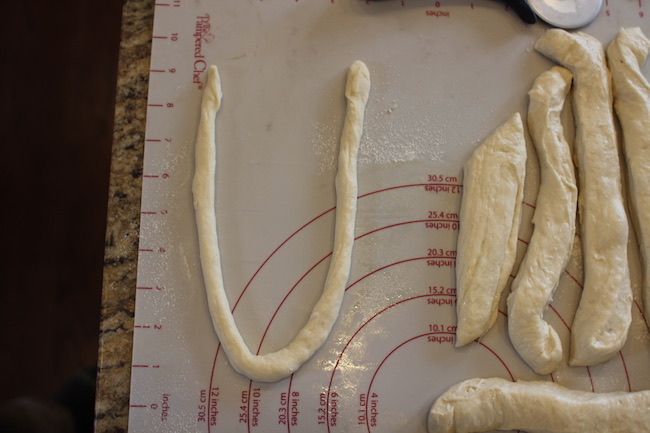 Cross the right side over the left, and then cross the right over the left once more.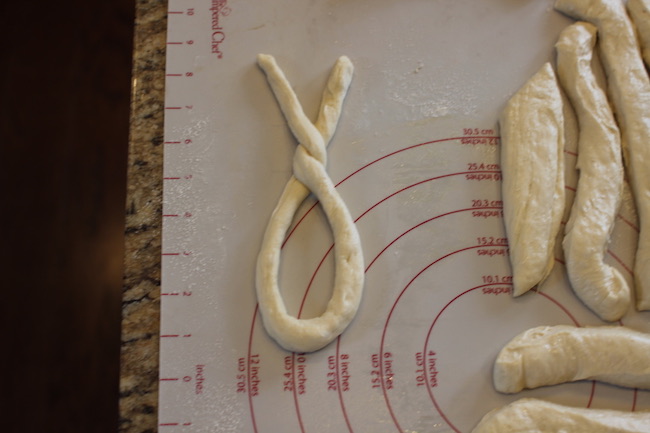 Now bring the top part down to form that classic pretzel shape, and press the ends into the bottom.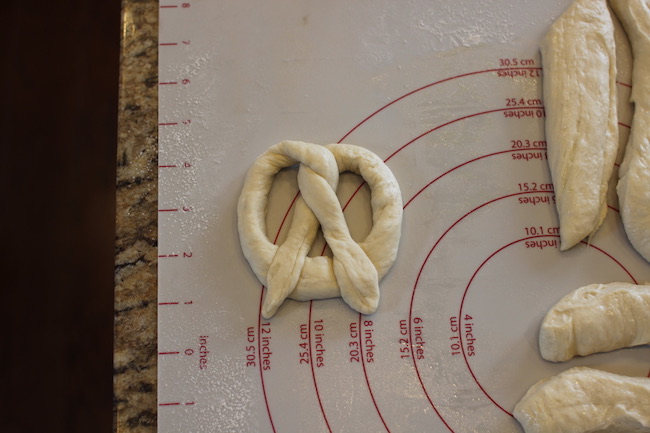 Arrange them on two greased baking sheets (or on one, and working in 2 batches). Let rise about 15 minutes, until they're puffy. 
While the pretzels are rising, preheat the oven to 425.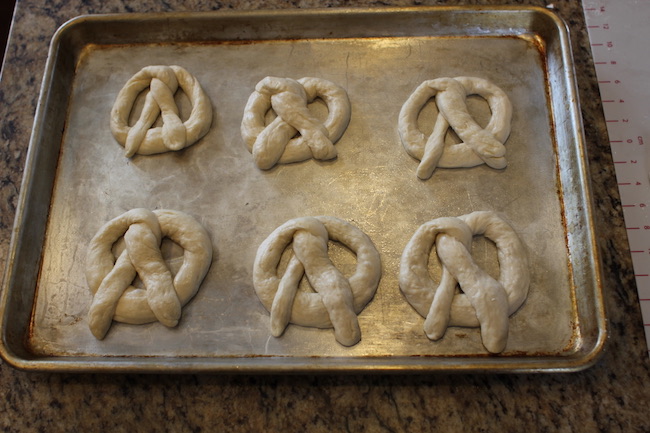 Step 6: Boil the Pretzels
Dissolve the baking soda in 4 cups of water in a large Dutch oven (or large pot) and bring to a boil. The baking soda will make it very bubbly, and this "bath" is what gives the pretzel its deep brown color and crisp exterior "skin." 
Using a spatula, transfer 2-3 risen pretzels, knot side down, to the boiling water. Cook for 15 seconds, then flip the pretzels and cook for another 15 seconds or so. Those don't have to be exact times, but close. Then transfer back to a cooling rack and let them rest 5 minutes. Repeat until all pretzels are done. (A slotted spatula works really well for this step if you have one — often called a fish turner, the thing is worth its weight in gold and is used all the time in our household.)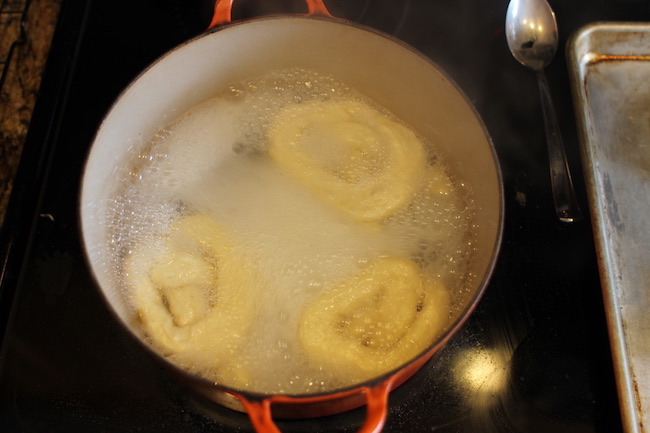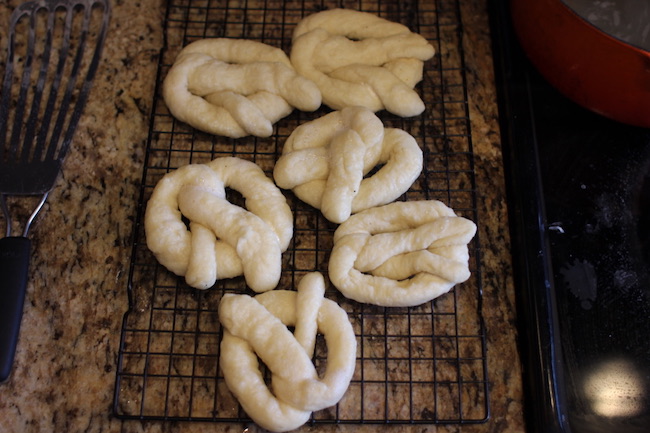 Step 7: Salt and Bake Pretzels
Grease the baking sheet(s) and dust with about a teaspoon of salt. Place 6 pretzels on a sheet, and dust the tops with another teaspoon or so of salt. 
Bake pretzels for 15 minutes, until they're a dark golden brown. If using two baking sheets they can be cooked together, but I did them in two batches. When done, transfer to cooling rack and let rest about 15 minutes.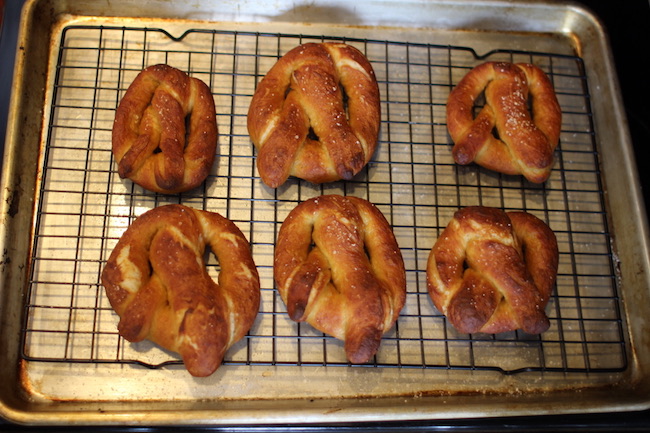 Step 8: Enjoy!
Serve with warmed cheese (or another favorite dip) and devour!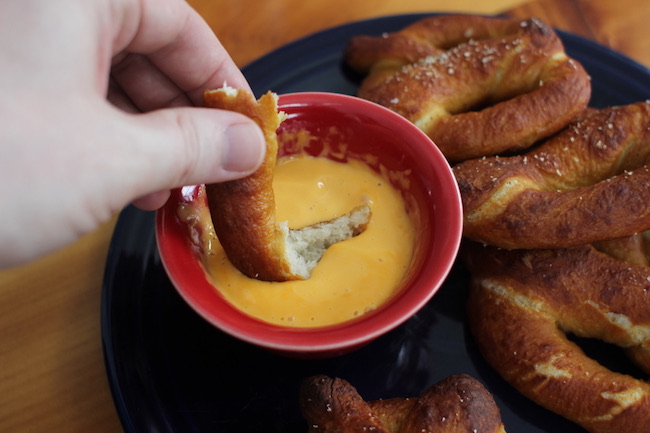 Tags:
Recipes