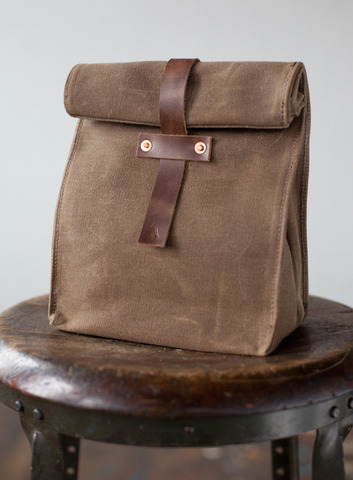 This post originally appeared in the Art Of Manliness 'Trunk' – a collection of cool stuff we find while wandering the vast deserts of the world wide web.
---
Strangely enough, a question I've gotten several times is, "What's a manly way to carry a lunch?"
Of course a man carries his lunch any way he damn well pleases. But I understand the need here. Guys are looking for something re-usable that's not a cheesy-looking, plastic, Made in China thingie.
A big metal construction worker lunchbox is a classic option, if a little unwieldy.
But the No. 215 bag made by the Artifact Bag Co. fits the bill perfectly. It's made with waxed canvas and copper rivets and closes with a leather strap. The bag costs $65.00 but it's handmade in Omaha, Nebraska and after a lifetime of ditching the disposable paper sacks, you'll have covered the cost.
Check out the No. 215 at the Artifact Bag Co. Comes in khaki and olive.
Found via Cool Material.