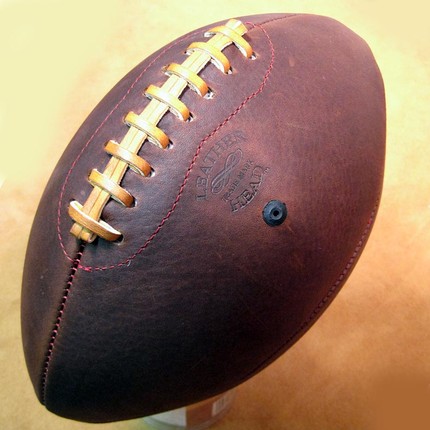 The holiday season is officially here and that means it's time for the giving and receiving of Christmas gifts. Men are notoriously hard to shop for, so we've once again created a Christmas gift guide full of manly Christmas gifts that we think many Art of Manliness men will dig. We don't include the latest gizmos like flatscreen TVs or digital cameras. Every other men's interest magazine and website has that stuff covered. No, we wanted to create a Christmas gift list of manly, useful, and classic products. The sort of things you'd find in your grandpa's house. We made an effort to find top quality products, many of which are crafted here in America.
Use the guide to find the perfect Christmas gift for your father, husband, brother, or friend, or print out the post, circle your favorites and casually leave it where your loved one will find it. Also, be sure to check out last year's guide for even more ideas.
Now without further ado, we present our Christmas gifts for men guide for 2009.
Original Leather Head Footballs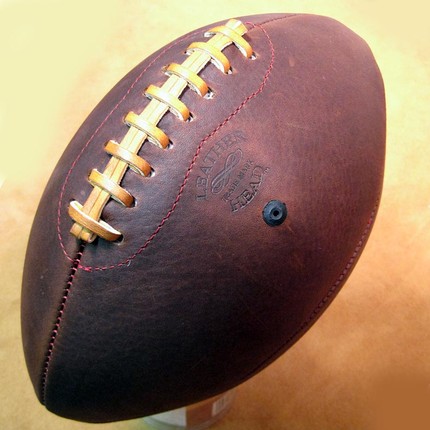 Not made of actual pigskin, but about as close to an old-school football as you can get. These footballs are made one at a time and are hand sewn in New Jersey from individually selected hides of American leather, then dyed and oiled for a rich, old fashioned look. They're so handsome you might have trouble actually using them; but go ahead, they're made to last. Quantities are limited and these sell out fast, so be sure to get your order in ASAP. $95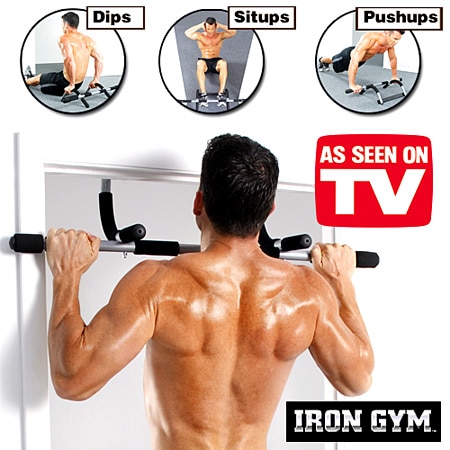 I'm skeptical of anything that touts itself with "as seen on TV." But this is one of my all-time favorite purchases. It's a pull-up bar that attaches to your doorway with pressure alone — no screws or bolts. You can take it off or on at will. I've never tried the dips or push-ups; I just leave it on the door frame and crank out some pull-ups and chin-ups whenever I pass through. $30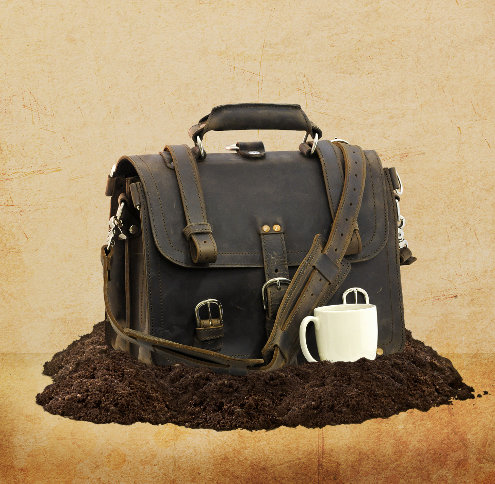 I bet there are a lot of guys out there who would willing forgo presents for the next 5 Christmases in order to get just one of these bags.Briefcases, backpacks, laptop bags, wallets, and more. All crafted to last a lifetime. Or three. $250-$600.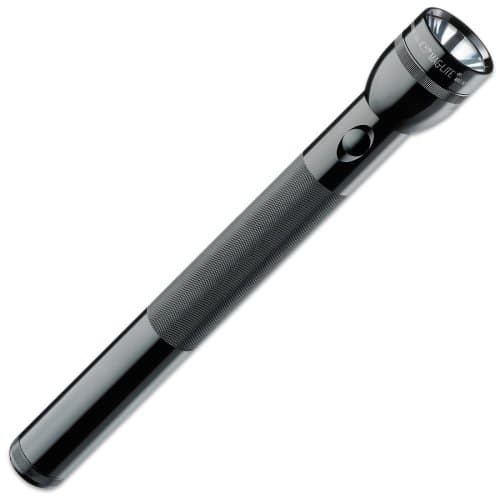 Men love flashlights. It's our modern torch and thus resonates with our inner caveman. It is also taps into our inner-detective, patrolling the streets looking for bad guys in the shadows. A man's flashlight should be well-made, long-lasting, tough, reliable, and bright as hell. Some plastic cheapo torch that barely illuminates the hand in front of your face simply won't do. Maglites come highly recommended-they're bright yet energy efficient, and their sturdy aluminum base allows them to double as a baton. Blind the bad guys before clubbing them over the head. Made in America with a limited lifetime warranty. $28 (for the maglite 4-D Cell)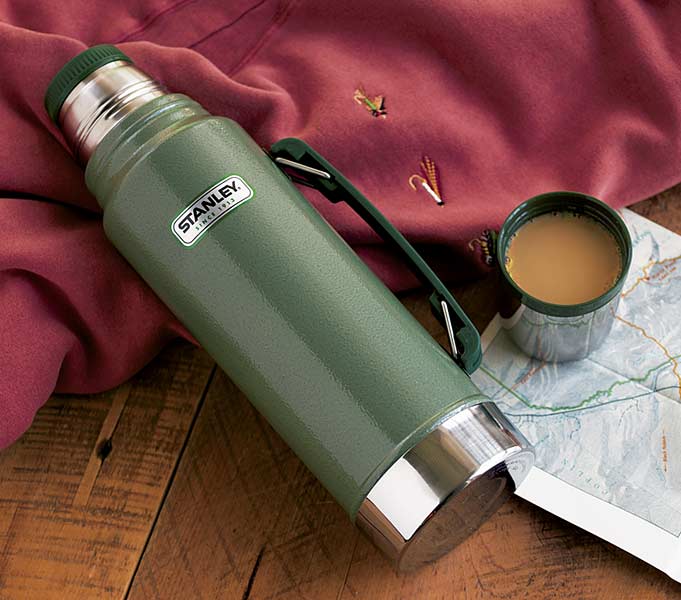 This is the thermos your dad used, and your granddad and your great-granddad. For 100 years Stanley has been making the thermoses that keep your coffee hot on fishing and hunting trips, at football games, and on construction sites and road trips. Functional, well-made, and downright manly. $34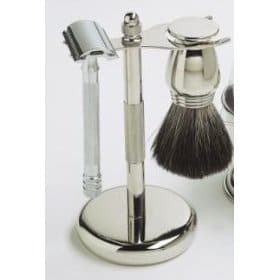 Most men today are shaving with super expensive 5-blade cartridges that give okay shaves. Why not introduce a man to the joys and ritual of shaving with a safety razor? We've discussed the benefits of safety razor shaving several times on the site. First, I think the shaves are better. Second, razors are much cheaper than what most modern cartridges cost. Finally, it just feels cool to take part in a ritual that Teddy Roosevelt, JFK, and your grandpa did as well. Look to spend between $70 and $120 for a quality brush and razor.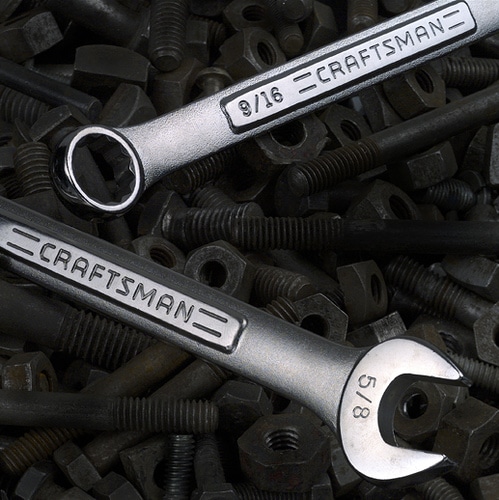 One thing I've noticed in young men my age is they don't have tools. Giving a set of Craftsman wrenches as a Christmas gift is a great way to help a young men begin his tool collection. They were my first set of tools. An older gentleman who was a friend and mentor of mine in high school helped me start my collection off by getting me a set of Craftsman wrenches when I graduated from high school.
Two great things about Craftsman are 1) most their hand tools are made in the U.S.A and 2) they have one of the best lifetime warranty policies around. They'll repair or replace your tools if they "fail to give you complete satisfaction." $119
The Art of Manliness by Brett and Kate McKay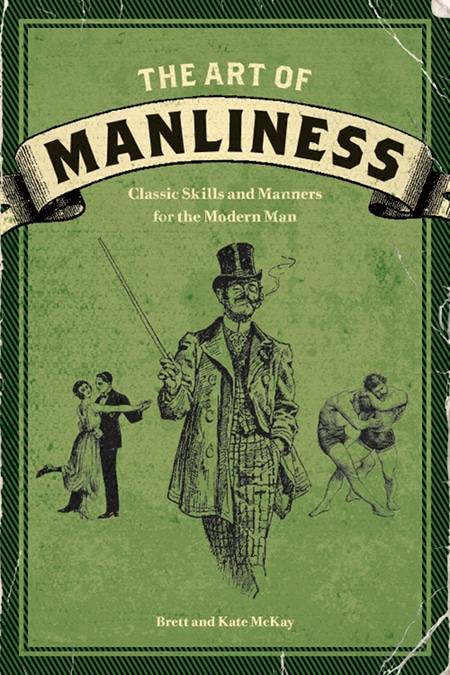 I'm pretty sure if that kid in The Polar Express hadn't asked Santa for a bell from his sleigh for the first gift of Christmas, he would have asked for The Art of Manliness book. Yeah, it's that good. Perfect for boys from 1 to 92.
Clothing
Men's Original Stag Shirt by Woolrich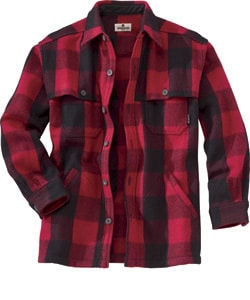 Whether or not you actually hew trees for a living, every man needs a good, rugged wool shirt. They're soft and warm, and make you look like a man. This one from Woolrich wears like a shirt, but functions like a warm jacket. And it's name has the word "stag" in it. $108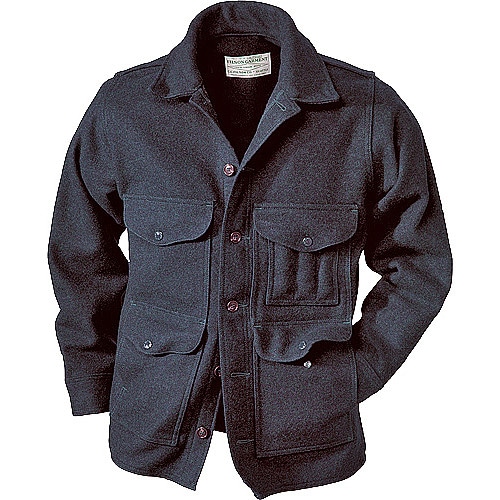 100% wool. Made in America. Uber old-school manly. The only con is the price. Better hope you've been really good this year. $279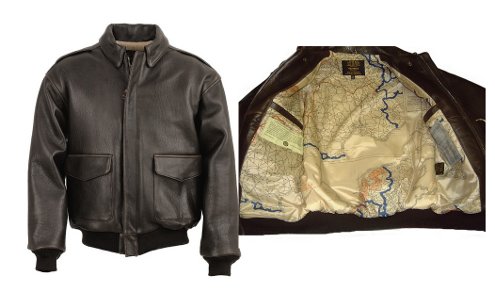 Schott's of NYC has been making rugged, quality leather coats for almost a 100 years. Schott's was the first to put a zipper on a jacket and the creator of the first leather motorcycle jacket. Their motorcycle jackets became legendary when they were worn by Marlon Brando in The Wild One. Schott's also made jackets for the military, like the Type A-2 Jacket above which was worn by the Army Air Corps. The inside features an escape map of Europe, which pilots would sow into the jacket's lining to enable them to find their way to the safety of the Allied lines if they were shot down. Starting from $400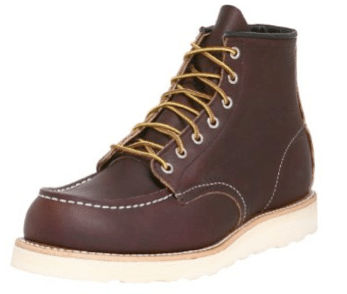 Every man needs a solid boot in their shoe collection. But instead of getting some hunking behemoth of a boot, why not get something that's durable and good looking. Enter Red Wing. Red Wing has been making boots since 1905. And unlike other shoe companies that have shipped off jobs to factories in Vietnam, Red Wing still makes their classic work boots right here in America. We're particularly fond of the Classic Lifestyle Boot. It looks like something my grandpa wore. You could wear this out on hike or on a trip to the hardware store and you'll get the protection and support you need while looking uber-manly. $170
Mountain and Sackett Tie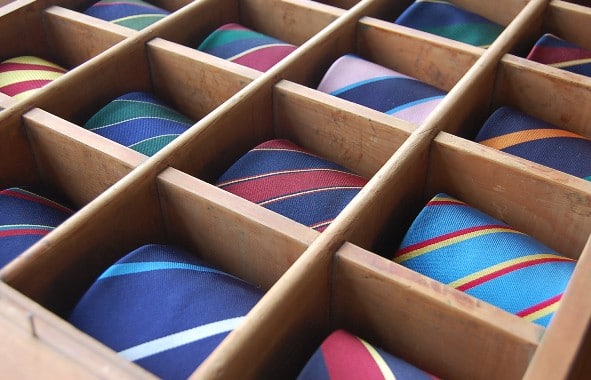 For the man who's impossible to find a Christmas gift for, you can never go wrong with a tie. Well you can go wrong if you get some cheapo Tabasco sauce tie from the department store. Get one of impeccable quality that's handmade in America. Get a Mountain and Sackett Tie. $59-$74
We're proponents of dressing well here on AoM, but you don't need to wear a suit and tie all the time. Sometimes it's fine to kick it in a t-shirt and jeans. And when you do, there are no better tees to sport than those that show your Art of Manliness pride. We've just added six new AoM designs to the AoM store. There's one for every kind of man.

Experience Gifts
While opening a present on Christmas Day is nice, the influx of new "stuff" can clutter and overwhelm a man's life. Plus, the enjoyment you get from material objects is almost always short lived. This year, consider giving an "experience gift" to the man in your life. Experience Christmas gifts for men can run the gambit from a fly fishing trip to Wyoming to a class on wilderness survival. Experience Christmas gifts allow you to give a person a memory and skill that will last a lifetime. Below are some suggested experience Christmas gifts that a man might enjoy.
Wilderness Survival Class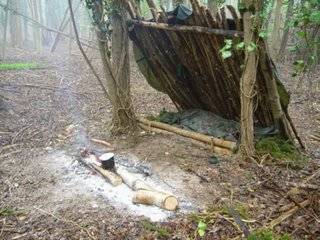 Manly men are self-sufficient and know how to handle themselves in an emergency situation. Give the Christmas gift of self-sufficiency by buying a wilderness survival class. Most classes last a weekend and cover basics like building a shelter, finding food and water, and how to navigate. Advanced classes show students how to track and trap animals and how to survive with just a knife. Most states have wilderness survival classes. Just do a quick internet search to find one in your area. The following schools come highly recommended by AoM Community members and might be worth a trip out to attend. $150-$500
Ancient Pathways. Ancient Pathways is based in Flagstaff, AZ and is led by Tony Nester. Ancient Pathways focuses more on survival in the desert. Their Bushcraft Course is 6 days. During that time students will learn how to create fire by friction, locate water, and collect edible plants among other things. A good Christmas gift for men who live in the Southwest US. $350-$900.
Martial Arts Class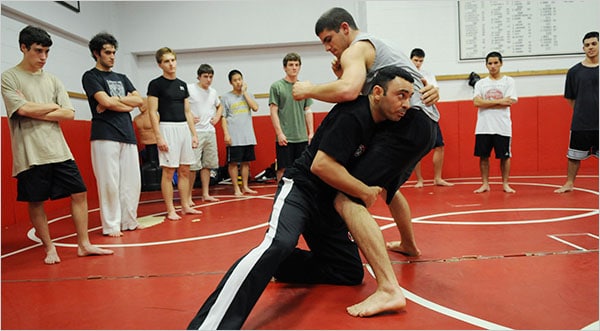 Martial arts are a great way to get some exercise and learn a useful skill while you're at it. It's easy to find a karate or tae kwon do studio in most cities and most offer adult classes. If you know a man who's a fan of Ultimate Fighter, sign him up for a MMA class so he can actually experience the joy of the ground and pound. Other martial arts to consider are boxing, jui jitsu (a favorite of Theodore Roosevelt), and krav maga. Studios often allow you to buy classes a month at a time or pay per class. If they offer pay per class, go with that. It will allow the Christmas gift recipient to find out if he likes the martial art or not. $50-$125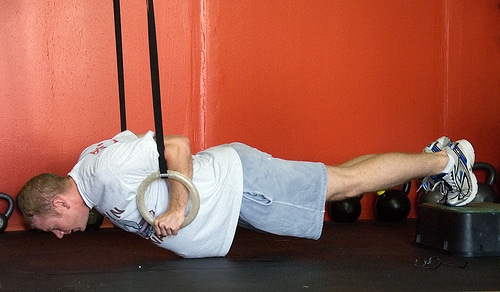 For the fitness buff, sign them up for an intense CrossFit session. It's much more exciting than the typical weight room workout they're probably getting right now. CrossFit workouts aren't geared to give you chiseled biceps or sculpt six pack abs. Rather CrossFit is designed to give you functional strength and conditioning. You know- the type of conditioning you need to save your life or disengage an assailant. It's no wonder CrossFit is the go-to fitness program for military special forces, champion martial artists, and elite athletes worldwide. Check the CrossFit page to find a CrossFit gym near you. $45-$100
Firearms Class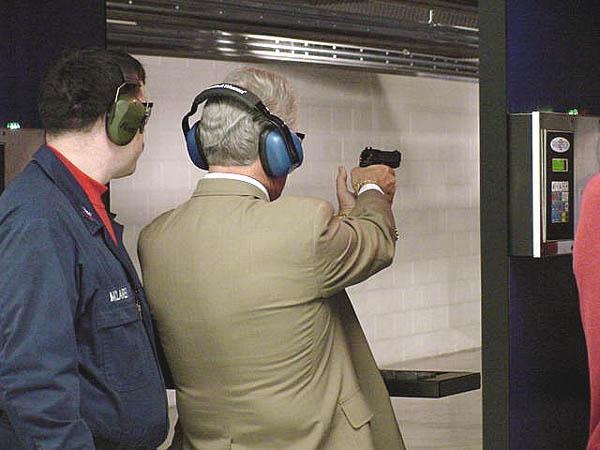 If you know a man who's not familiar with firearms, but has shown an interest, sign him up for a beginner's gun course. Most gun ranges and gun clubs offer weekend classes where beginners are taught basic gun safety, basic marksmanship, and how to maintain a gun.
For men who are already familiar with firearms, consider signing them up for advanced classes. I've seen classes that show students advanced tactical techniques like crouching, lying down, firing around corners, etc. It's a chance to learn how to use firearms in real life situations and a chance to run around and pretend your James Bond for the day.
In states that allow it, a concealed weapons permit class would be a great Christmas gift for a man as well. $60-$300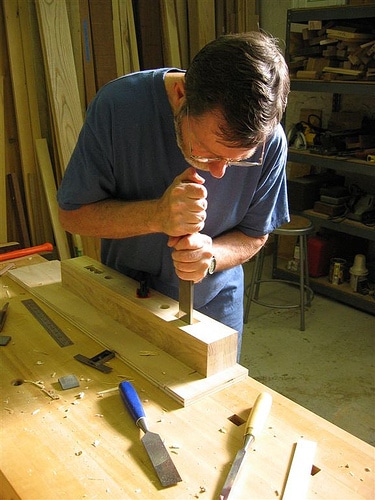 Woodworking is a great hobby for a man to get involved with. You get to use your hands and you can make beautiful and useful furnishings that will last a lifetime. However, many men balk at exploring woodworking because of inadequate tools and teaching. Well, here's your chance to let a man get a taste of what woodworking is like without having to drop a ton of money on tools. Woodcraft stores offer short classes on Saturdays that show the basics of woodworking while you work on a real project. Students learn how to turn, plane, and carve. At the end of the class, they'll walk away with something they made with their own bare hands. Check out the schedule of your local Woodcraft store.
Stocking Stuffers
Craft Sodas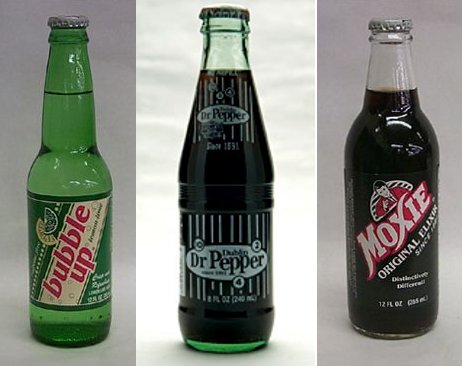 When we do our soda reviews here on the site, people always ask where one can get independently made craft sodas. We get ours at a cool place in Edmond, Oklahoma called Pops. If you're on the West Coast, be sure to check out the Real Soda warehouse in Gardena, CA and Seattle, WA, and of course Galco's Soda Pop Stop, an awesome soda store in Los Angeles. You can order all of Galco's sodas online and have them shipped to you (of course the shipping gets really expensive, fast). Try the world's best root beer — Virgils –for yourself or taste what Dr. Pepper tastes like when it's made with real sugar, or sample something unique like Double Cola, Cucumber Soda, Blueberry Soda, or Mint Julep. Get a soda that a man in your life used to enjoy as a kid and hasn't had in years or something new and interesting to surprise the palate.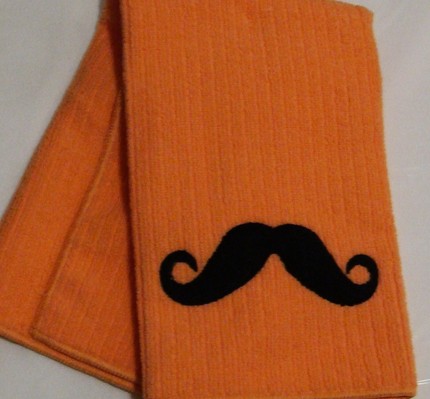 Now you can wipe your mustache…with a mustache. Free worldwide shipping until Monday. $8.00
Pop's Authentic Handmade Artisan Meat Snacks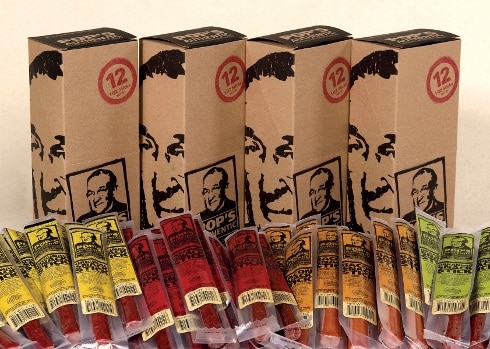 Men love meat snacks (yes, yes, not all men-don't throw your leftover Tofurkey at me vegetarians!). But you can do better than getting some mish-mash of meat by-products smooshed into a tube. Pop's Meat Snacks is a family business run out of New Franklin, Missouri. They make their meat snacks and jerky in small batches using local meat and a family recipe passed down from Oscar 'Pops' Jennings, who opened a butcher shop in New Franklin 1954. Use the promo code "Oscar" when you check out and you can get 1 free 12 count box when you buy any two 12-count boxes.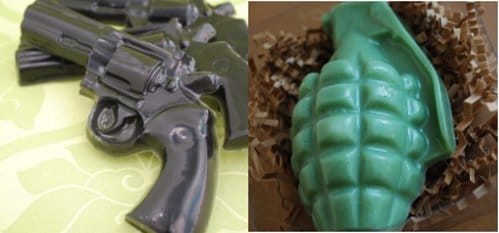 Forget those supercharged body washes, what you really need to wake up in the morning is a hand grenade! Handmade, reasonably priced, and scented with black tea (gun) and essence of bamboo (grenade). And they will assuredly not shoot your eye out. Be sure to check out the other incredibly creative offerings from this esty-seller for the lady in your life. Or for someone who's been bad, she's even got a lump of coal soap. $6.50-$7.50
Rules for My Unborn Son by Walker Lamond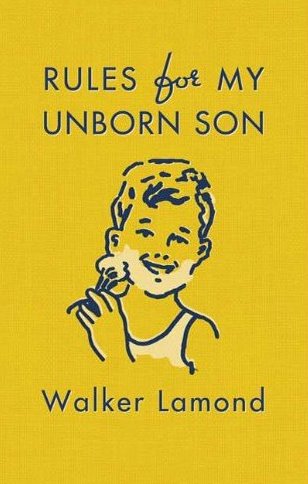 Rules for My Unborn Son is exactly the type of book that you want to get on Christmas. It's a fun read that you can relax with by the fire and finish in an hour. And it's perfectly sized for a stocking. $10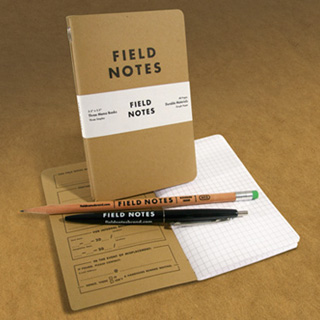 Field Notes are pocket size notebooks inspired by old farmer memorandum notebooks of the early and mid 20th Century. Every man should carry around a notebook to jot down his flashes of insight and inspiration. $10.