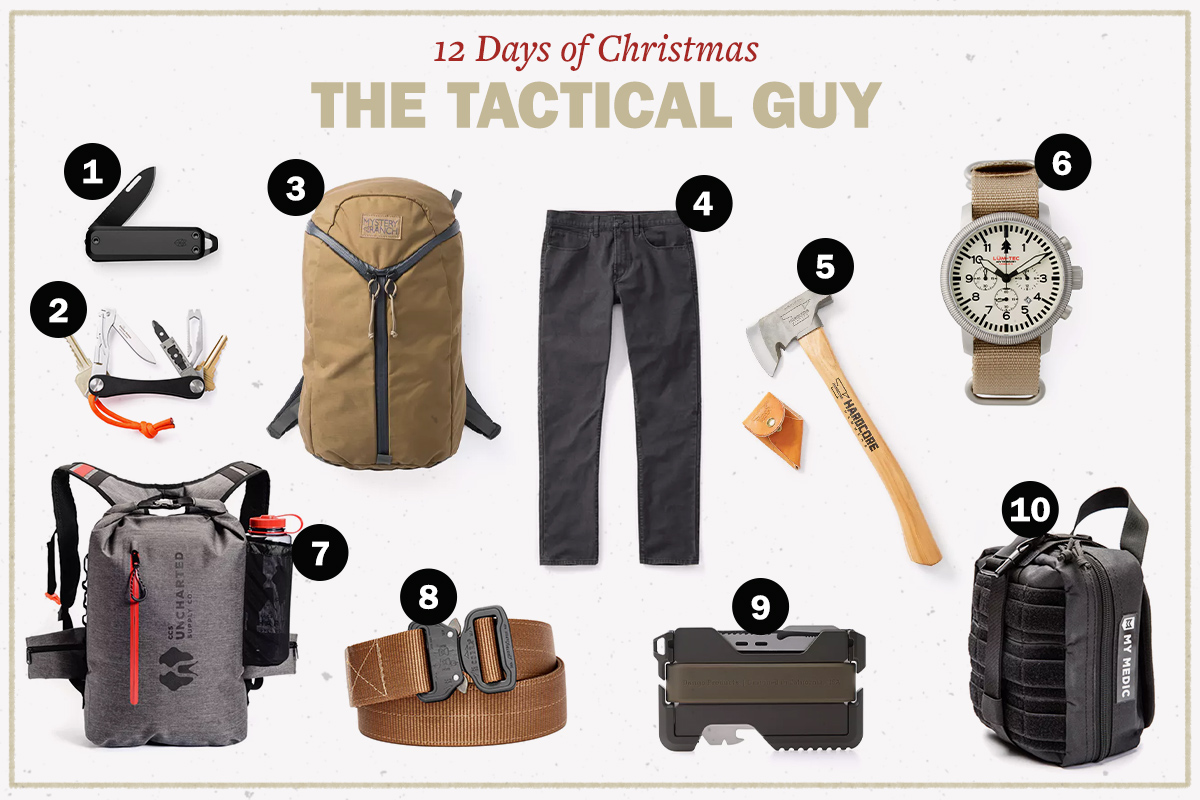 Welcome to AoM's 12 Days of Christmas! We've partnered with Huckberry to bring you 12 straight days of awesome gift guides and giveaways. Each day will feature a different Huckberry shop with 10 gift ideas, as well as a giveaway. The giveaways will run until 12pm CT the next day, and the winner will get to choose an item of their choice from that day's featured shop.
Tactical gear is that which is practical and functional, and prepares you to successfully navigate any situation or environment. Here are 10 such pieces of gear from Huckberry's Gifts for the Tactical Guy Shop. (But also be sure to peruse the entire shop for more!)
The 12 Days of Christmas: Gifts for the Tactical Guy
1. James Brand Elko Knife. Truly a pocket knife, the Elko's slim profile and lightweight design make it perfect for a keychain, lanyard, backpack, or, of course, a pocket.
2. Compact EDC Kit. Building on the popular Keysmart, Huckberry added a bunch of modular attachments to create a perfect EDC kit for your pocket. Includes a knife, dual-function screwdriver, and a multitool.
3. Mystery Ranch Urban Assault Pack. Inspired by military assault rucksacks, this bag represents the epitome of clean, functional design. What makes it truly unique is the 3-ZIP closure that makes everything easily accessible no matter what kind of load is being carried.
4. Proof Rover Pant. Cut in a classic tailored fit, but constructed like a work pant, the Rovers have a gusseted crotch for extra mobility. Add in a breathable canvas material, and you've got a pair of pants for every kind of terrain and environment.
5. Hardcore Hatchet. Made in the USA by master blacksmiths and perfectly sized for all-purpose jobs from the campsite to the home. Built like a hatchet, but with the cutting strength of a full-size ax.
6. Huckberry X Lum-Tec Combat B-42. A limited edition collaboration. Features like a domed sapphire crystal face, fully lumed dial, and a stainless steel case with a matte finish make this watch special.
7. Uncharted Supply Survival System. 95% of emergency survival situations are resolved within 72 hours. So Uncharted Supply filled this waterproof, durable shell with the essentials to get you through those first 72 hours of a hurricane, earthquake, or other disaster. This bag will keep you alive.
8. Klik Tactical Belt. Tactical belts made with military-grade webbing and perhaps the strongest buckle on the planet. Can accommodate a variety of EDC gear, and comes with a lifetime warranty against defects. Made in the USA.
9. Dango T01 Spec Ops. A tactical utility wallet that'll survive any mission you can put it through. Includes a built-in 14-function multi-tool, RFID blocker, and more, all in a slim, metallic profile.
10. Everyday First Aid Kit. These first aid kits are specifically designed to help everyday people save lives in everyday situations. Top-notch supplies are packed in a super durable pack that's built to take a beating. Bring it hiking or camping, or stash it in a vehicle.
Giveaway
The Prize
Any item available in Huckberry's Gifts for the Tactical Guy Shop.
Enter the Giveaway
If you are an email subscriber, do not reply to this email to make your entry. You must click on the title of this post, which will take you to the post on our web page where you can make your entry. Use the form below to enter. Don't forget! You have multiple ways to enter! The more of them you do, the better your chances are!
12 Days of Christmas: Tactical Guy

Deadline to enter is 12pm tomorrow (Central Time), December 5th, 2018.