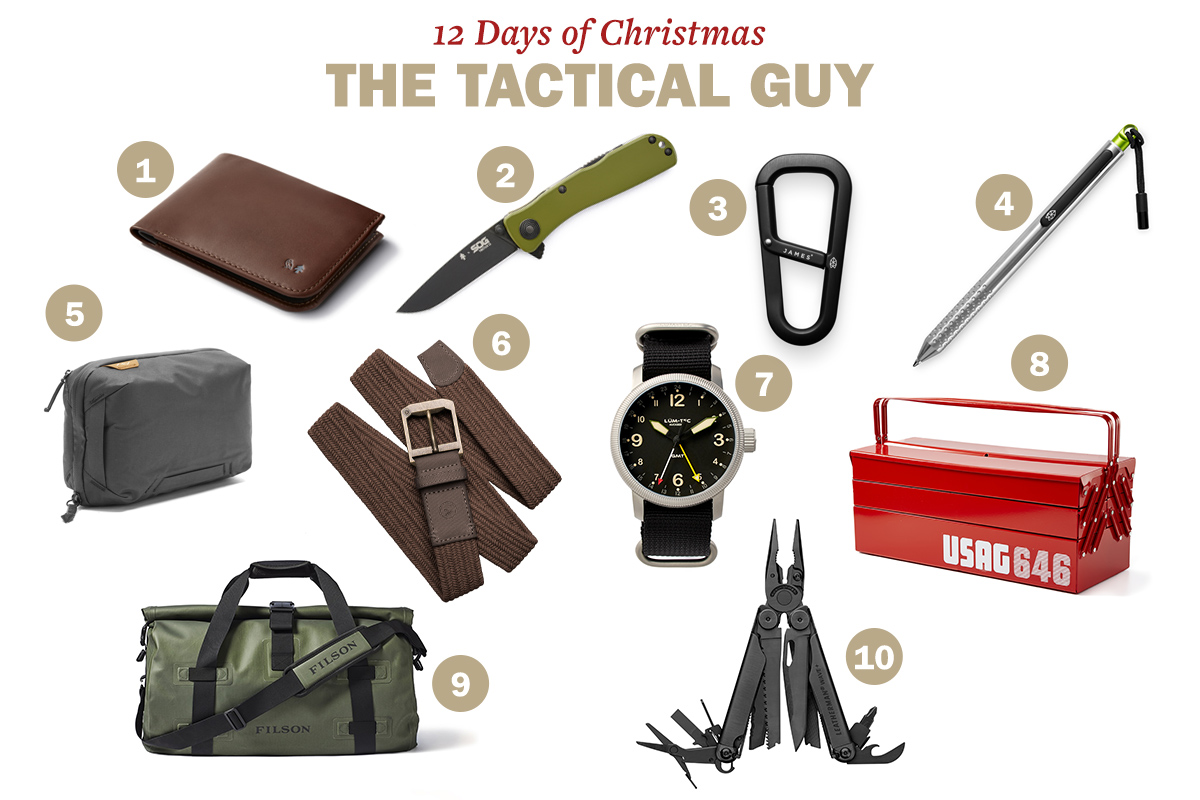 Welcome to AoM's 12 Days of Christmas! We've partnered with Huckberry to bring you 12 straight days of awesome gift guides and giveaways. Each day will feature 10 gift ideas around a theme, as well as a giveaway. The giveaways will run until midnight, and the winner will get to choose any item of their choice (up to $500 in value) from all of Huckberry's offerings.
Tactical gear is that which is practical and functional, and prepares you to successfully navigate any situation or environment. Here are 10 such pieces of such gear that'll get you so equipped.
The 12 Days of Christmas: Gifts for the Tactical Guy
1. Bellroy Hide & Seek Wallet. Premium leather, sturdy build, and slim design. It sits perfectly in your pocket, whether you carry in the front or back. The quality leather picks up a patina over time that makes it uniquely yours. All this, and now with RFID protection.
2. SOG Knives Twitch II. Weighing in at just 2.6oz and with a 2.6″ blade, this compact knife is perfect for your pocket. The military-grade materials ensure that its small size doesn't make it any less effective.
3. James Brand Hardin. When you want to carry your keys clipped to something else, you want a carry carabiner. Drop forged from high-grade aluminum stock, the Hardin is built with a dual-compartment design that effectively secures your keys and keeps them at hand.
4. James Brand Benton Pen. When the next million-dollar idea pops into your head, reach for the pen that's guaranteed to write with reliable sharpness the instant it touches paper. The Benton is built like a tank, but streamlined and lightweight enough to fit seamlessly into your EDC collection.
5. Peak Design Tech Pouch. Peak Design may be the new kid on the block, but a couple of their bags have already attained legendary status. The new Tech Pouch keeps the inside of your backpack from turning into a tangled mess of cords. The accordion opening makes everything easy to access, and the padded weatherproof exterior keeps it all safe and sound.
6. Arcade Norrland Belt. The ultimate tactical belt. Lightweight, low-profile, stretchy, extremely durable, and made with a woven braiding that allows the buckle to fasten at any spot (no poorly spaced holes here!), this belt will very comfortably go anywhere you can.
7. Lum-Tec X Huckberry B-44H. A limited edition collaboration. Features like an anti-reflective sapphire crystal face, fully lumed dial, and a stainless steel case with a matte finish make this watch special.
8. The Workman's Toolbox. An old-school, three-tiered toolbox built by Italian craftsmen. The hardy construction means it will live happily for years to come in your garage, pick-up, or any other environ. Lightweight materials and an elongated handle make for easy carrying as an added bonus.
9. Filson Dry Duffel Bag. Fully abrasion-resistant and designed to keep your gear bone dry even when submerged, this Filson duffel uses a roll-top design to meet the exact size of your contents — expand the top for larger loads or roll it down for a compact, smaller carry option.
10. Leatherman Wave Plus. Leatherman has expanded their line up these days, but their tools still boast every iota of the reliability and utility that made them legendary. The Leatherman Wave is one of the bestselling multi-tools on the planet for a good reason: it packs more functionality, usability, and utility into its streamlined and ergonomic profile than any other multi-tool out there.
Giveaway
The Prize
Any item available on Huckberry (up to $500).
Enter the Giveaway
If you are an email subscriber, do not reply to this email to make your entry. You must click on the title of this post, which will take you to the post on our web page where you can make your entry. Use the form below to enter. Don't forget! You have multiple ways to enter! The more of them you do, the better your chances are!
12 Days of Christmas: Tactical Guy

Deadline to enter is 11:59 p.m., December 4th, 2019.