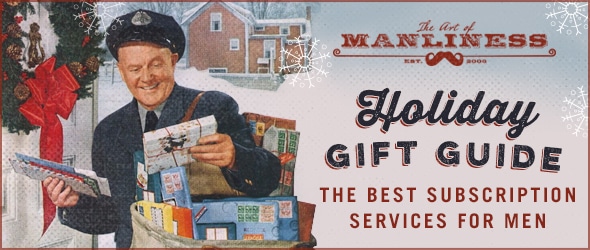 It's become quite a tradition here at AoM to put forth a men's gift guide every year after Thanksgiving. Men can be hard to buy for, so we try to find products that are both classic and unique. Recent years have seen the rise of subscription services — boxes of goodies sent directly to one's door each month. The majority of these services are geared towards the ladies, but there are some great ones that have men in mind.
Since getting something in the mail is such a treat in our digital world, any of these subscriptions make a great gift for any gentleman in your life. Plus, the services often deliver something instantly usable/consumable, so that the recipient can enjoy the gift right away. Finally, they bring surprises he'll enjoy not only on Christmas, but for months to come. As a bonus, he'll think of you each time a new package arrives at his door!
You're sure to find something below that will fit the interests of the men in your life. And what's nice is that you can, in most cases, give as little as a month or as long as a year of the service, making it fit almost any budget.
While we did receive complimentary products to review, none of the featured companies paid to appear here. These are our opinions on the best subscription services out there.
Previous Gift Guides
If you're not looking for subscription services, make sure to check out our previous holiday gift guides. Also, check out the AoM Store for other gift ideas!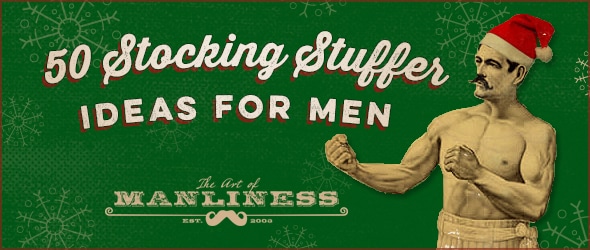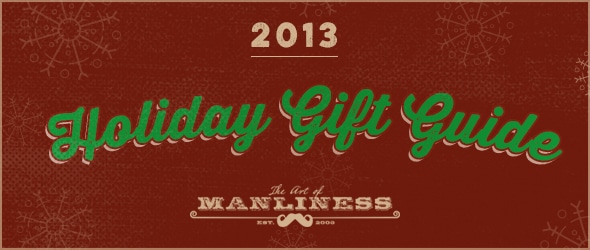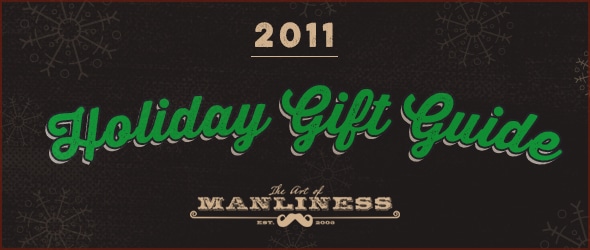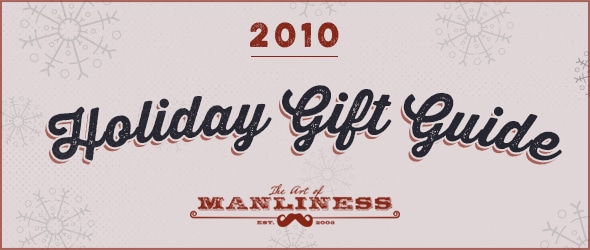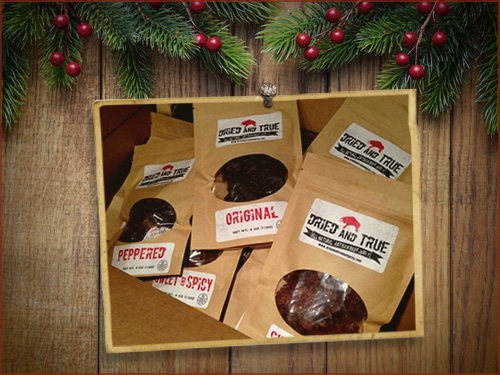 Boy, oh boy, do I love jerky. Beef jerky, bacon jerky, deer jerky…if it's a dried meat infused with spices, I will like it. While you can always pick up a bag of jerky from one of the mega-food corporations, I like checking out the various artisan jerky creators out there. That's why I've really enjoyed my Sumo Jerky subscription. At the beginning of each month, Sumo Jerky will send you a few different types of artisan jerkies from around the country. You don't get quantity, but you do get quality. Because Kate is just as much of a jerky fiend as I am, it's common for us to eat our entire shipment within hours of opening it. Sumo Jerky offers various subscription plans. Their most popular plan provides 3+ surprise flavors each month. –Brett
$35 a month for the 3+ surprise jerky plan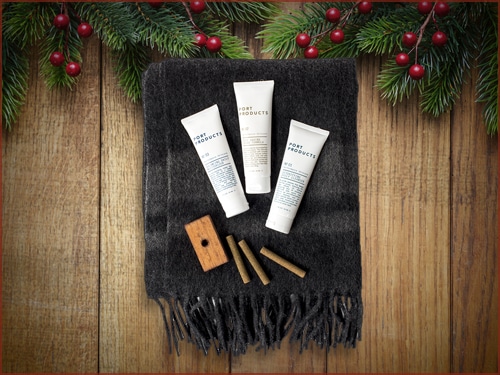 Bespoke Post is unique on this list as it doesn't have one main product niche other than being a "box of awesome." That sentiment rings true. Each month, you're sent a box with products centered on a theme for that month. One month was called "Slate," which featured a slate cheeseboard, salami, various oils, and some flavored toothpicks. Another month was "Highlands" and featured a manly scarf, some cedar incense, and hand/face lotion. One of the best was "Barber," which was a safety razor set with a barber towel and shaving soap. Bespoke truly offers a unique and fun box each month, and you'll have no idea what's coming, making it even more fun. What's cool with this product is that you'll be notified of its contents beforehand (if you wish), and you can choose to either receive that box, replace it with a different theme, or just skip that month altogether. You'll never be stuck with something you don't want. –Jeremy
$45 per month/box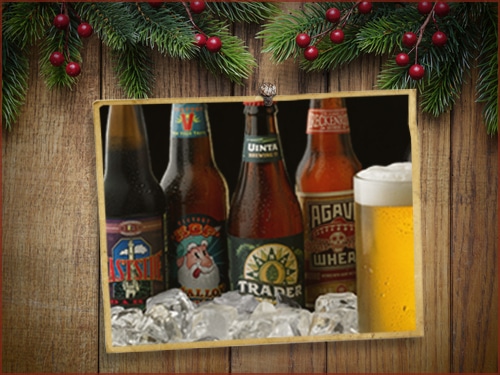 There are a bunch of beer clubs out there, and they're honestly all very similar. I've tried three, either on my own or for this guide, and they all followed the same model: 12 bottles sent monthly, featuring two beers each from two breweries, with three bottles of each in the box. You'll also get tasting notes and food pairing guides. All three clubs I tried sent delicious craft brews from large and small operations from across the country and world. No complaints for any of the clubs, but no differentiation either. I'd recommend Amazing Clubs, MonthlyClubs.com, or Craft Beer Club. –Jeremy
Each club is $35-$40 per month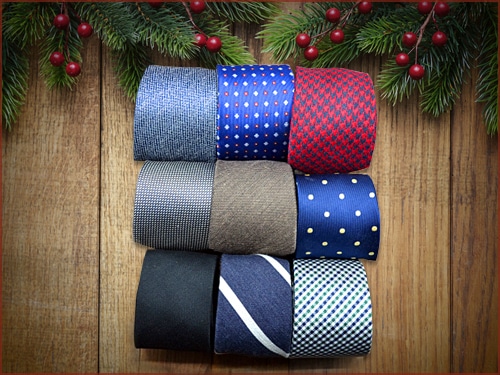 Ties are a common holiday gift, but how about instead of giving a single tie, you give someone a tie once a month for the next three months? With Friday Tieday you can do just that. Each month, your gift recipient will get a new handcrafted tie sent to their door straight from Sweden (yes, Sweden). Each tie is about $45. If you sign up for a 6-month subscription service, the price per tie goes down to $40. I was really surprised by the quality and handsomeness of these ties. Because they come from a subscription service, I figured they'd be sort of chintzy and not very good looking, but several of them have become my go-to ties when I wear a suit. They have a nice "hand" and they look great. –Brett
$35 – $45 per month depending on length of subscription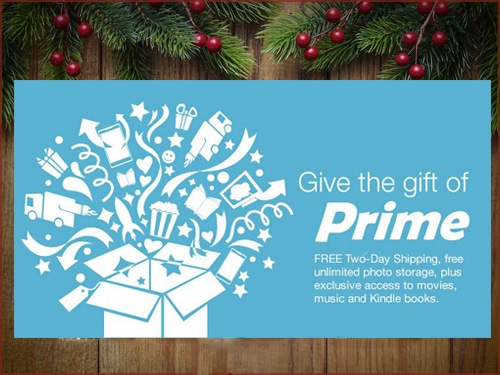 Amazon Prime is different from the other subscription services here on the list in that you're not going to have some physical item sent to you in the mail each month, but the perks that come with an Amazon Prime subscription will provide scores and scores of benefits the whole year round. First, there's the free two-day shipping on almost all Amazon products. It's amazing. You can order something on Monday and it's guaranteed to be on your front door by Wednesday; I've even had instances where it arrives at my house the very next day. The free two-day shipping alone makes Amazon Prime worth it, but the perks don't stop there. Another bonus with Amazon Prime is you get free instant streaming of thousands of movies and TV shows as well as access to millions of songs completely for free. I seriously love Amazon Prime — it saves me tons of shopping trips, and I hate shopping. If you or someone you know uses Amazon a lot, definitely put an Amazon Prime subscription under the tree for them. –Brett
$99 for a year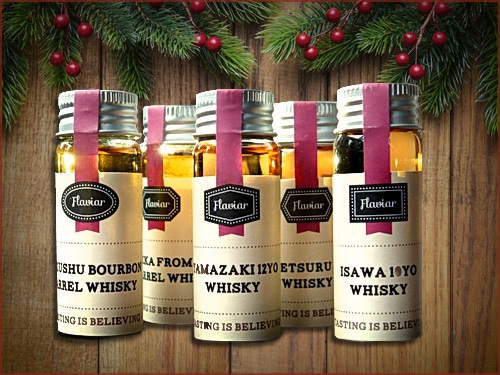 Of the whiskey sampler clubs I tried, Flaviar was definitely the best in terms of quality of the spirits, packaging, and overall experience. Each month (or each quarter) you receive five 50ml samples of a spirit. What's particularly fun about Flaviar is that each month carries a different theme: Irish whiskey, cognac, brandy, rum, gin — you get to taste various high-quality spirits from around the world and learn about what you like and what you thought you didn't like, but really do (because there wasn't a single one that I didn't like). As a bonus, my wife said the bottles they come in are very "cute" and can be used as flower vases after you've emptied their contents. –Jeremy
$95 for 2 months, $49 for a pack every quarter, $41 for a pack every month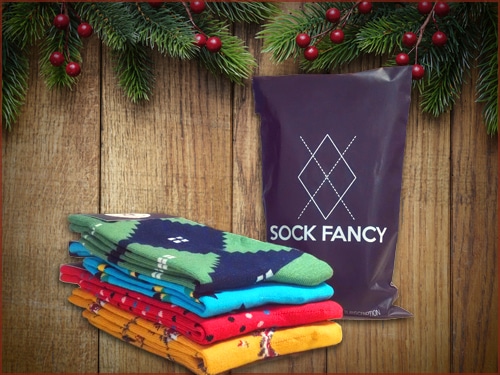 This was a subscription service I was initially skeptical of (Sock Fancy?), but I ended up surprised at how much I enjoyed receiving a package of completely random socks from them each month. Packages contain straightforward striped patterns, but also more novelty-themed socks like bacon and mustaches. Patterned socks are a great way to bend the rules of style just a bit; they're only visible when your pant leg rises. I've added some fun "what the hell" socks into my wardrobe these past few months and I've gotten nothing but compliments and smiles. –Brett
Prices vary depending on how many socks you want in each package; a four-month subscription with two socks in each package is $86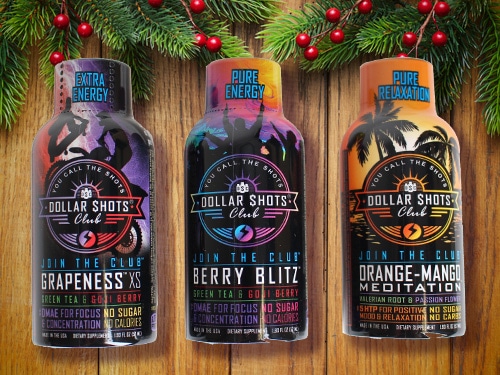 Although I lack the brain power to understand how or why some folks don't drink coffee, the reality is that plenty of people (including my own parents!) just don't like it. One common solution for that afternoon (or morning) boost is the energy shot. Most of them taste terrible. But you stomach it because it provides the boost you need. They're also expensive. But again you stomach it because it provides the boost you need. That's where Dollar Shot Club comes in. Every month, they send you a box of energy shots at only $1 per bottle. You can choose either 5, 15, or 30 bottles per month. They have 3 flavors: Grapeness, Berry Blitz, and Orange-Mango Meditation. They are definitely the best tasting energy shots I've had. –Jeremy
$5-$60 per month
Dollar Shots Club wanted to extend a special welcome to AoM readers, so if you use the code "manliness" at checkout, you'll receive one month free!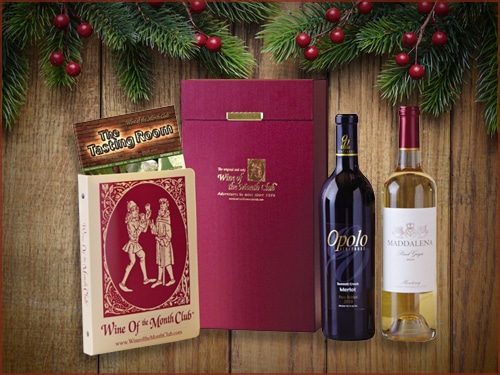 There are tons of wine of the month clubs out there. Even wineries have their own clubs, sending members varietals from their storehouse each month. The best of the bunch, though, is the Wine of the Month Club. Started in 1972, this club was truly one of the first subscription services (as we know them today) out there. The packaging is superb, as with your first order, you get a wine accessory, be it a nice opener or a vacuum sealer. Each shipment features two bottles of wine — and you can decide if you'd like red and white, or just reds. If you get a particular bottle of wine and don't like it, you can get a new bottle sent your way free of charge. There are multiple clubs to choose from, including just California wines or their rare limited series. –Jeremy
$31-$51 per month, depending on the wine quality you choose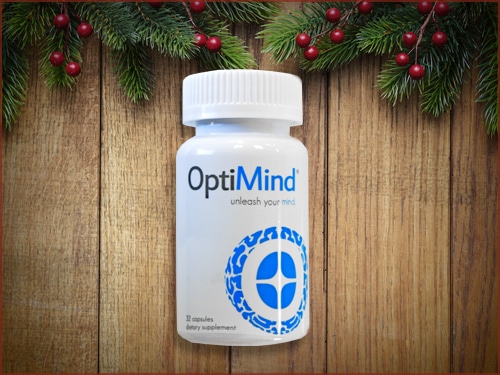 Earlier this year we published an article about natural supplements called nootropics that can help boost cognition and focus. In the article we highlighted how you can combine different supplements (called a "stack") to help improve different aspects of brain functioning like memory, focus, and mood. While you can create your own stacks, several companies out there create ready-made stacks that come in a single pill. OptiMind is one of them. I've been using OptiMind for about six months now and have noticed a subtle but noticeable uptick in my mental performance and mood. When I take OptiMind, I just feel more focused and clear-headed. Instead of just buying individual bottles, OptiMind has a subscription service so that you'll be sent a new bottle at the beginning of each month. This is a great gift for students or other individuals whose success relies a lot on mental performance.
If you'd like to take your brain boosters in another form, I'd also recommend CogniTea. It combines yerba mate — one of my favorite beverages — with L-Theanine for clarity and focus, and other natural energizers. It gives you a great focus and energy boost, tastes great, and warms the belly on a cold winter's day. You can get 20 or 45 bags delivered each month. ($20-35/month) –Brett
$43 a month for one bottle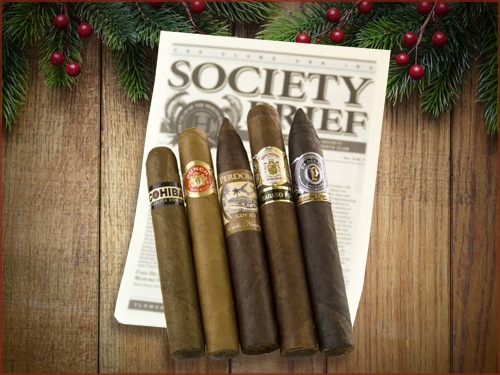 If you're a gentleman who enjoys the occasional cigar, look no further than this offering from MonthlyClubs.com. Each month you are sent 5 cigars of varying sizes, shapes, and strengths. It's a mix of smaller, boutique manufacturers and well-known, highly-rated brands like Cohiba and Partagas. You'll also receive a monthly newsletter that features tasting notes, short brand descriptions, and suggested alcohol pairings. I find the tasting notes to be a little over the top, but the connoisseurs will surely appreciate it. MonthlyClubs.com actually has six clubs to choose from: beer, wine, cheese, cigars, chocolate, and flowers. (I should add that their Rare Beer Club is fantastic, as well.) You can even mix and match clubs, choosing to receive cigars one month and beer another. –Jeremy
$30/month for 5 cigars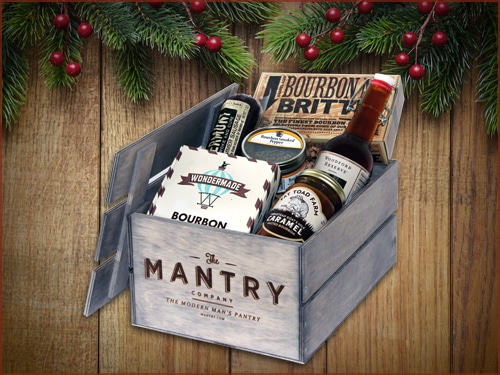 This was another subscription service I was initially skeptical of, but ended up really enjoying. I'm simply not much of a foodie myself, and not into the "artisanal" food movement (unless it's jerky!). But you don't need to be an edibles connoisseur to appreciate the grub that Mantry delivers to your door each month. Each box is curated around a certain theme, and offers a selection of interesting, top-quality, American-made foods from around the country. One box that I received was entitled "Salty Dog," and it contained albacore from Washington state, sea salt caramels from New York, and clam chowder from Maine, among other things. It all comes boxed in a handsomely rugged wooden crate. This is a great gift for anyone who likes to open a box and immediately start eating its contents. I can't give a 100% endorsement, though, as I've found Mantry's customer service to be unforgivably slow, and they sent me the same box twice for some reason. Hopefully, they're just working out the quirks of being in biz. –Brett
$75 per box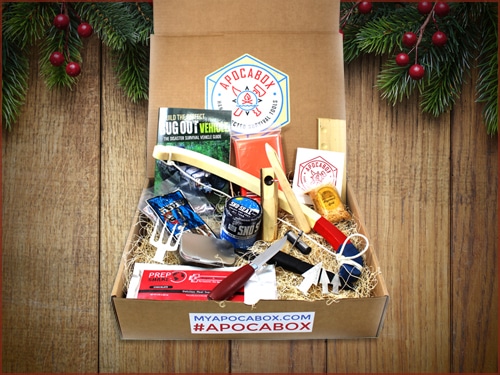 Art of Manliness contributing writer Creek Stewart has been a busy man this past year. In addition to publishing a few new books and starring on The Weather Channel's Fat Guys in the Woods, Creek also launched a subscription service with the casual prepper in mind. When you sign up with Apocabox, every other month you'll receive a box full of gear to help you survive everything from being lost in the woods to the zombie apocalypse. The most recent box I received contained an EDC handcuff key in case you ever find yourself illegally restrained, paracord, a fire starter, fire tinder, a bandana, and a mini-razor knife. Besides the gear, Creek includes a "survival challenge" for you to take on using your gear so you can gain new survival skills and refine your old ones. –Brett
$58.95 per box; box is shipped every two months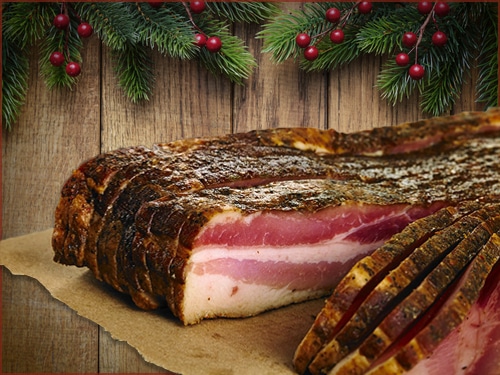 Good bacon is hard to come by. Most of the stuff you can get at the grocery store is super thin and lacks flavor. When a man eats bacon, he wants thick, hearty cuts of pork that melt in his mouth and leave grease on his plate that needs to be sopped up with a crusty piece of bread. The folks at Tender Belly make that type of bacon. Founded in 2010 by two brothers from Iowa, Tender Belly has a single mission: provide the best quality bacon on the market. And boy do they deliver; this is the best bacon I've tried, bar-none. With their subscription service, you get two packages of bacon — one maple and one spicy habanero — delivered to your door in a cold-packed bundle. Man, did I ever look forward to its arrival each month. –Brett
$59 a month for four pounds of bacon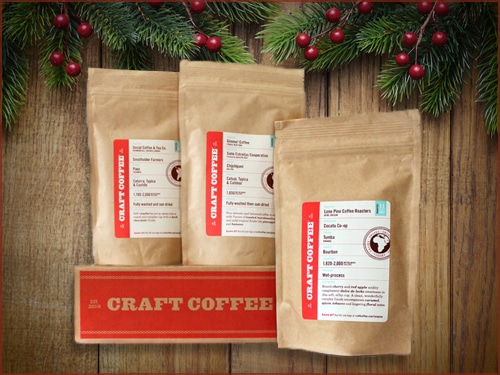 As someone who roasts coffee at home, I have high expectations when it comes to beans. While I can enjoy just about any coffee, there are few that can match or top what I make on my grill. Craft Coffee Club fits into that upper echelon with ease. Their coffee beans are superb on every level, no matter how you make it (which really should be French press). What's great about coffee club is that it's totally customizable. You fill out your "Coffee DNA" with your favorite brands, your preferred method of brewing, the coffee strength you prefer, etc., and then they match you up with the perfect bean pairing. The gift subscriptions are the real winner though, as every month you get three 4oz samples of deluxe beans from around the world so you can taste various delicious offerings. –Jeremy
$30 for 1 month, $75 for 3 months, $150 for 6 months, $300 for 1 year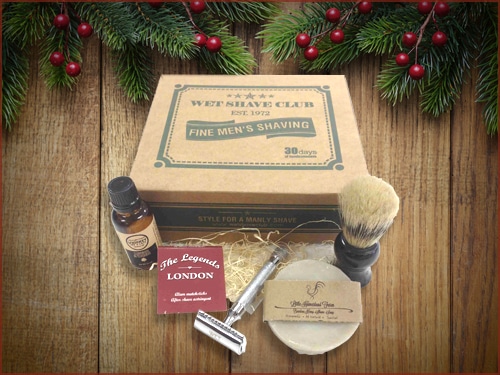 Over the past decade, there's been a real uptick in the number of independent men's grooming companies. While your dad or grandpa had maybe two or three choices when it came to shaving cream or aftershaves, today's man has access to literally hundreds of different kinds of shaving soaps and creams as well as aftershaves, mustache waxes, and beard oils. Wet Shave Club makes it easy for you to try out all the variety of shaving accouterments out there by sending you a monthly box filled with new products. The first box comes with a free safety razor and shaving brush. After that you'll receive a new shaving soap and aftershave oil each month. –Brett
$24 a month for a three-month subscription; price goes down if you sign-up for more months up front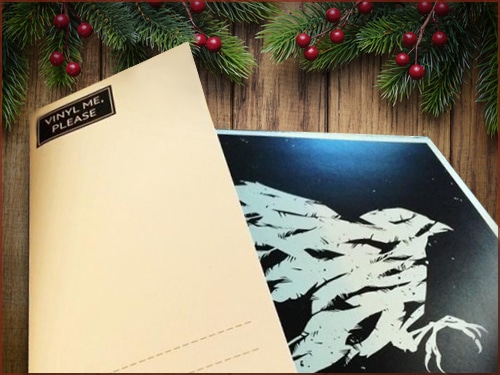 This has to be one of the coolest subscription services we've come across. Each month, you get a limited edition LP and a 12″ x 12″ print that's been inspired by that album. That would be cool enough. But they take it up a notch by sending you a unique and tasty cocktail recipe each month to pair with your jam session. And this isn't all just whipped together; each piece of the subscription is specially made for Vinyl Me, Please members. The music is specially curated — "albums that aren't just good, but essential for any record collection. The kind of album that will grow old with you." Past selections have included The Ben Webster Quintet's Soulville, Perfume Genius's Too Bright, and Sylvan Esso's self-titled album. –Jeremy
$25 per month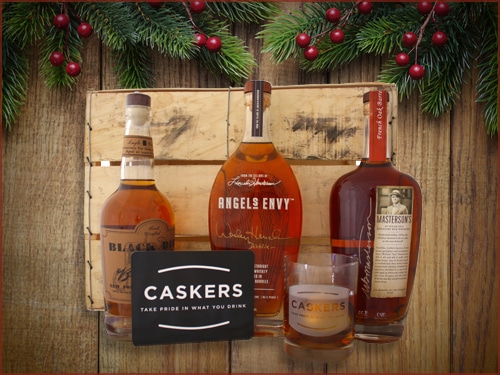 Finding a whiskey of the month club that is reasonably affordable is a tall order. Many of them run upwards of $100/month, and feature only the finest whiskies. While that's great, there aren't many men who will fork over that much for a bottle of whiskey every single month. Caskers is great because the club is quarterly — you get three full bottles (750ml) shipped to you once per quarter. And the price point is far more reasonable than most others. These are whiskies that aren't necessarily the absolute top-of-the-shelf varieties, but they're featured small batches that average around $50/bottle. It's also great to get whole bottles at a time, as it makes sharing a heck of a lot easier, which is always how drinks are most enjoyed. They offer a whiskey club (the one featured, as well the as the most expensive option), a vodka club, as well as a general spirits club. –Jeremy
$150-$160 for 3 bottles a quarter, depending on how many quarters your purchase
What other subscription services do you recommend for men? Let us know in the comments!
Tags:
gifts for men