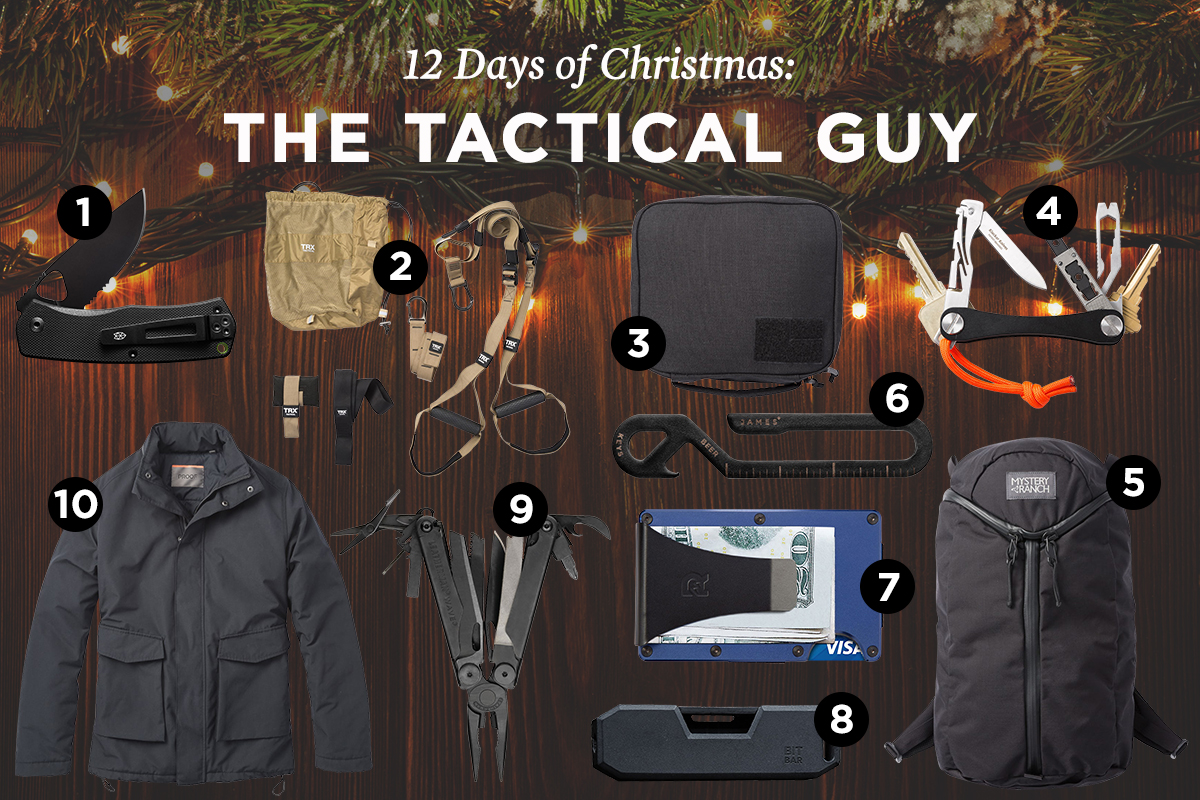 Welcome to AoM's 12 Days of Christmas! We've partnered with Huckberry to bring you 12 straight days of awesome gift guides and giveaways. Each day will feature a different Huckberry shop with 10 gift ideas, as well as a giveaway. The giveaways will run until midnight each day, and the winner will get to choose an item of their choice from that day's featured shop.
"Tactical" has come to be used (and overused) to mean lots of different things. But one of the word's original definitions really works best: "adroit in planning or maneuvering." Tactical gear is that which is practical and functional, and prepares you to successfully navigate any situation or environment. Here are 10 such pieces of gear from Huckberry's Gifts for the Tactical Guy Shop.
The 12 Days of Christmas: Gifts for the Tactical Guy
1. James Brand Folsom Knife. The Folsom delivers prime EDC goodness with an insanely grippy G10 handle, hardwearing CDS-BD1 blade, and ambidextrous grip. Talk about versatile.
2. TRX Tactical. The TRX suspension trainer is a tough, rugged workout system for the tactical athlete who needs a thorough and efficient fitness regimen. Developed from cutting edge science and direct feedback from the field, it allows you to effectively train your body in any environment or condition.
3. GORUCK Field Pocket. Just like the legendary GORUCK packs, these Field Pockets are built with the same tough materials and ultra-durable construction. They're rugged, waterproof, and padded to keep valuables safe through any adventure.
4. Compact EDC Kit. Building on the popular Keysmart, Huckberry added a bunch of modular attachments to create a perfect EDC kit for your pocket. Includes a knife, dual-function screwdriver, and a multitool.
5. Mystery Ranch Urban Assault Bag. Mystery Ranch's design philosophy balances four concepts: function, comfort, quality, and durability. What makes it truly unique is the 3-ZIP closure that makes everything easily accessible no matter what kind of load is being carried.
6. James Brand Hook. Trade out your loved one's hefty carabiner or upgrade a naked keyring with the Hook. The slick hook action and useful bottle opener is an added bonus to the sleek and lightweight profile.
7. Ridge Navy SEAL Wallet. This slim aluminum wallet gives you RFID protection without the bulk that often comes with that distinction. The expandable track holds anywhere from 1-12 cards, giving you ample versatility based on your outing. Plus 10% of proceeds go to support the Navy SEAL foundation.
8. Bit Bar. A pocket-friendly, incredibly handy EDC screwdriver. The low-profile design clips right onto a pocket, yet still manages to hold eight black oxide bits. A versatile screwdriver is at hand anywhere and anytime it's needed.
9. Leatherman Wave. Generations of kids have their dad's Leatherman multi-tool. Upgraded over the years, the legendary brand still packs more functionality and durability into their products than anyone else.
10. Proof Field Jacket. A mid-weight option that is versatile enough to take you from day into night, and work into weekend. Includes a secret "stash" pocket for your valuables that can be accessed without unzipping the jacket.
Giveaway
The Prize
Any item available in Huckberry's Gifts for the Tactical Guy Shop.
Enter the Giveaway
If you are an email subscriber, do not reply to this email to make your entry. You must click on the title of this post, which will take you to the post on our web page where you can make your entry. Use the form below to enter. Don't forget! You have multiple ways to enter! The more of them you do, the better your chances are!
The 12 Days of Christmas '17 – Tactical Guy

Deadline to enter is noon tomorrow (Central Time), December 8th, 2017.
Tags:
12 days of christmas 2017